The KV Broadside Shotgun is one of the new weapons added to Call of Duty: Warzone 2 with the Season 2 update. Although Shotguns aren't being used in the game as much as in the original Warzone, this may change after players get to know the gun better. Here's our recommended KV Broadside build that you can use in Warzone 2.
Best KV Broadside Shotgun Loadout Warzone 2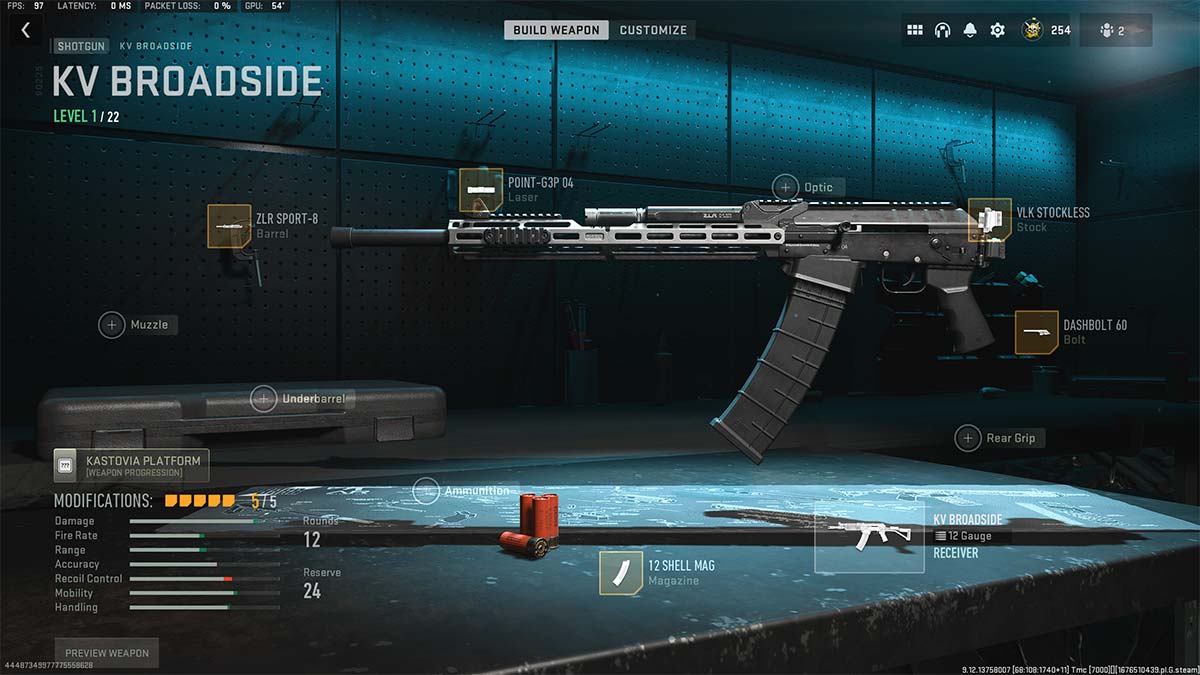 Barrel: ZLR Sport-8
Laser: Point-G3P 04
Stock: VLK Stockless
Bolt: Dashbolt 60
Magazine: 12 Shell Mag
A part of the Kastovia weapon platform, the KV Broadside is highly customizable, and most importantly, it's semi-automatic and the fastest fire-rate Shotgun in the game. For our weapon build, we've focused on improving the gun's damage range, mobility, hip fire accuracy, and fire rate. Starting off with the barrel attachment, the ZLR Sport-8 gives the Shotgun its much-needed damage range and accuracy buff.
Related: Best ISO Hemlock Loadout and Attachments in Warzone 2
Sprint-to-fire time is another crucial stat for a Shotgun and we've worked on it by putting on the Point-G3P 04 laser and the Stockless mod. The stock also helps with overall movement and aim-down-sight (ADS) speeds on the gun. The laser also serves the purpose of tightening the hip fire spread. If you like to ADS your Shotgun more often, choose the VLK LZR 7mW laser instead.
To maximize the already great fire rate of the KV Broadside Shotgun, we put on the Dashbolt 60 bolt attachment. Finally, you'll need a bigger magazine on the gun to take out an entire squad. For this, equip the 12-round magazine. You can go crazy and attach the 25 Shell Drum instead. However, it'll significantly affect the weapon's mobility and handling.
Best KV Broadside Class Setup Warzone 2
Primary Weapon: TAQ-56
Secondary Weapon: KV Broadside
Tactical: Smoke Grenade
Lethal: Semtex
Perk Package: Overkill, Battle Hardened, Fast Hands, High Alert.
Stay tuned to Pro Game Guides for more Call of Duty: Modern Warfare 2 and Warzone 2 content. In the meantime, head over to our article on All new Operator Skins in Season 2 of MW2 and Warzone 2.