Call of Duty Modern Warfare 2 has a range of weapon categories, and Shotguns are one of them. Out of the four Shotguns currently in MW2, the Lockwood 300 is the best for several reasons. You can unlock this weapon by leveling up your account to level 36. After unlocking the gun, start eliminating players with it to unlock all the attachments. Here is the best loadout and class setup for the Lockwood 300 in Call of Duty Modern Warfare 2.
Best Lockwood 300 class setup Modern Warfare 2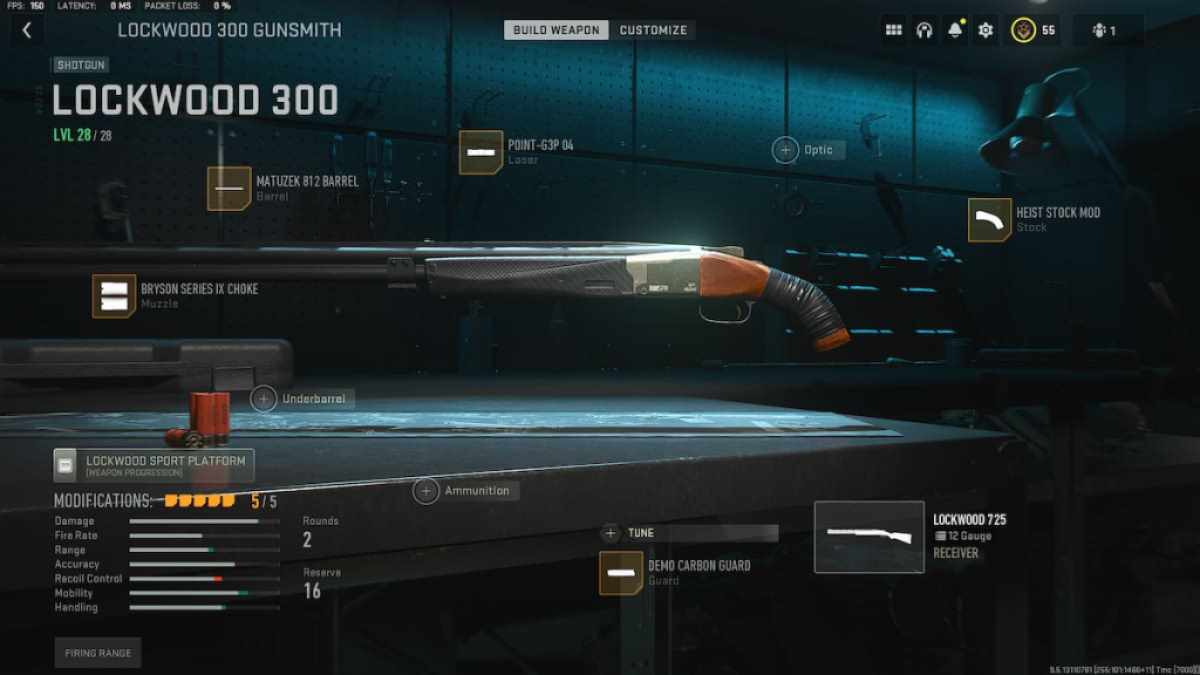 The Lockwood 300 is a break-action Shotgun with a tight pellet spread. This weapon has excellent Accuracy, but you only have two slugs loaded up each time. Although the Lockwood 300 has better Range and Mobility than other Shotguns, it falls short in Recoil Control and Handling. This weapon has 28 levels of progression, and we recommend upgrading it quickly to unlock its Weapon Tuning. Since it has a better range, you can setup a one-shot class by equipping the proper attachments.
Barrel: 29.5″ Rifled Barrel
Underbarrel: Cronen Grooveshot Grip
Muzzle: Bryson Improvised Choke
Guard: Sawed Off Mod or Stockless Pistol Grip
Stock: Demo X50 Tactical Pump or Demo Dropzone Pump
This class setup for the Lockwood 300 focuses on improving Mobility, Range, and Handling. You can compensate on Recoil Control, as you need to go close range to get eliminations with this Shotgun. Laser is another attachment that is entirely discretional. While it improves Accuracy, most Lasers are visible to the enemy. Instead of a Laser, you can swap in an Underbarrel attachment for the Lockwood 300. After equipping all the attachments, level up the weapon and start tuning to focus on Aim Down Sight speed.
Related: CoD MW2 Polyatomic Camo – How To Get
Best Lockwood 300 loadout Modern Warfare 2
Players must also attach the pertinent Perks, Lethal and Tactical equipment, Field Upgrades, and Killstreaks to make a proper loadout. The Lockwood 300 is impeccable at close range, but it reloads fairly often. Make sure to run an Assault Rifle or an LMG with this setup. Here are the best Perk Package and other equipment to run with the Lockwood 300.
Primary: Lockwood 300
Tactical: Heartbeat Sensor
Lethal: Thermite
Perk Package

Basic Perks: Overkill and Double Time

Bonus Perk: Fast Hands
Ultimate Perk: Ghost

Field Upgrade: Battle Rage or DDOS
Wondering what else is coming to Modern Warfare 2? Check out All 6v6 Modes in Modern Warfare 2 and How to get the Oni Operator in Modern Warfare 2 on Pro Game Guides.