Introduced into Call of Duty: Warzone with the Season 3 update, the Nikita AVT Assault Rifle is a high-accuracy, fast-firing weapon. While you can use the weapon at any range, its in-game statistics and performance show that it's primarily meant for close to mid range. Here's a guide to the best Nikita AVT loadouts and attachments in Warzone Pacific.
Best Nikita AVT Sniper Support Loadout Warzone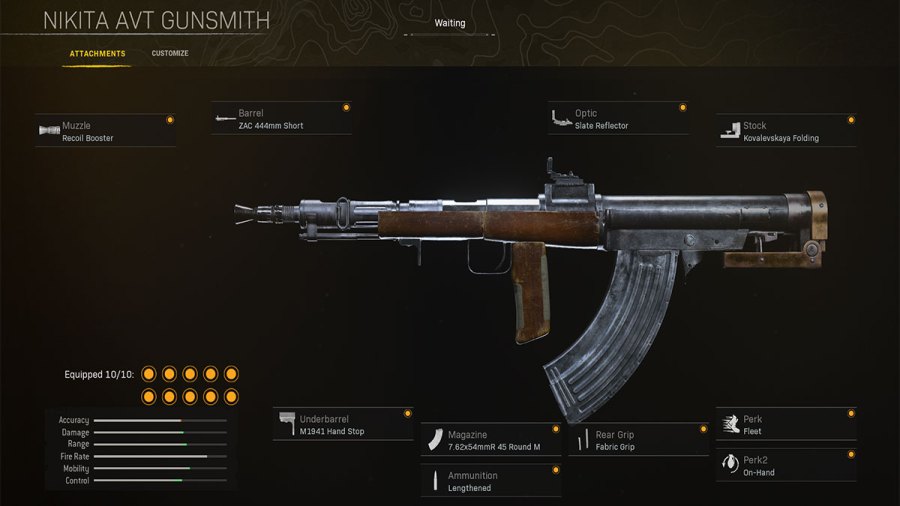 Muzzle: Recoil Booster
Barrel: ZAC 444mm Short
Optic: Slate Reflector
Stock: Kovalevskaya Folding
Underbarrel: M1941 Hand Stop
Magazine: 7.62x54mmR 45 Round Mags
Ammunition: Lengthened
Rear Grip: Fabric Grip
Perk 1: Fleet / Sleight of Hand
Perk 2: On-Hand
To make it suitable to be paired with a Sniper Rifle, we've prioritized mobility and range in this Nikita AVT build. The ZAC 444mm barrel provides the weapon with better range on top of sprint-to-fire and aim-down-sight (ADS) speeds. Additionally, the Fabric rear grip, Folding stock, and Fleet perk help boost the mobility even further.
You can also swap the Fleet perk for Sleight of Hand if you need a faster reload speed on your gun. The rest of the attachments remain similar to other Vanguard sniper support weapons.
Related: Best PKM Loadout and Class in Call of Duty: Warzone
Best Nikita AVT Long-Range Loadout Warzone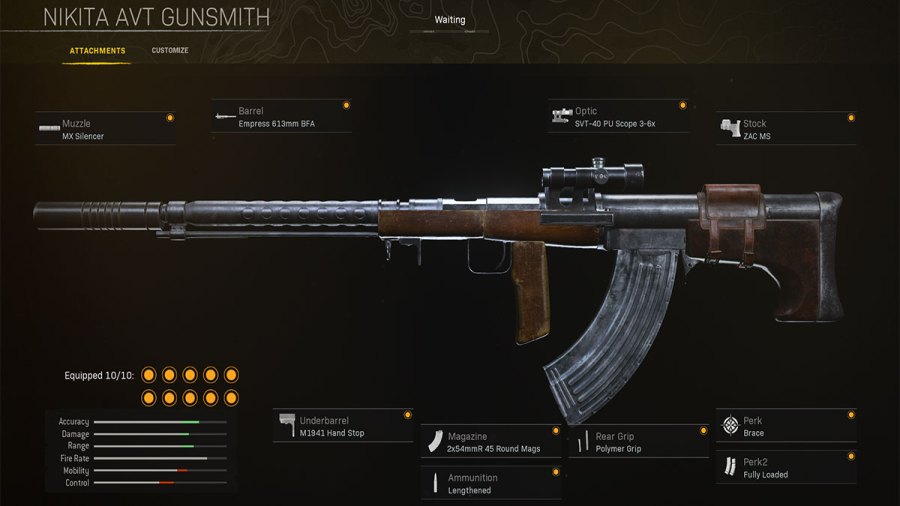 Muzzle: MX Silencer
Barrel: Empress 613mm BFA
Optic: SVT-40 PU Scope 3-6x
Stock: ZAC MS
Underbarrel: M1941 Hand Stop
Magazine: 7.62x54mmR 45 Round Mags
Ammunition: Lengthened
Rear Grip: Polymer Grip
Perk 1: Brace
Perk 2: Fully Loaded
As mentioned earlier, the Nikita AVT cannot compete with the likes of the AK-47 or C58 at long range due to slower time-to-kill (TTK). Nonetheless, you can try out this particular loadout for yourself. The barrel, stock, and underbarrel attachments used here give the weapon its maximum achievable range and control. This makes the gun effective and accurate at range.
Best Nikita AVT Class Setup Warzone
Primary Weapon - Nikita AVT
Secondary Weapon - Armaguerra 43 / Sten / LW3 Tundra
Lethal - Throwing Knife
Tactical - Stim
Perk 1 - Cold Blooded
Perk 2 - Overkill
Perk 3 - Combat Scout / Amped
Stay tuned to Pro Game Guides for more Call of Duty content. In the meantime, head over to our article on CoD Vanguard & Warzone Season 3 Battle Pass – Rewards & Tiers.