PKM is one of the most dominant Light Machine Guns in Call of Duty: Warzone. The Modern Warfare LMG is definitely slow on the mobility aspect, but it's a solid pick amongst players thanks to its high accuracy, control, damage, and effectiveness over range. Here's a guide on building the perfect long-range PKM class with the best attachments available.
Best PKM Loadout Warzone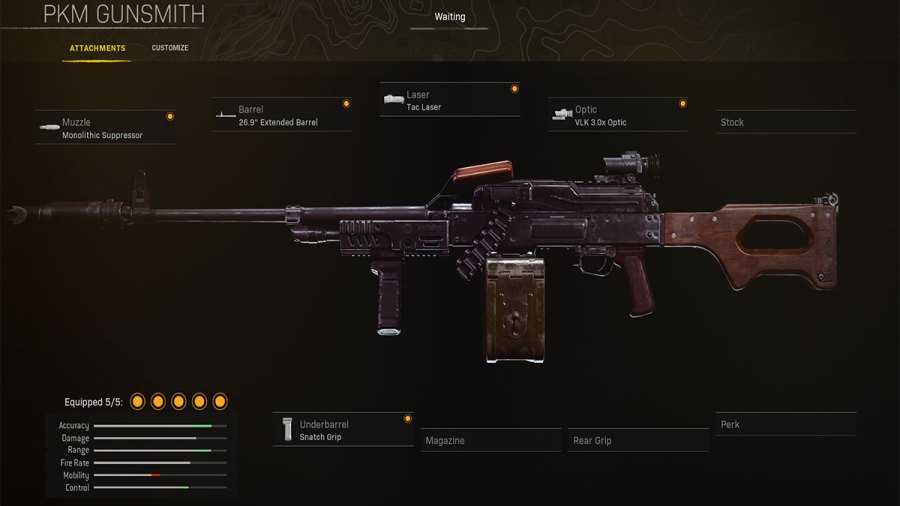 Muzzle: Monolithic Suppressor
Barrel: 26.9" Extended Barrel
Laser: Tac Laser
Optic: VLK 3.0x Optic
Underbarrel: Snatch Grip
The Monolithic Suppressor is the go-to muzzle attachment for almost every Modern Warfare weapon in the game. Paired with the Extended Barrel, it gives the PKM LMG its maximum achievable damage range and bullet velocity.
Related: Best Armaguerra 43 Loadout and Class in Call of Duty: Warzone Pacific
However, these two attachments do hurt the mobility and aim-down-sight (ADS) speed of the gun. This reduction is acceptable because you'll be pairing this LMG with a close-range, mobile SMG anyways. Next up, equip the Snatch Grip for better control and a slight boost to ADS speed.
Attach your preferred optic to the gun and use the Tac Laser for even more ADS speed improvement. You may also want to consider the Sleight of Hand perk that can reduce the reload time of the PKM by around 2.5 seconds. If you are comfortable with a slower ADS, ditch the Tac Laser for this perk.
Best PKM Class Setup Warzone
Primary Weapon - PKM
Lethal - Semtex
Tactical - Stim
Perk 1 - Cold Blooded
Perk 2 - Overkill / High Alert
Perk 3 - Amped
Stay tuned to Pro Game Guides for more Call of Duty content. In the meantime, head over to our article on Call of Duty hints at possible Godzilla crossover in Season 3: Classified Arms.