Call of Duty Modern Warfare 2 has a wide range of weapon categories, and players can unlock different guns to level up and build ideal loadout setups. The RPK is one of the Light Machine Guns you can unlock in the game, and with the proper attachments this weapon becomes a deadly threat at mid range. The RPK belongs to the Kastovia Platform, meaning you'll have various attachments available for this gun before unlocking it. Here are the best attachments, loadout, and class setup for the RPK in Call of Duty Modern Warfare 2.
Best RPK class setup Modern Warfare 2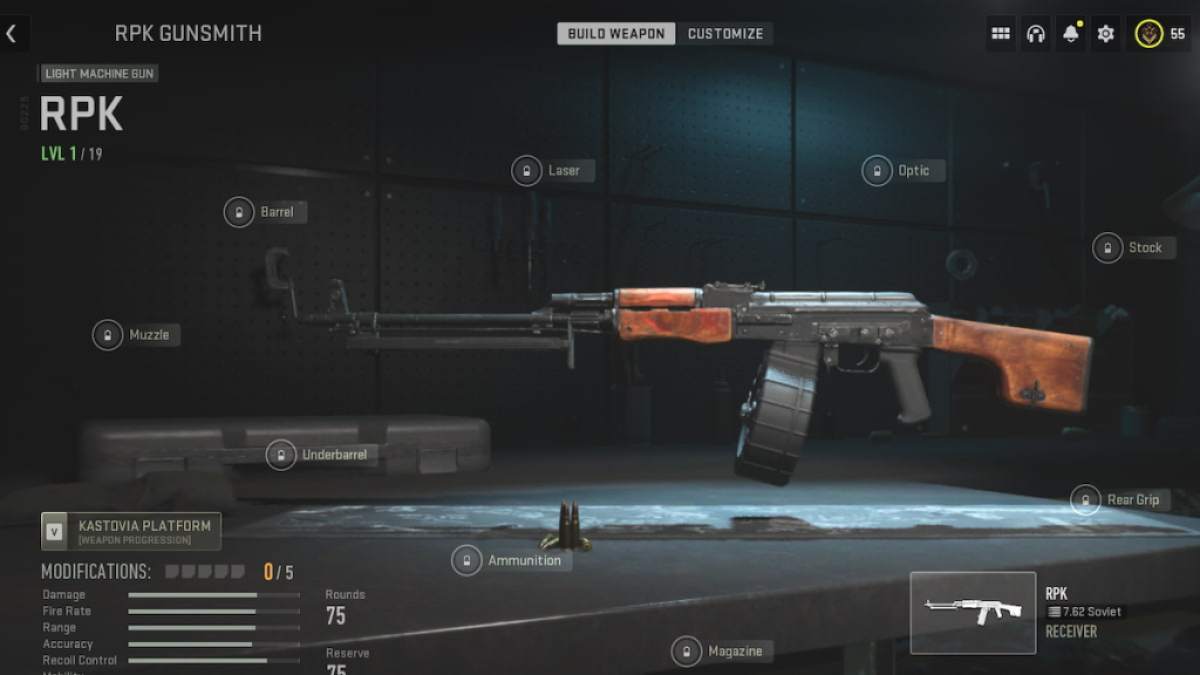 The RPK is unlocked by progressing with the Kastov 762 to level 16. Once this weapon is unlocked, add it to a custom loadout, and start eliminating players. The RPK boasts a high Fire Rate, Range, Recoil Control, and Damage, but falls short in Mobility. Any class setup for this weapon should focus on increasing its Mobility, Aim Down Sight speed, and Recoil Control. The RPK has 19 levels of progression, and we recommend leveling it up quickly to get its Weapon Tuning. Each magazine has 75 rounds, which allows players to take down multiple enemies at once without reloading. Here are the best attachments to use for the RPK:
Barrel: KAS-10 584MM Barrel
Muzzle: Kastovia DX90
Underbarrel: FTAC Ripper
Rear Grip: True/Tac Grip
Stock: Prolite TL3 Stock
This class setup focuses on improving Accuracy, Mobility, Handling, and ADS speed. With Weapon Tuning, try to experiment the settings to get the maximum ADS speed, and Sprint to Fire speed. The RPK is a solid LMG, especially if you like to play post-up. Mount this LMG at an angle with clear sight lines and start taking down opponents without worrying about reloads. You can put in an Optic attachment, but the RPK's iron sights is good enough without one.
Best RPK loadout Modern Warfare 2
Attachments are only one part of the loadout, and you must select different equipment after building the weapon class setup. The RPK is an LMG, so it's ideal to carry an SMG, AR, or Shotgun as a Secondary weapon. Equip Perks, Lethal and Tactical equipment, Killstreaks, and select two Field Upgrades to complete the loadout. Here's is the best loadout for the RPK in Modern Warfare 2:
Primary: RPK
Secondary: Fennec 45 or TAQ-56 or Lockwood 300
Tactical: Shock Stick
Lethal: Frag Grenade
Perk Package

Basic Perks: Overkill and Double Time

Bonus Perk: Fast Hands
Ultimate Perk: High Alert

Field Upgrade: Dead Silence or Battle Rage
Wondering what else is coming to Modern Warfare 2? Check out All 6v6 Modes in Modern Warfare 2 and How to get the Oni Operator in Modern Warfare 2 on Pro Game Guides.