In Call of Duty Modern Warfare 2, players unlock weapons from various categories and build unique classes and loadouts. The Vaznev-9k is one of the SMGs you'll unlock in the game, and this gun has already become a popular choice. The Vaznev-9k has low Damage and Range, but its Recoil Control, Fire Rate, and Handling are off the charts. Here's the best loadout and class setup for the Vaznev-9k SMG in Call of Duty Modern Warfare 2.
Modern Warfare 2 best Vaznev-9k class build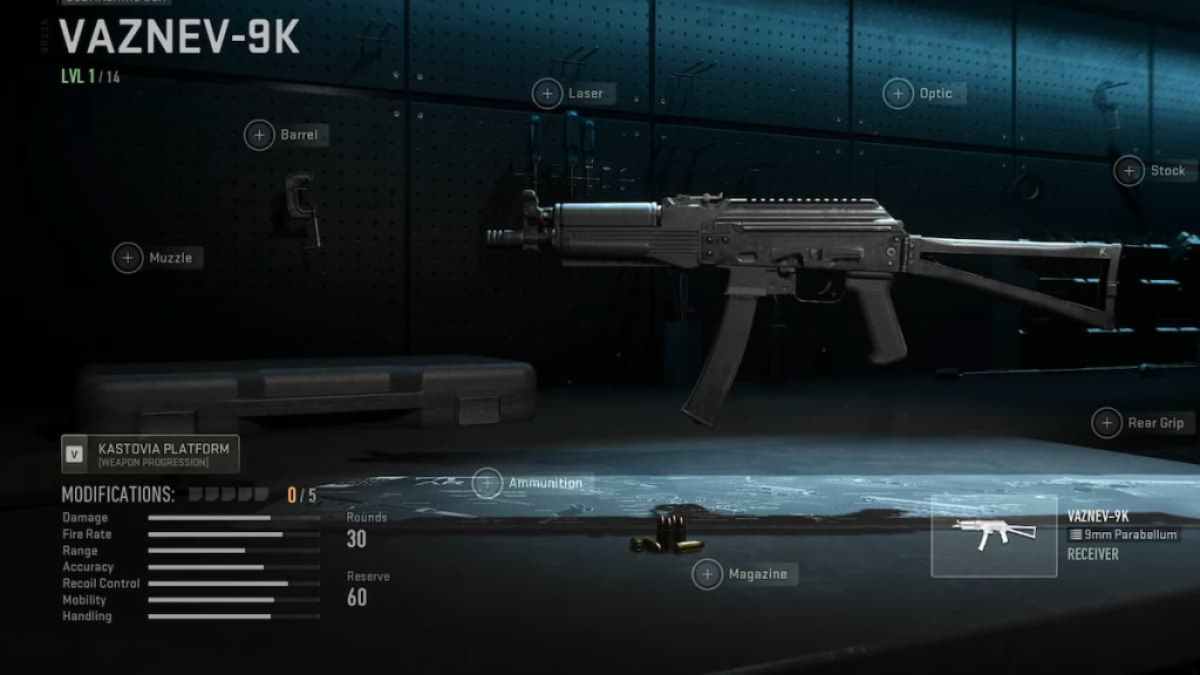 The Vaznev-9k is one of the weapons in the Kastovia Platform, which means it shares attachments with other Kastov weapons. This weapon has 14 levels of progression, and you can unlock its Weapon Tuning by leveling it up. Its high Recoil Control and Mobility allow players to move around swiftly without much to worry about. Each magazine has 30 bullets, making it the perfect gun to assault opponents. The Vaznev-9k has poor Range, but its Accuracy, Damage, and Fire Rate make this weapon a close-range beast. Here are the best attachments to run with the Vaznev-9k.
Barrel: KAS-1 381mm
Muzzle: XRK Sandstorm
Rear Grip: Demo X-2 Grip
Optic: Cronen Mini Red Dot
Stock: Spetsnaz S10 Stock
The above attachments are meant to improve Accuracy while compensating for Recoil Control and Handling. You can use the Bruen Pendulum or FTAC Castle Comp Muzzle to improve Recoil Control for this weapon. Similarly, players can swap out the Optics and add a Laser Sight for better Handling and Mobility.
Modern Warfare 2 best Vaznev-9k loadout
After equipping all five attachments to the weapon, you need to complete the loadout by selecting other aspects of this build. This weapon functions most efficiently when you make a close-range loadout. Equip a Secondary weapon, and select unique Killstreaks, Lethal, Tactical, Field Upgrades, and Perks. The Vaznev-9k is a SMG, and we recommend carrying an Assault Rifle or another SMG as Secondary.
Primary: Vaznev-9k
Secondary: Fennec 45 or Kastov 762
Tactical: Stun Grenade
Lethal: Proximity Mine
Perk Package

Basic Perks: Overkill and Battle Hardened

Bonus Perk: Fast Hands
Ultimate Perk: Ghost or High Alert

Field Upgrade: Battle Rage
Having trouble logging in to Modern Warfare 2? Check out How to fix MW2 'keeps crashing on PC, PS5, & Xbox' issue on Pro Game Guides.