In Call of Duty: Warzone 2, the SO-14 Battle Rifle shares its platform with the EBR-14 Marksman Rifle. While the latter has proven a top-tier weapon in the current meta, SO-14 doesn't come short and has impressive properties. Here's a guide to the best SO-14 mid to long-range build in Warzone 2.
Best SO-14 Loadout Warzone 2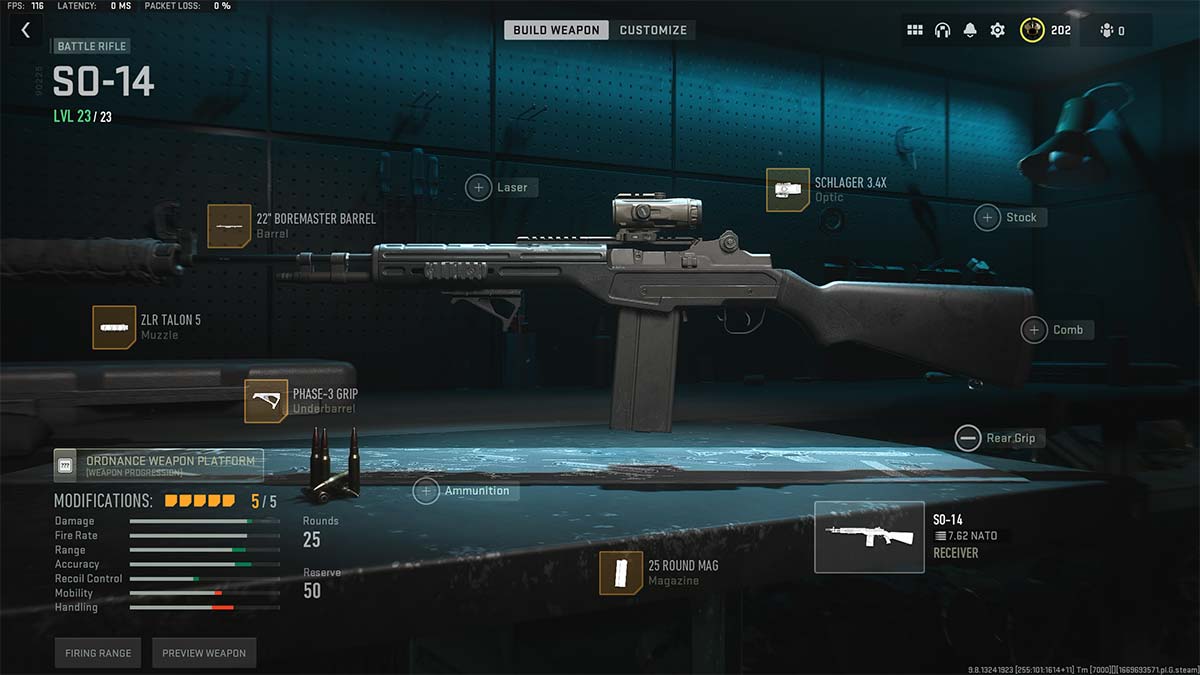 Muzzle: ZLR Talon 5
Barrel: 22" Boremaster Barrel
Optic: Schlager 3.4x
Underbarrel: Phase-3 Grip
Magazine: 25-Round Mag
Attachment Tuning

Muzzle: Horizontal slider to +0.50 in
Barrel: Horizontal slider to +0.26 in
Underbarrel: Vertical slider to -0.40 oz
Related: Best Lachmann-762 loadout and attachments Warzone 2
We've used attachments that boost the weapon's accuracy and range for this loadout. As such, the gun will lose some of its mobility and handling, but these features shouldn't matter much for a ranged weapon. The three main attachments that give the SO-14 its deadly accuracy are the ZLR suppressor, Boremaster barrel, and Phase-3 foregrip. In addition to improving the recoil control, the muzzle and barrel also impart a significant range boost to the weapon. With this set of attachments, you may try to use this SO-14 build in full-auto mode, however, tap-fire will have a more consistent performance, primarily due to its accuracy.
Best SO-14 Class Setup Warzone 2
Primary Weapon: SO-14
Secondary Weapon: BAS-P
Tactical: Stim
Lethal: Semtex
Perk Package: Equip the Weapon Specialist perk package if you want two primary guns in your loadout, else choose from Commando, Specter, or any other package of your preference
Stay tuned to Pro Game Guides for more Call of Duty: Modern Warfare 2 and Warzone 2 content. In the meantime, head over to our article on 8 Most important tips for beginners in Warzone 2 DMZ.