In Call of Duty: Warzone, the Stoner 63 is a light machine gun that packs a big punch. The gun carries 30 rounds per magazine (60 with an extended magazine); it also shoots in automatic with medium recoil and moderate penetration. Needless to say, even before applying attachments, this gun is a favorite for many players in COD: Warzone.
The Best Loadouts & Attachments for Stoner 63
In order to help maximize damage with the Stoner 63 and weed out the competition in Warzone, read below to see the best loadout and attachment combinations.
Note: While considering the best attachments and loadouts for the Stoner 63, we went for the most efficient with the most used intent (long-range). The Stoner 63 is rarely, if ever, used for short/medium range. While there are other attachments that are viable, we found these to be the best combination for a powerful long-range machine gun with lower recoil and higher speed.
The Best Attachments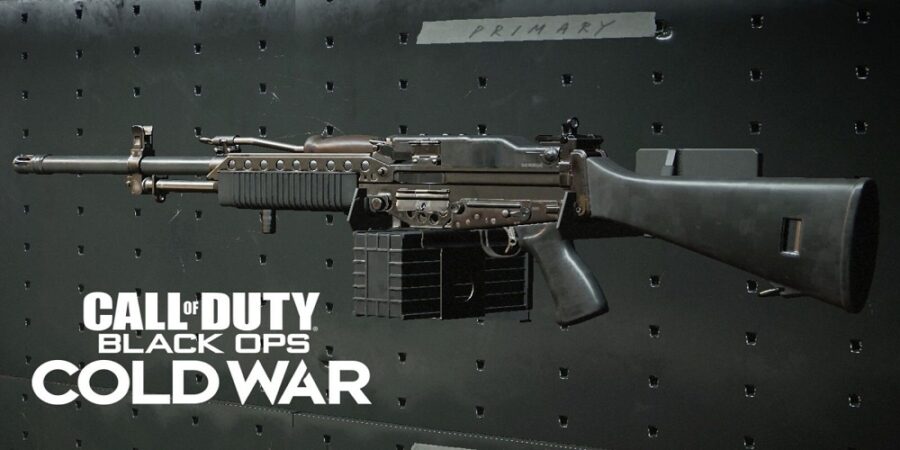 One of the best additions a player can apply to the Stoner 63 is the Agency Suppressor muzzle. The attachment provides exquisite adjustment for long-range use. Add the 20.7" Match Grade barrel as well to complement the power of this loadout. The Salvo Fast Mag (150 RND) will continue to enhance this essential setup. Additionally, the Field Agent Grip Underbarrel attachment gives the player extremely improved recoil. For optic use, the SUSAT Multi-zoom is a game-changer. Finally, the Ember Sighting Point increases effective damage range and improves hip-fire accuracy.
Related: Call of Duty Warzone Bunker Codes
Due to the long-range use of the weapon, it would be wise to make your secondary weapon a close-range behemoth like the Jak 12 or Origin shotguns.
The Best Loadouts
As far as tactical and lethal equipment in the Stoner 63 loadout, these options are flexible. The best way to decide is to figure out the preferred playing style. For more stealthy players, sticking a claymore behind them may be beneficial. For a more bombastic playing style, smoke grenades may come in handy.
Useful Perks
For the above loadout, Cold-Blooded is the most classic and useful perk. Ghost is another useful perk to keep players safe against heartbeat sensors and UAVs. The third perk to use is Tracker, which will hide death markings from the slain enemy's teammates.
Want to read more about Warzone? Check out COD Warzone: How-to Complete Contracts on Pro Game Guides.