Call of Duty: Warzone Season 4 added the UGM-8 Light Machine Gun to the Battle Royale game. The meta LMG performs extremely well in mid-long ranges and can be unlocked via the Season 4 Mercenaries of Fortune Battle Pass. Here's a guide to the best UGM-8 attachments and class in Warzone Pacific.
Best UGM-8 Loadout Warzone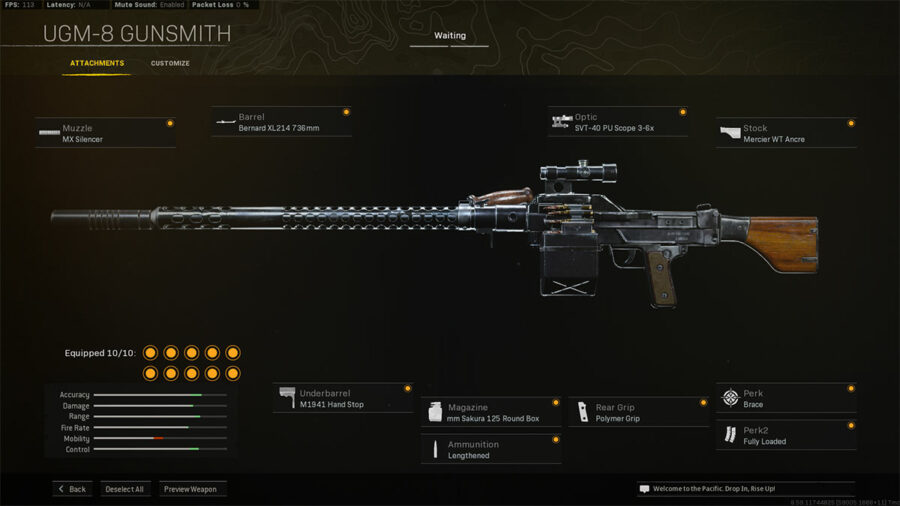 Muzzle: MX Silencer
Barrel: Bernard XL214 736mm
Optic: SVT-40 PU Scope 3-6x
Stock: Mercier WT Ancre
Underbarrel: M1941 Hand Stop
Magazine: 6.5mm Sakura 125 Round Box
Ammunition: Lengthened
Rear Grip: Polymer Grip
Perk 1: Brace
Perk 2: Fully Loaded
The attachments that we are using for this UGM-8 build are generally used in most long-range Vanguard weapons. First off, the barrel and muzzle attachments used here boost the damage range, bullet velocity, accuracy, and control of the UGM-8 LMG.
To further improve the weapon's accuracy and recoil control, add the Mercier stock, Polymer rear grip, and Hand Stop underbarrel. While Lengthened ammunition adds bullet velocity to the LMG, the 6.5mm Sakura mag boosts the recoil control, fire rate, and ammo capacity.
Finally, for the Perk 1 slot, there are three good attachment options to choose from:
Tight Grip - For accuracy during sustained fire.
Surveil - For better bullet velocity.
Brace - Initial firing recoil.
Since the gun already has great bullet velocity and sustained fire accuracy, we recommend going with Brace, which helps reduce the weapon's initial recoil kick.
Related: Best Marco 5 Loadout and Class in Call of Duty Warzone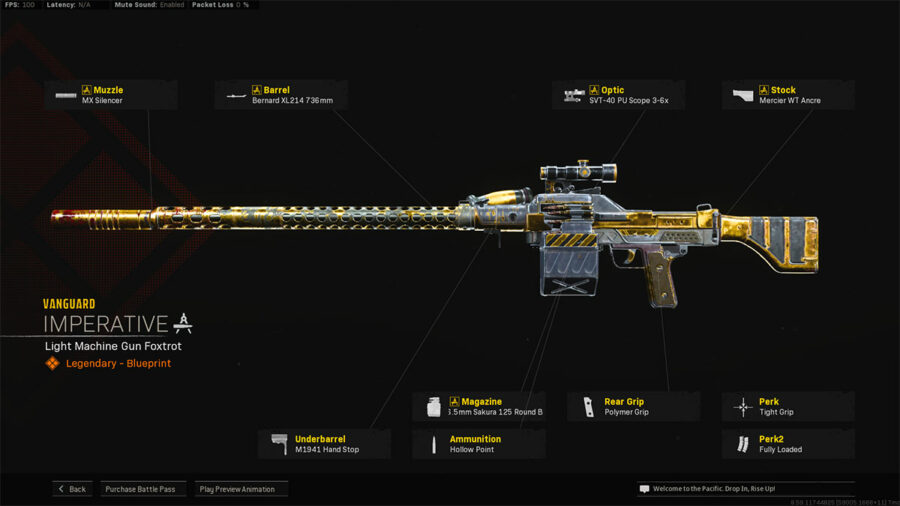 If you want to use this UGM-8 loadout without having to level up the gun, there is a quicker way but it may cost you. You unlock the "Imperative" legendary blueprint for the UGM-8 at tier 95 of the Season 4 Battle Pass and it has almost the same attachments that we recommend using. You can reach the blueprint by spending CoD Points and buying tiers in the Battle Pass system.
Best UGM-8 Class Setup Warzone
Primary Weapon - UGM-8
Secondary Weapon - H4 Blixen / Armaguerra / MP7
Lethal - Throwing Knife
Tactical - Stim
Perk 1 - Serpentine
Perk 2 - Overkill
Perk 3 - Amped
Stay tuned to Pro Game Guides for more Call of Duty and Warzone content. In the meantime, head over to our article on CoD Warzone Season 4 Battle Pass – Operator Skins & Weapon Blueprints.