Getaway Vehicle is a Tier 2 mission for the Black Mous Faction in Call of Duty: Warzone 2 DMZ. This mission requires you to park a boat at a designated location and then deposit a Gas Can into a nearby dumpster Dead Drop.
How to complete the Getaway Vehicle mission in DMZ
Park an RHIB along the walled shore across the river south of Sa'id City.
Kill 10 enemies in Sa'id City in the same deployment.
Place a gas can in the Sattiq Caves Dead Drop in the same deployment.
Where to park the RHIB along the walled shore in Sa'id City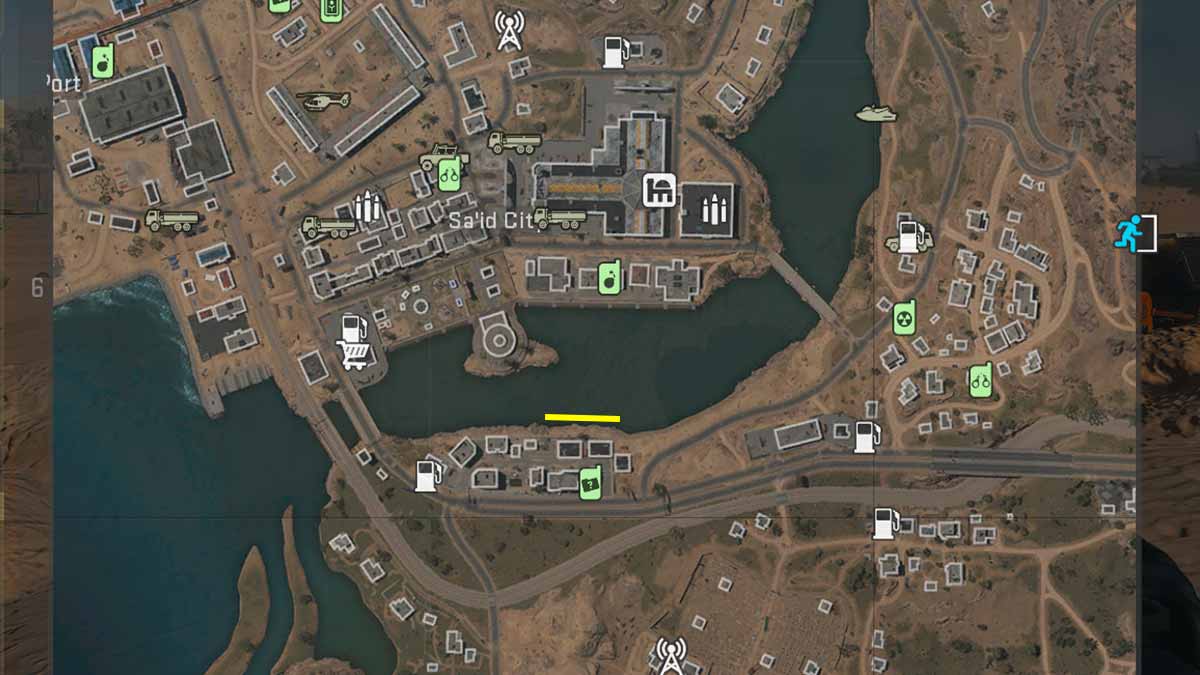 First of all, you'll need to acquire an RHIB boat, which can be found in the river next to Sa'id City or nearby POIs like Hafid Port and Sawah Village. Bring the boat to the area highlighted by the yellow line in the first image. All you have to do here is park the boat off the shore by the boundary wall, as shown in the second and third images.
Although this task seems to be fairly easy, it's reportedly bugged as the mission progress doesn't register for some players on their first try. If you're facing the same problem, try moving the RHIB back and forth a bit and then attempt to park it again. Make sure the boat is still and wait for the mission notification. Also, take out the bots nearby before they damage the boat and you.
Where to kill 10 enemies and find a gas can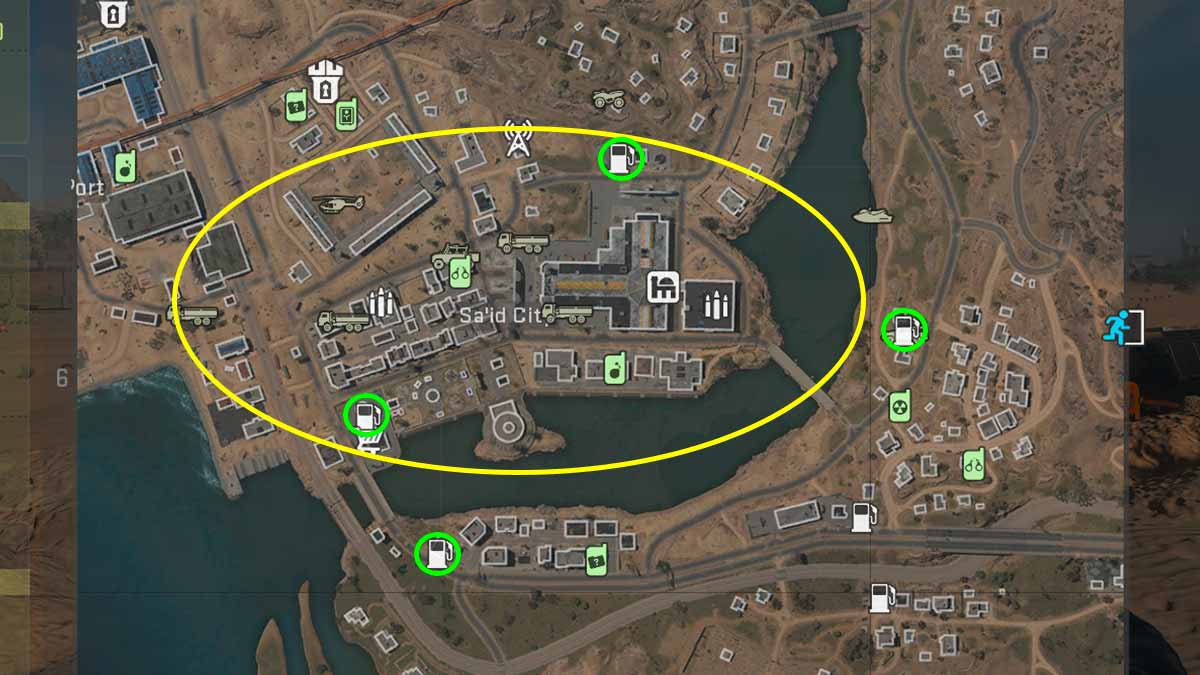 Once the RHIB has been successfully parked as the getaway vehicle, cross the river and enter Sa'id City. Eliminate 10 AI soldiers in this area (highlighted by yellow circle) to complete the second task. Now, you need to grab a Gas Can to deposit at the Sattiq Dead Drop. This item can easily be acquired from any of the nearby gas stations (highlighted by green circles).
Related: Custom Hardware DMZ Mission Guide – Beach Club Dead Drop, GPU, and Game Console
Where is the Sattiq Caves Dead Drop located?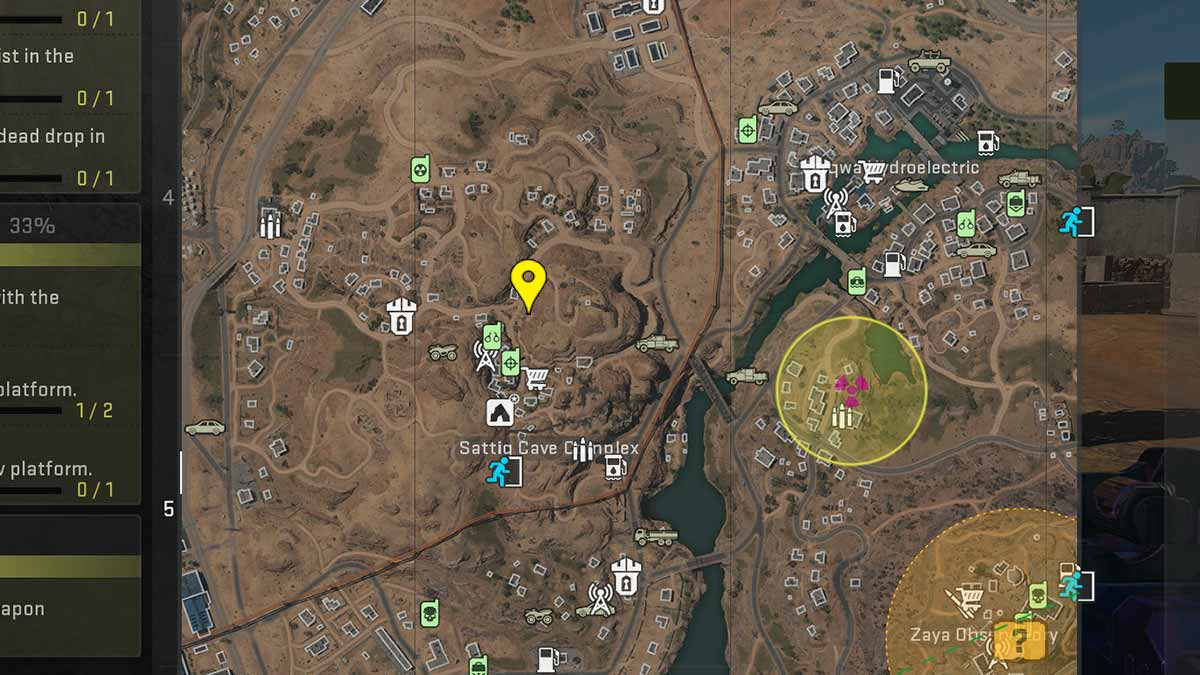 The Sattiq Caves Dead Drop is situated next to the mountain with the communication tower. The precise location of this dumpster has been shown in the images above. The area is guarded by a few armored AQ soldiers that you can easily take out before placing the Gas Can inside the Dead Drop. You're also required to visit this dumpster for the Untraceable Tier 2 Legion Faction DMZ mission.
Stay tuned to Pro Game Guides for more Call of Duty: Modern Warfare 2 and Warzone 2 content. In the meantime, head over to our article on Medical Mule DMZ Mission Guide – Zarqwa Hydroelectric Dead Drop, AFAKs, and more.