The Alone mission in Modern Warfare 2's campaign has Soap gathering items to craft while being hunted in the streets. The Gunless Achievement is awarded to players who go through the entirety of the level without firing their gun. This is more easily done on lower difficulties, but players can do it on any difficulty if they are careful enough. A lot of crafting material is necessary to make as many weapons as possible. This is how to finish the Alone mission without firing a gun in MW2.
How to unlock the Gunless achievement in Modern Warfare 2 - Find a sharp weapon or bomb
In order to get through the entirety of the Alone mission, players will have to collect as many resources as they can in order to sneak past guards or take them out entirely. They find it hard to avoid mines, as demonstrated in the Violence and Timing mission. There are a few ways that players can go about it without firing their weapon such as:
Mines - The best way to take out enemies. This can also take out multiple enemies at once if they travel together.
Smoke Bomb - The best way of sneaking past enemies or doing group takedowns. A single Smoke Bomb will let Soap take out at least two guards with Takedowns.
Molotov Cocktail - Useful, but only if there is a large enough group. Most of the mission will rely on sneaking by or taking out enemies one by one.
Throwing Knives - This does not count as firing a weapon and is the best ranged option.
Bottle - The distraction tool that players will want to always keep on them.
Prying Tool - This tool not only opens doors but also opens black box locks where players can usually get Explosives from.
Depending on what players want to go for, they will have to search for the corresponding crafting material.
Related: Where to find the enemy in the porta-potty in MW2 Campaign
How to get past the first group of guards in Alone
After using the metal from the fan and binding from the corpse, players will get inside the building. In the bathroom, there is more binding that can be found. Players will have to wait until the guards go outside in the next room before advancing. From there, they will grab a headlamp that they can use to backtrack and get the binding from the blue cabinet. From there, more materials can be found from other blue cabinets. In the street, there is some binding by the lit gate and metal by the other. Wax can be found upstairs on the table by the window.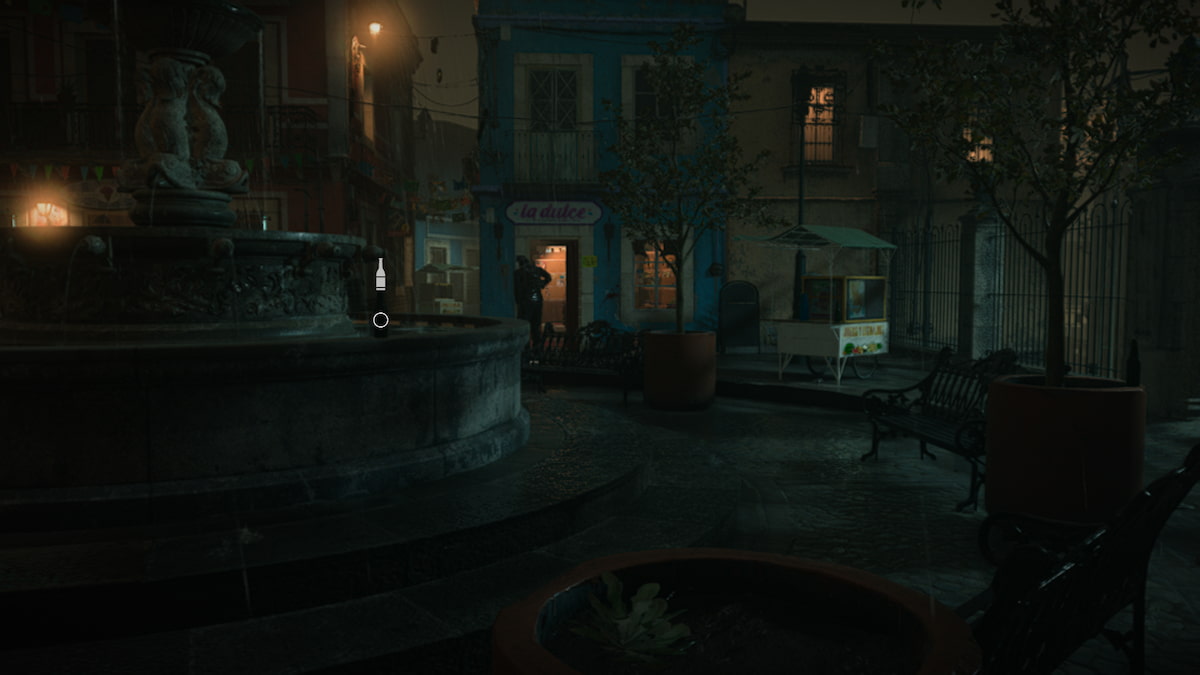 There are three bottles that can be found in the first area. The two buildings near the first guard have:
Right building - Wax, one trap, and one bottle.
Left building - One trap, chemicals, and wax.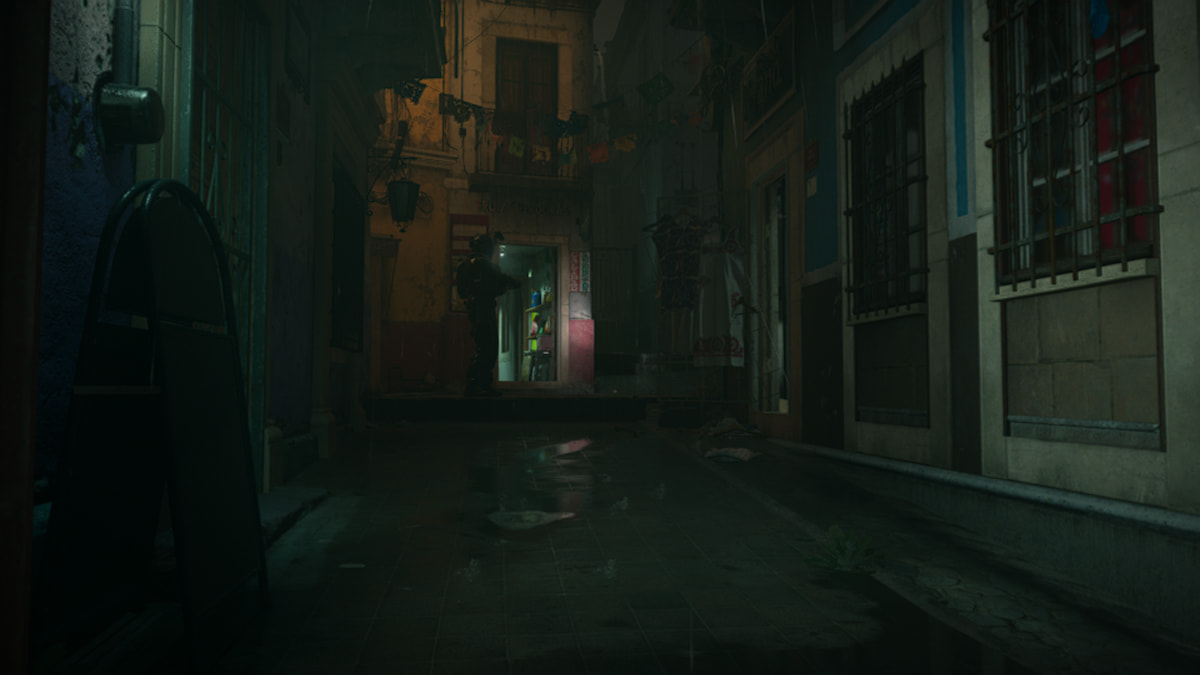 The other two buildings will lead players to the knife, giving them the ability to do silent takedowns. The items inside each building are:
Clothing Store Building - Wax, trap, binding, and explosives.

Outside the building and to the right are some additional explosives in the box.

Fruit Store - Chemicals, with the outside trash cans having a bottle and trap.
Players can find additional materials in the street by three guards that can be picked up after they are taken out. Players can take out the guard nearest the clothing store and trash cans with a silent takedown. The other guard by the first building can also be taken out with a silent takedown, leaving there remaining three guards. A mine or two can be used, but players can also use a Smoke Bomb to do a silent takedown on two of them after blowing up one of them.
How to get through the second group of guards in Alone
There is a lot of loot that players can grab in the streets leading up to the next group of guards. A shotgun on a string can be found as well, but players won't be using it. Inside the same building, metal, wax, and binding can be found. Outside, two black boxes with explosives can be unlocked.
Above the restaurant, more materials can be found as well as one of the three safes in the game. More materials can be acquired downstairs, but players don't have to collect too many of them. The guards are constantly on patrol and can change their directions depending on how much noise is made. To deal with them, players should follow these steps:
Craft everything before collecting more

Soap can only carry so much in his backpack and there are more pieces of equipment on the level than players can hold at one point.

Use Smoke Bombs for takedowns or to get back to stealth

If the guards do not spot the player after being smoked, they will stay aggressive but will lose sight of Soap entirely. It is better to do takedowns in many instances, but resetting stealth means that players can use more mines.
The best place to get to is the building across from the restaurant. It was a stairwell that players can climb and lay mines by while they craft more. They can still be shot from outside, but diminishing the numbers of the guards is a lot easier when they try to all get to Soap. Gas can be found inside as well to craft a Molotov cocktail for any remaining enemies.
How to get past the final area in Alone
On Recruit difficulty, this section is relatively painless. There are a lot fewer guards in this section and the guards by the water can all be taken down with underwater takedowns. Any guards that give players trouble can be dealt with by using throwing knives. When reaching Ghost, players can run past all the enemies at this point and have him do the shooting.
On Veteran difficulty, smoke can be used to do the takedowns instead, but players should save some for the end when more guards come in. Additional components can be obtained in the buildings to the right, but there are so many materials that can be picked up from the previous area that players should have more than enough to get through the final fight and earn the achievement.
For more Modern Warfare 2 Achievement guides, check out How to reach the penthouse without killing or triggering the alarm – MW2 Campaign Guide on Pro Game Guides.