In Call of Duty Modern Warfare 2, players unlock various camos that can be used on different weapons. The 80S Fever camo is a part of the four camo challenges available for Fennec 45. To unlock this camo, you need to start by unlocking the Fennec 45 and leveling it up quickly. Here's how players can get the 80S Fever camo in Call of Duty MW2 and Warzone 2.
How to get the 80S Fever camo in Call of Duty MW2 and Warzone 2.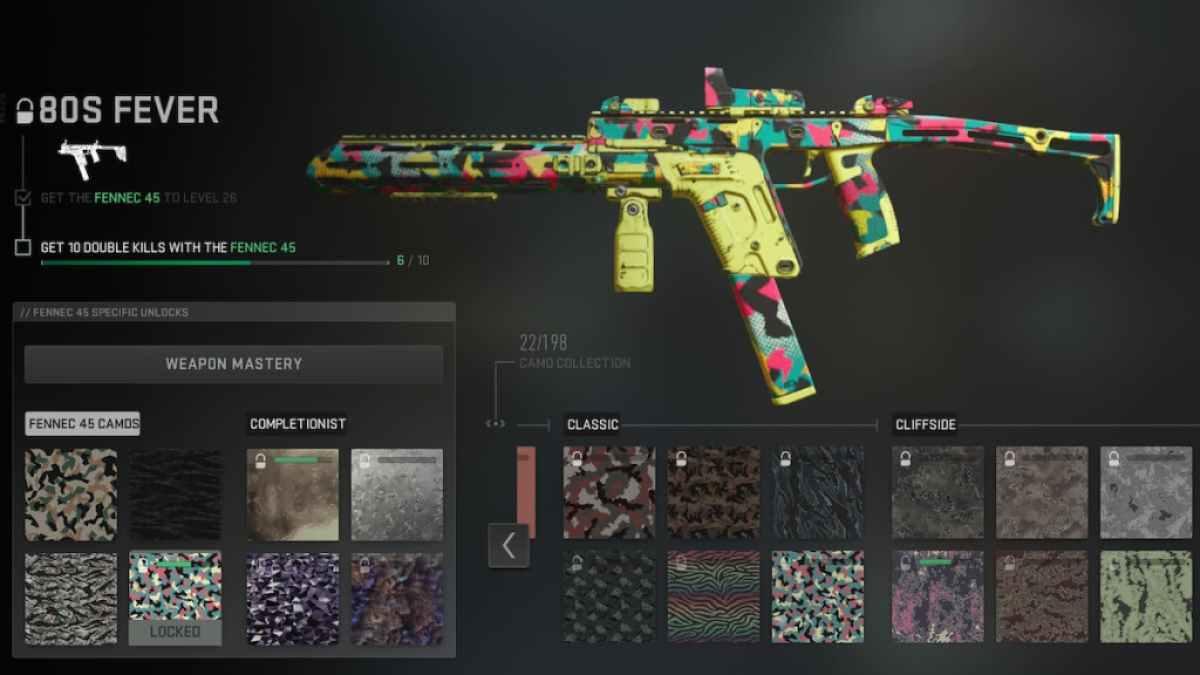 You can unlock the Fennec 45 SMG by reaching account level 38 in Call of Duty Modern Warfare 2. Once you unlock this weapon, the camo challenges will become available as you level up the gun. To unlock the 80S Fever camo challenge, you need to progress with the Fennec 45 to level 26. As soon as the challenge is unlocked, you must get 10 double kills with the Fennec 45 to get the 80S Fever camo. We recommend grinding game modes like Hardpoint, Domination, Kills Confirmed, and Team Deathmatch to complete this camo challenge. You can also drop in the Shoot House map, which is excellent for getting multiple kills quickly.
Related: Best BAS-P Loadout and attachments in Modern Warfare 2
Double kills are not easy to get, and you'll need to be exceedingly crafty to get these. Running head-on toward the opponents will give you one elimination at best, and it's not an ideal strategy to get double kills. Instead, players can camp corners and hide at off angles in different choke points to easily get two kills in quick succession. Similarly, you can push different areas with teammates and areas filled with opponents and get a few kills easily. Getting 10 double kills can take a while, and we recommend players equip Dead Silence as a Perk. This allows you to silently move around the map, making it easier to eliminate two opponents at once.
Having trouble logging in to Modern Warfare 2? Check out How to fix MW2 'keeps crashing on PC, PS5, & Xbox' issue on Pro Game Guides.