In Call of Duty: Warzone DMZ's Koschei Complex map, players can unlock special cosmetics like the Cash Bag Emblem from the Secure Buy Station. Once unlocked, this emblem will be available for use across Warzone 2 and MW2. Here's a guide on the valuables required to get this special reward.
How to get the Cash Bag Emblem in DMZ
Here's the barter recipe for the Reigning Glory Calling Card in DMZ:
1 Employee Handbook

1 Acetic Acid
1 Delta Board
1 Server Tape Silver
Besides Server Tape Silver, all the other items can be acquired pretty easily in Koschei Complex. I suggest you deploy into the bunker via the Taraq Village Bridge entrance with a Rebreather. Search every section of the flooded Barracks and open all the loot caches you come across.
In the Barracks alone, there's a high probability of you finding the first three items on the barter recipe list. If not, you can continue your search in other areas. Once you have the items, deposit the items on the Shopkeeper's list to unlock the Secure Buy Station and purchase the Cash Bag Emblem.
Where to find Employee Handbook in Koschei Complex
Employee Handbook is a type of document and I've found it inside loot caches including Vintage Desks, Radio Crates, and Storage Boxes. If you don't find it in the starting area, head to the Factory Admin section and look for it in the rooms directly above the Shopkeeper.
Related: How to unlock the Reigning Glory Calling Card in DMZ
Where to find Acetic Acid in Koschei Complex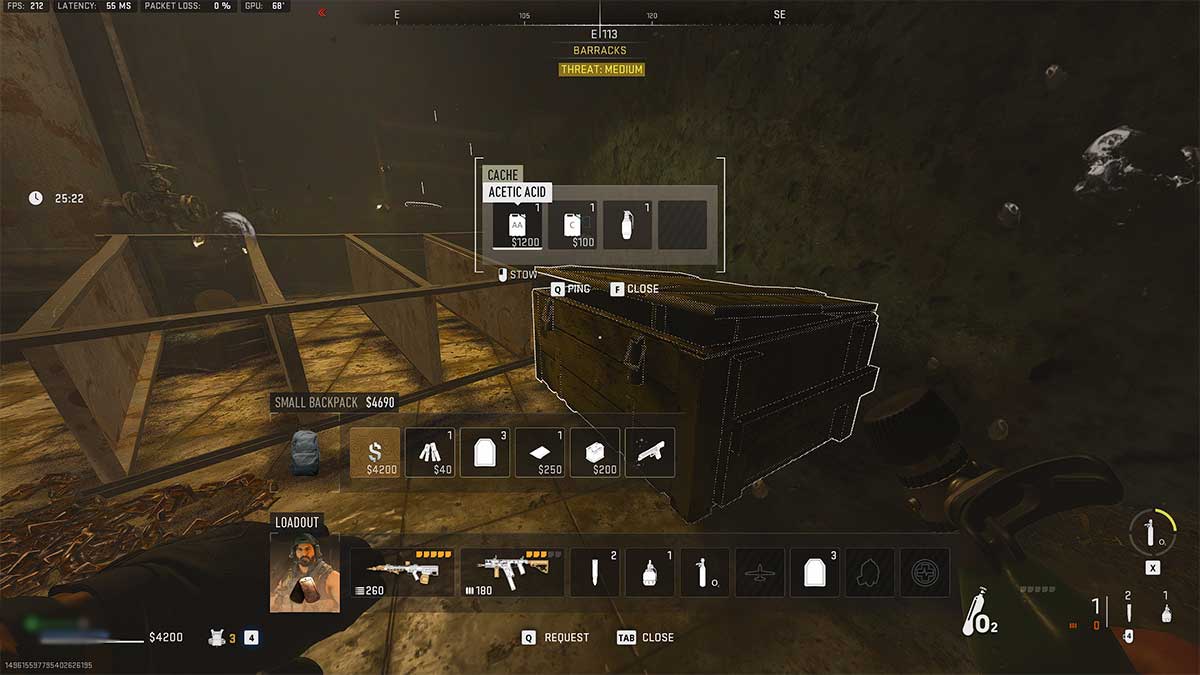 As mentioned earlier, Acetic Acid is one of the items that can be found in the starting sections, especially when you enter from the Taraq Village Bridge and Oasis airlocks. I've always found Acetic Acid inside Storage Boxes, so make sure to search for it if you come across one.
Where to find Delta Board in Koschei Complex
Delta Boards have a small chance of spawning inside Radio Crates. If you're having trouble finding one, I know the spot where you can always find a Delta Board. Go to the Alpha Cluster section on the east side of the Koschei Complex map, and search the Server Tape Racks until you have one.
Where to find Server Tape Silver in Koschei Complex
Server Tape Silver is an extremely rare item, but you should be looking for them in the Server Tape Racks inside Alpha Cluster. There's a good chance that you will not find even one after searching the entire area. Fortunately, you can purchase a Server Tape Silver from the Secure Buy Station for $20,000 cash. Therefore, collect some money on Al Mazrah before deploying into the bunker.
Stay tuned to Pro Game Guides for more Call of Duty: Modern Warfare 2 and Warzone 2 content. In the meantime, head to our How to unlock the Valuable Gun Screen in DMZ article.