Call of Duty: Black Ops Cold War developers have never disappointed players when it comes to delivering fresh content, even after the game's first release anniversary. Following this tradition, the game received a brand new Submachine Gun, UGR, in a recent update alongside the Lazar operator. Here are the unlock challenges to access the UGR SMG.
How to get the UGR in Black Ops Cold War and Warzone
Unlock criteria for Multiplayer: Using an SMG, kill an enemy revealed by your Spy Plane, UAV, or Field Mic in 15 different matches.
Unlock criteria for Zombies: Eliminate 1000 enemies using an Epic or better rarity SMG.
In Black Ops Cold War Multiplayer, you should equip the Spy Plane killstreak and the Field Mic field upgrade to complete the challenge. Since you only have to kill one revealed enemy, it should be an easy task. Make sure to select a short-duration game mode, such as Team Deathmatch, as you'll have to do this in 15 completed matches.
In Zombies, all you have to do is kill 1000 zombies with an epic or legendary SMG to unlock the UGR. You can get a high-tier gun by upgrading yours in the Pack-a-Punch machine or looting chests. Furthermore, completing the Super Easter Egg will allow you to spawn with an epic weapon in every Zombies match.
Related: How to get the Godzilla Skin Bundle in Call of Duty Vanguard and Warzone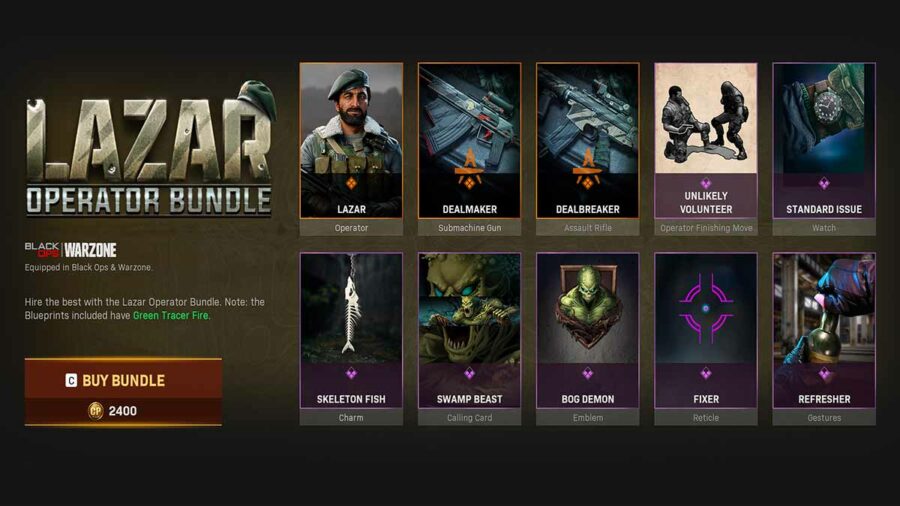 Moreover, the fastest way to experience the UGR is by purchasing a cosmetic bundle containing its blueprint from the CoD Store. For instance, you can buy the Lazar Operator Bundle containing the Dealmaker UGR blueprint. While this will unlock the weapon for you, you will not be able to customize it unless you have fulfilled the unlock criteria.
Stay tuned to Pro Game Guides for more Call of Duty content. In the meantime, head over to our article on All Godzilla vs Kong Easter Eggs in Call of Duty Warzone.