Call of Duty: Modern Warfare 2 is the most recent offering in the biggest first-person shooter franchise. The game takes the Gunsmith weapon customization feature from its prequel, Modern Warfare 2019, and renews it with some major changes. Here's everything you need to know about the new Gunsmith system in Modern Warfare 2.
Call of Duty Modern Warfare 2 Gunsmith 2.0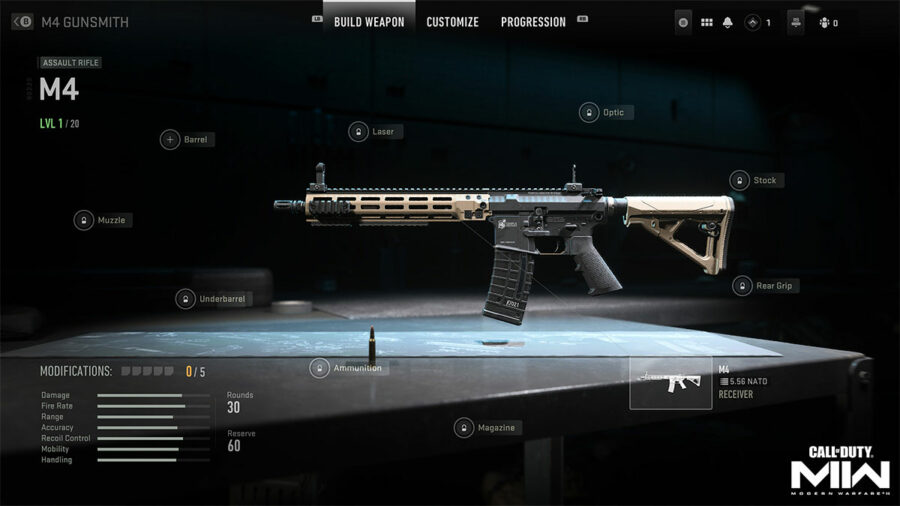 Weapon Platforms and Receivers
In addition to unique weapons like the RPG, there are now Weapon Platforms that feature multiple weapons within that family. For instance, the base M4 Assault Rifle Platform has five different weapons within its family:
M4 - Assault Rifle
M16 - Assault Rifle
556 Icarus - Light Machine Gun
FTAC Recon - Battle Rifle
FSS Hurricane - Submachine Gun
These are called Receivers and can drastically change the properties of the base weapon.
Attachments
In Modern Warfare 2, players can equip a total of five attachments on their weapon build, similar to Modern Warfare 2019. Gunsmith 2.0 has divided the weapon attachments into two categories:
Platform Specific Attachments: These group of mods are unique to the weapon family. Furthermore, after you unlock one of these attachments for a specific weapon, you don't have to unlock it for its Receivers.

Receivers
Barrels
Stocks
Rear Grips
Magazines

General Attachments: Once unlocked for a specific weapon, these attachments are automatically unlocked for every other weapon in the game, if available. For instance, if you unlock the SZ Reflex Optic for the M4 Platform, you unlock it for the AK-47 Platform as well.

Optics
Ammunition
Underbarrels
Muzzles
Call of Duty Modern Warfare 2 Firing Range
After building your personalized weapon class with preferred attachment combinations, you can test out your build in the game's Firing Range. Absent from the last few Call of Duty games, this feature in Modern Warfare 2 will let you make fine adjustments to your gun build without having the need to test it in multiplayer matches against real enemies.
Call of Duty Modern Warfare 2 Weapon Vaults
Weapon Blueprints in Call of Duty games give players the option to customize the appearance of their weapons. While these cosmetic items give your weapon a fancy look, the aspect of your gun changes when you swap the attachments that come with the Blueprint. Upon purchasing a Weapon Vault, you will unlock all the attachments for that Weapon Platform and it will retain its appearance even if you change its attachments.
Stay tuned to Pro Game Guides for more Call of Duty content. In the meantime, head over to our article on How to redeem Call of Duty MW2 Beta code and Call of Duty has officially announced Warzone for mobile devices.