In Call of Duty: Warzone DMZ, players usually take the Chemical Plant route to reach Factory Admin in Koschei Complex. But if you want to get there quickly and without battling many enemies, I suggest you use the alternate way via the Barracks section. To spawn in Barracks, deploy into Koschei Complex via the Taraq Village Bridge entrance.
Where to find Barracks Exit Keys A and B in DMZ
Barracks Exit Key A is very easy to find as it spawns in the first flooded area of the section. Look for it in the first room to your right as you enter the submerged corridor. If you don't find the first key there, check the other rooms as well, especially in the corners. Move ahead to the next area of the Barracks with C4 laser traps and three armored guards.
At the west end of the second area, you'll notice a marked wooden board on the wall (see second image). Place an explosive on the blockage to obtain access to the secret area. You'll find the Barracks Exit Key B inside one of the rooms in this flooded chamber. I suggest you carry a Rebreather into Koschei Complex as you'll need it if the key is in the farthest room. Once you have obtained both keys, proceed forward by following the directional arrow markings.
Related: Where to use Defense Research Division Exit Keys A & B in DMZ
Where to use Barracks Exit Keys A and B in DMZ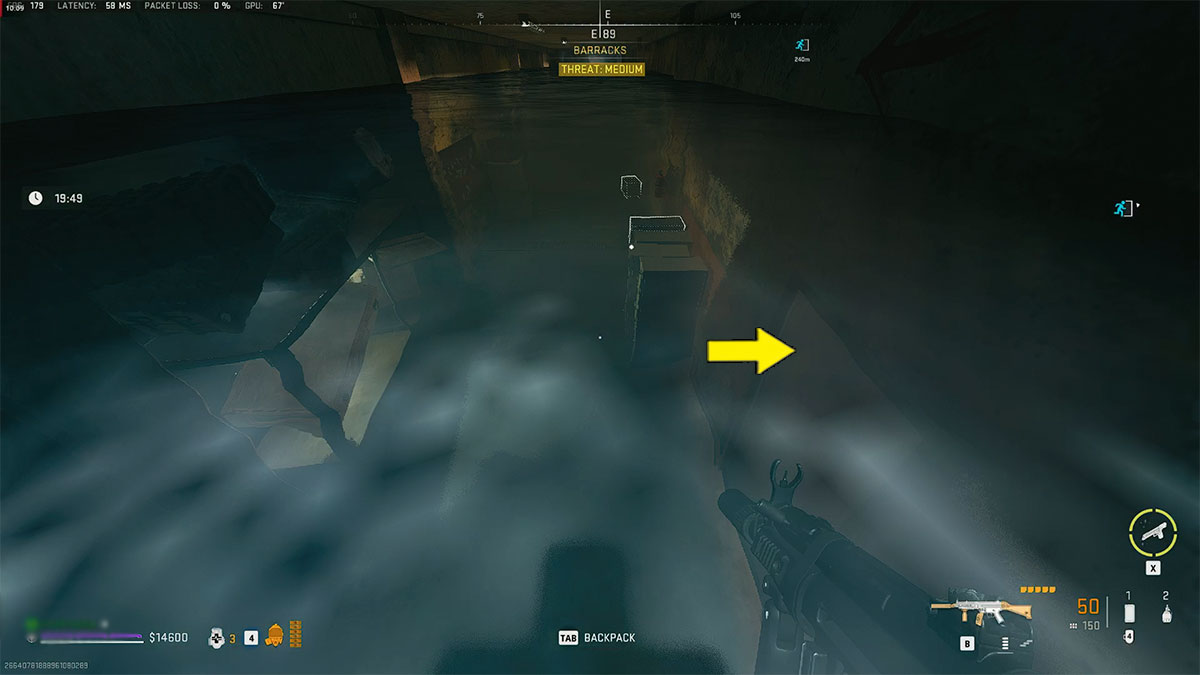 After crossing the laser traps, drop down the hatch into the second flooded area of the Barracks. To reach the Barracks Exit Door, you need not follow the red arrows on the wall. Instead, refer to the images above where I've shown in detail how to reach the shortcut exit:
Enter the first room to your right.
Go through the door on your left.
Unlock the door on your right and enter the next room.
If you're running out of breath, you can use the air pocket in the ceiling marked in the image. Otherwise, turn right and go to the next room with drawers and desks.
Unlock the door in front and move to the final area.
Swim up to reach the hole in the ceiling and press the climb/jump to reach the top.
Once on top, you'll be in a small chamber with a yellow bunker door. Approach the panel next to the door and place the Barracks Exit Keys A and B there. This will unlock the shortcut route to the Factory Admin, where you can access the Shopkeeper and Weapon Case.
Stay tuned to Pro Game Guides for more Call of Duty: Modern Warfare 2 and Warzone 2 content. In the meantime, head to our Pet Rescue Mission Guide DMZ article.