If you've been playing Call of Duty: Warzone's DMZ mode, you may have come across several locked buildings and keys. There are around a hundred locked rooms and loot caches that players can open using their specific keys, which can be found as loot items. Here's how to get access to the Enfer Back Room in Warzone 2 DMZ.
Enfer Back Room Location in DMZ
Enfer Back Room is located in Sa'id City, a major POI in western Al Mazrah by the port. In the eastern section of the city, you'll find the Al Sa'id Shopping Center, which is a heavily-guarded building with tons of valuable loot. On the second floor of the mall, there is a shop named Enfer (see second image), inside which the Enfer Back Room is located. But getting to this secret loot stash isn't that easy. Al Sa'id Shopping Center is itself a locked building that has a key of its own. However, there are multiple ways to access this mall without a key.
Related: Where to find Art Museum in DMZ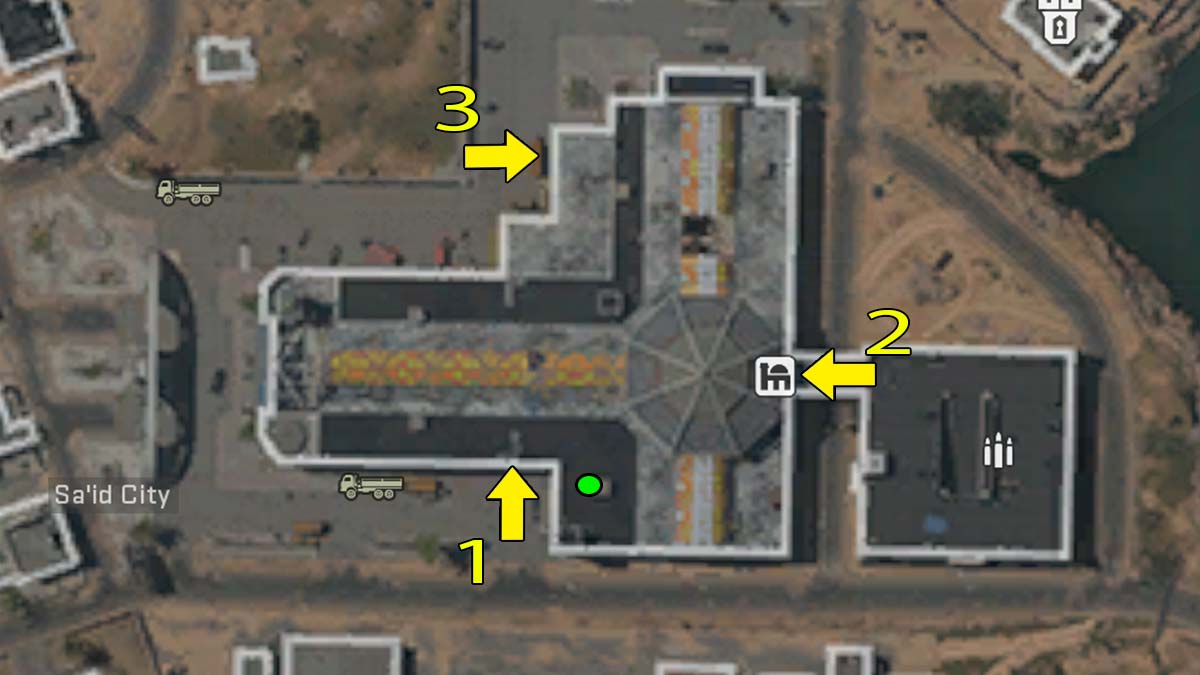 In the image with the Shopping Center's layout, we have marked the Enfer Back Room with a green dot. The three yellow arrow shows various hidden entrances to the inside of the building. The first entrance is shown in the second picture and is the easiest one to access. Simply park a vehicle by the ventilation opening and climb into it. While heading inside, make sure to defuse all the booby trap grenades in your path. The Shopping Center is rigged with these tripwires and you should be careful throughout. The second entrance can be accessed from the top floor of the parking lot, next to the dead drop. Similarly, you can climb onto the wooden boxes at the third mark and get to the roof of the mall.
Stay tuned to Pro Game Guides for more Call of Duty: Modern Warfare 2 and Warzone 2 content. In the meantime, head over to our article on Where to find Zarqwa Market Storage in DMZ.