In Night city, there are many jobs for those with a strong lack of morals to make a quick buck, most of which will require you to become a hired gun and take lives. The Woman of La Mancha GIG falls under this category and will have you hunting a police officer known as Anna Hamill. However, finding Anna Hamill is not as simple as it may seem at first and will require you to do a bit of leg work. That said, in this guide, we will explain step by step how to find Anna Hamill in Cyberpunk 2077.
Fixer: Regina Jones
Location: Watson, Kabuki Market
Quest Type: Gun For Hire
Requirement: Street Cred level one
How to find Anna Hamill in Cyberpunk 2077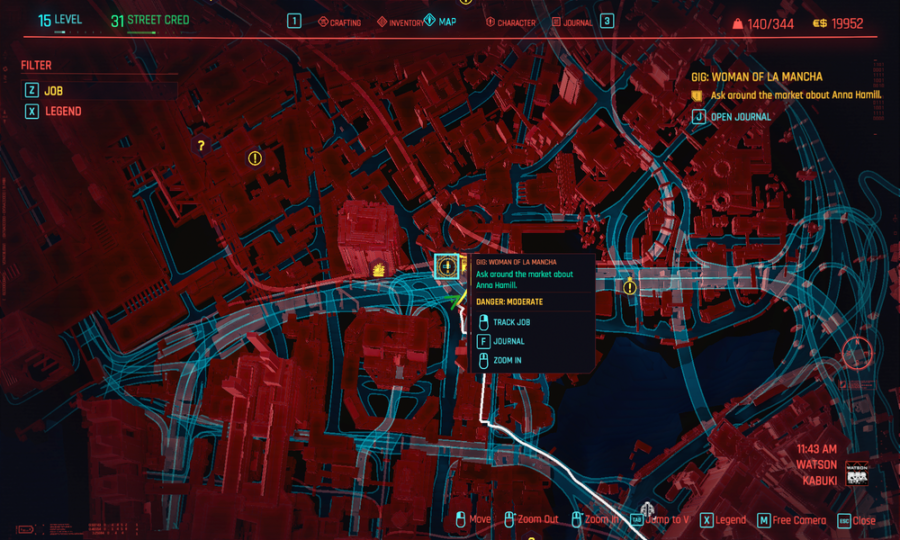 In short, to find Anna Hamill in Cyberpunk 2077, you need to follow the waypoint to the location shown above; at some point, it will lead you to a marketplace where two NPCs will be arguing. One is a nomad, and they will give you the location of Anna Hamill if you choose the correct dialogue option.
It's also worth noting that You can also talk to the vendor and ask regarding Anna Hamill, but the vendor will only claim that they don't know anything. So we recommend ignoring the vendor for now and find the nomad she was arguing with; He will be sitting in a chair as shown above. Once you locate him, check the dialogue options below to get the information from them.
[Transfer Picture] Looking for Anna Hamill:

This option is the best one if you do not have the nomad life path; however, you will need to pay 600 eddies to find out where Anna Hamill is.

[Nomad] You with the Aldecaldos?:

You won't see this option if you are not a Nomad, but if you are one, you can choose it to get the information for free.
An alternative to getting info from the nomad is a woman in the market shown above. However, you will still need to pay the same amount of money, so in the end, it doesn't matter which you choose.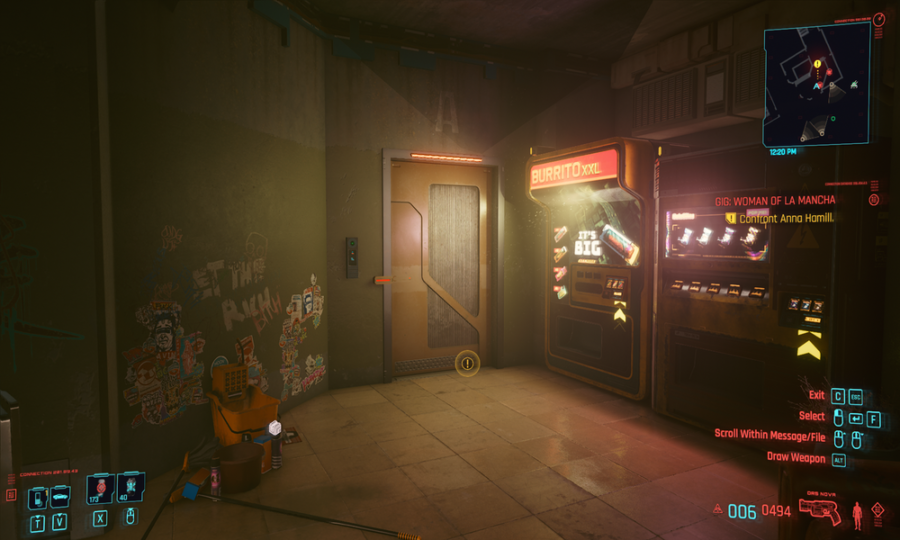 After picking either option, you will learn that Anna Hamil is staying in a nearby apartment building that you will need to break into. But before progressing any further, we recommend you having at least six technical attribute points, as you will not be able to progress in the quest without them. So if you don't the required amount, hold off on this quest until you do.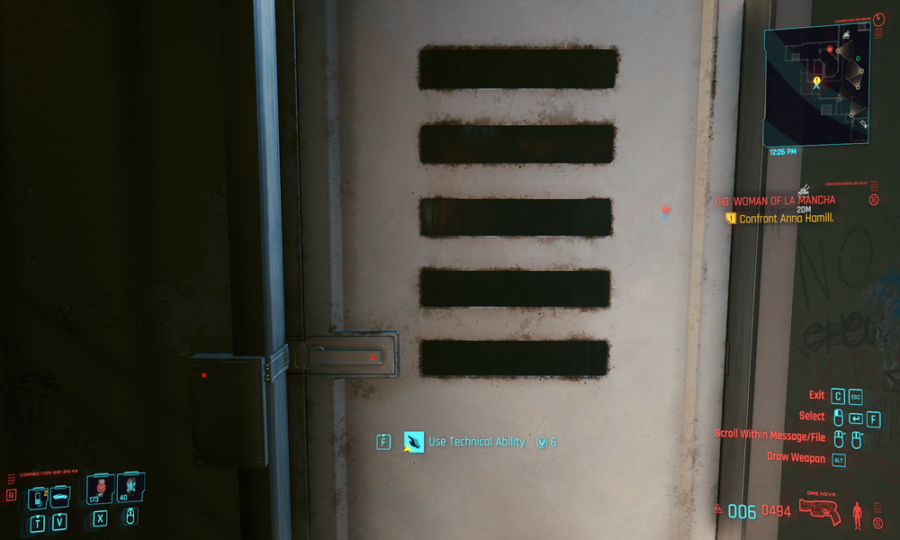 When you have the technical points, you will have two options to get inside the hotel; you can either check yourself in for a fee of 151 eddies or go around the left of the main entrance and use a side door; you will need to have at least six technical attribute points to use the side door.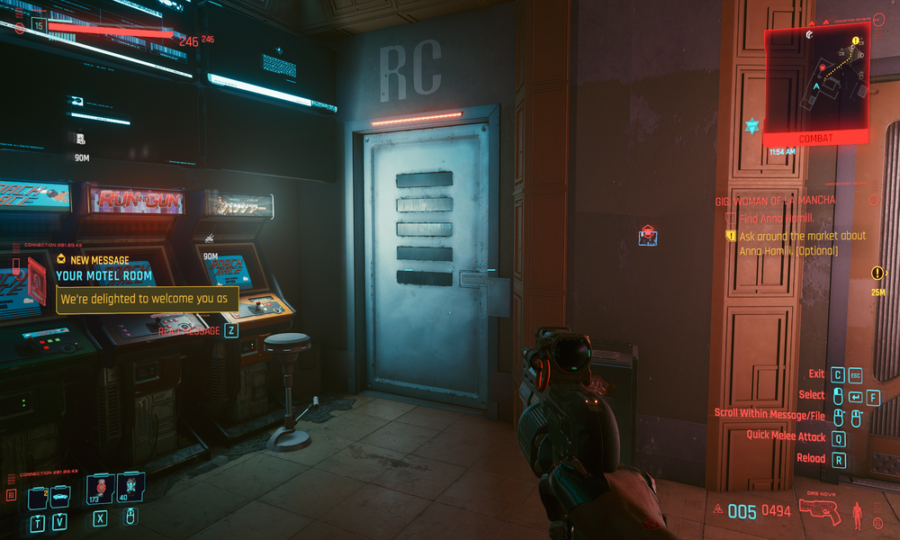 Once inside, you will then need to climb a set of stairs all the way to the top to find Anna's room, but before doing that, you should take the time to loot a nearby room. This room will be on the far left of the main entrance, and you will need at least four technical attribute points to get past the door. Inside the room, you can find a chest that can potentially have rare items and various other lootables.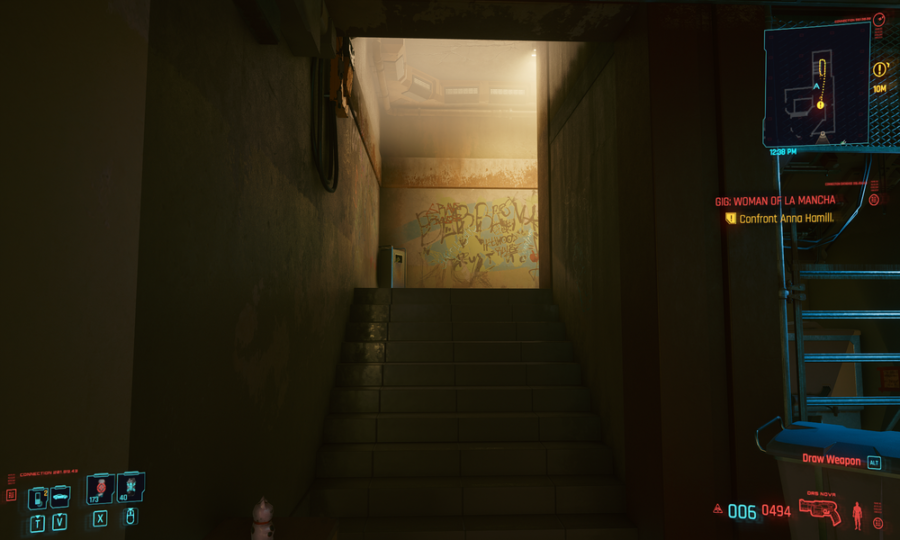 After you get done looting, turn around and start climbing the stairs until you find the door as shown above. This is Anna Hamil's room, and you will find her inside staring out a window; however, to get inside the room, you will need at least six technical attribute points.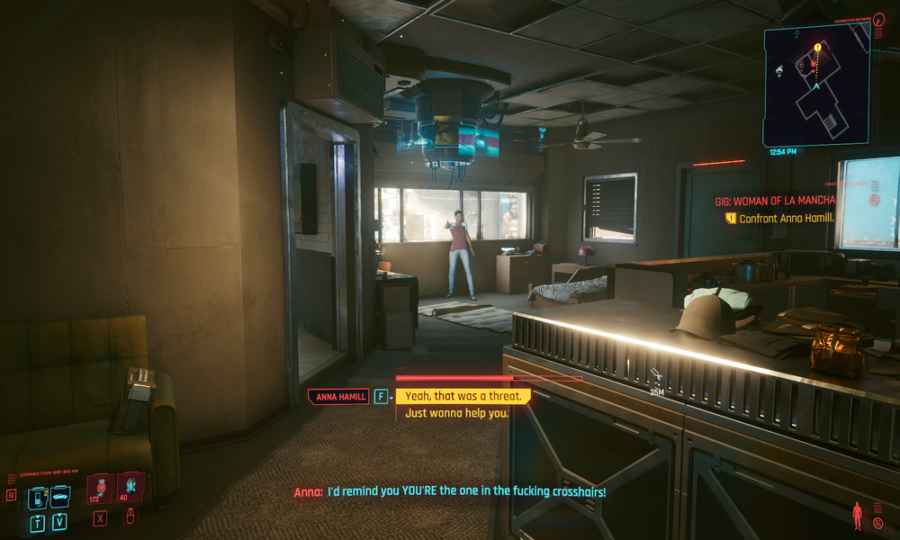 Upon entering, she will turn around and point a gun at you, starting a dialogue chain. Depending on what you choose, the chain can result in three results, with the third requiring you to have a certain lifepath. Check the list below for which dialogue option you should choose.
First Round
Here To warn you:

Choose this option if you want the peaceful route where Anna lives.

I can tell you who took the job:

This option will lead to combat; choose this option if you just want to kill Anna.
Second Round
Yeah, That Was A Threat:

Choosing this option will lead to combat.

Just want to help you:

This option will continue down the peaceful route.
Third Round
It doesn't matter:

The first option will lead to three other ones, but two will result in a firefight with Anna, and the last one requires the player to have the Nomad life path. Due to that, we recommend only selecting this option if you are a Nomad.

Your Buddies at the NPCD:

Choose this option if you are not a nomad, as it is the only one that will result in Anna living.
After you decide on Anna's fate, you will need to leave the area to finish the quest, however, be sure to loot the chest in anna's bathroom as it can potentially contain epic variant items.
For more on Cyberpunk 2077, PGG has you covered. We have an extensive roster of guides on nearly everything for the game. To start you off, I'd recommend visiting our how to craft and farm money guides.