After Hideo Kojima parted with Konami following Metal Gear Solid V: The Phantom Pain, he founded Kojima Productions. The studio's first release was Death Stranding, a game as strange as it is beautiful. Several years after its release, a director's cut has been announced.
Coming to the PlayStation 5 on September 24, Death Stranding: Director's Cut promises to enhance the experience with many upgrades. Some of these improvements include:
New boss battles
Remastered graphics
Upgraded combat mechanics (more melee options)
The 'Maser' gun
A Firing Range
New delivery support options (most notably, a Support Skeleton and the Buddy Bot)
'The Fragile Circuit' racing mini game
New Story Missions
Adaptive Trigger Support
3D Audio
Performance Mode (60 FPS and upscaled 4k) and Fidelity Mode (true 4k)
PS5 owners can purchase the Standard Edition of this title for $49.99, while the Digital Deluxe Edition will run players $59.99. Interested parties can pre-order today or buy the game when it launches in late September. Those who bought the original release can upgrade from the PS4 version for $9.99 to receive all of these game's enhancements, along with content from the Digital Deluxe Edition; its bonuses are listed below: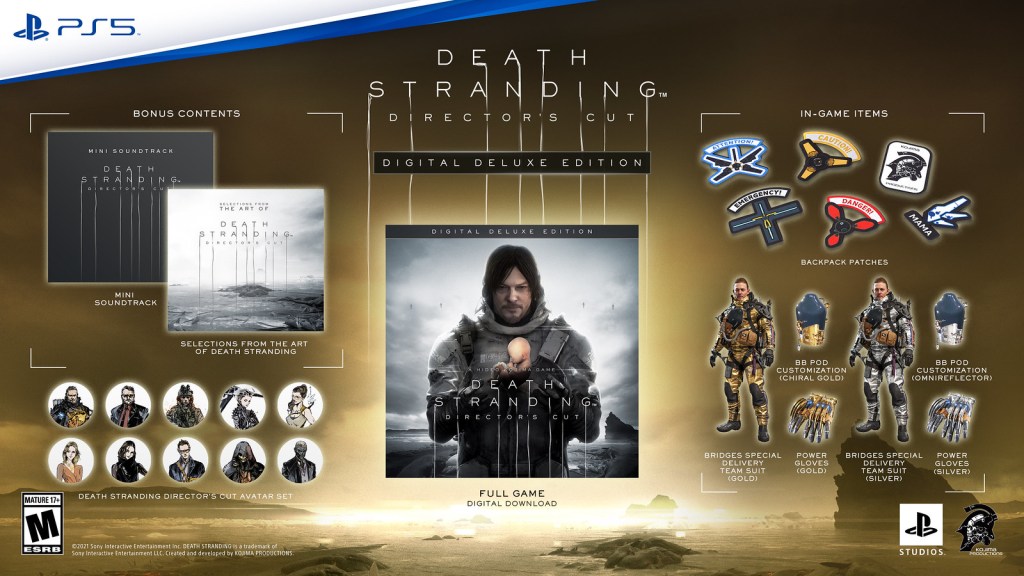 Mini Soundtrack
Selections From The Art of Death Stranding
Death Stranding Director's Cut Avatar Set
Backpack Patches
Bridges Special Delivery Team Suit (Gold)
BB Pod Customization (Chiral Gold)
Power Gloves (Gold)
Bridges Special Delivery Team Suit (Silver)
BB Pod Customization (Omnireflector)
Power Gloves (Silver)
Death Stranding rose to prominence due to its unconventional setting, story, and mechanics. Some of these mechanics include balancing an exorbitant amount of packages while walking. This title has often been seen as polarizing but is undoubtedly an unforgettable experience for all who have played it.
For more on Death Stranding, check out Death Stranding: How to Sooth BB and Heal Autotoxemia or Death Stranding: How to Get Same to Tie Up His Hair.