Destiny 2 offers tons of different exotics that not only are aesthetically pleasing but offer great boosts to the player's combat. While not every exotic will be useful to each player based on their build and playstyle, there are still several pieces of armor that reign supreme. We'll go over the best pieces for each class: Titan, Hunter, and Warlock.
Best Hunter Exotic Armor Pieces
Helmet: Celestial Nighthawk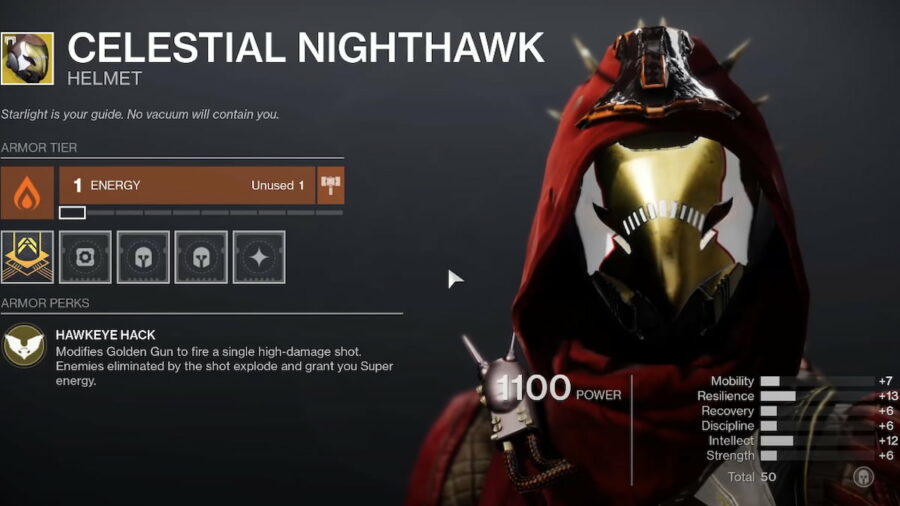 The Celestial Nighthawk has been a top Hunter helmet for a long time. Its Golden Gun is modified to fire a single shot, however, the damage of the single shot is much higher. Enemies that die by this attack will explode and grant the player Super energy. Alternatively, for a more stealthy Hunter, the Mask of Bakris can make a great option.
Chest Plate: Omnioculus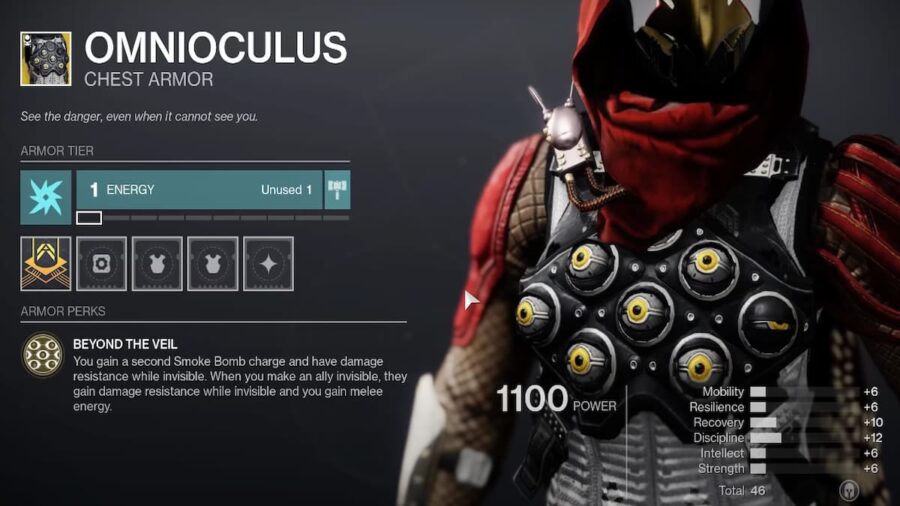 While not being the most incredible or impressive of options, Omnioculus provides an ability that can help any team or solo Hunter. Beyond the Veil allows a Hunter to have an extra Smoke Bomb and gain damage resistance while invisible. This offers players the ability to save themselves or their entire team by keeping the enemy's attention off of themselves. Secondarily, when the Hunter makes an ally invisible, they will gain the same perk the Hunter would and then the Hunter gains melee energy. Alternatively, players who are more damage-focused should go for the Raiden Flux chest plate.
Gauntlets: Athrys's Embrace
This gauntlet set not only allows a second bounce for the Hunter's throwing knife but also a significant damage boost to the throwing knife. However, remember that players will only receive this damage boost if they can make some precision gun hits beforehand. For sharpshooters, this is the perfect option. Alternatively, players should look into the Shards of Galanor for something more focused on a Super.
Greaves: Orpheus Rig
Some of the best leg armor sets for the Hunter class, offer ability energy to the Hunter for enemies tethered by Deadfall anchors. Outside of this base for the rig, it also grants Hunters more shots with Moebius Quiver. Not only does this cause the player to deal more damage, but also enables them to sustain their abilities.
Best Titan Exotic Armor Pieces
Helmet: An Insurmountable Skullfort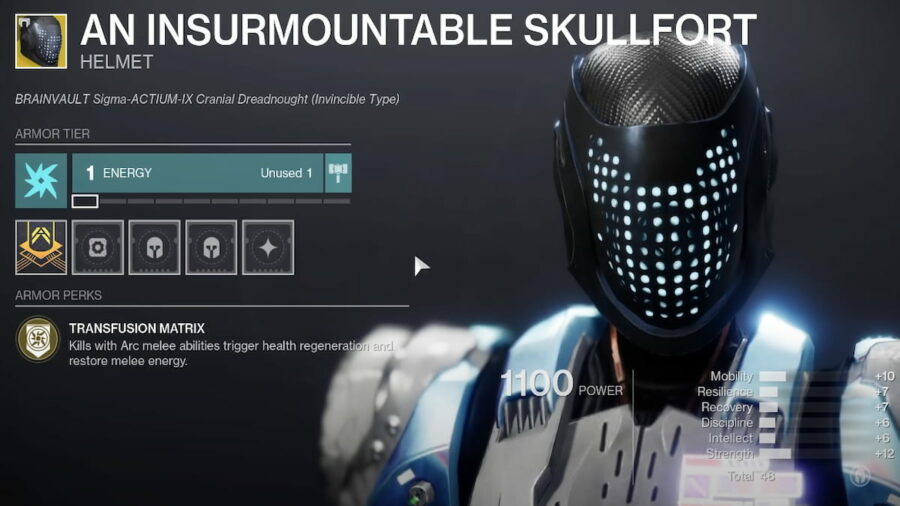 While underrated for a while, the Skullfort's ability Transfusion Matrix offers all playstyles something useful. Any kill done with an Arc melee ability will regenerate health and melee energy. Some of the more beloved Titan exotic helmets can grant great boosts, however, they tend to be more specialized.
Chest Plate: Cuirass of the Falling Star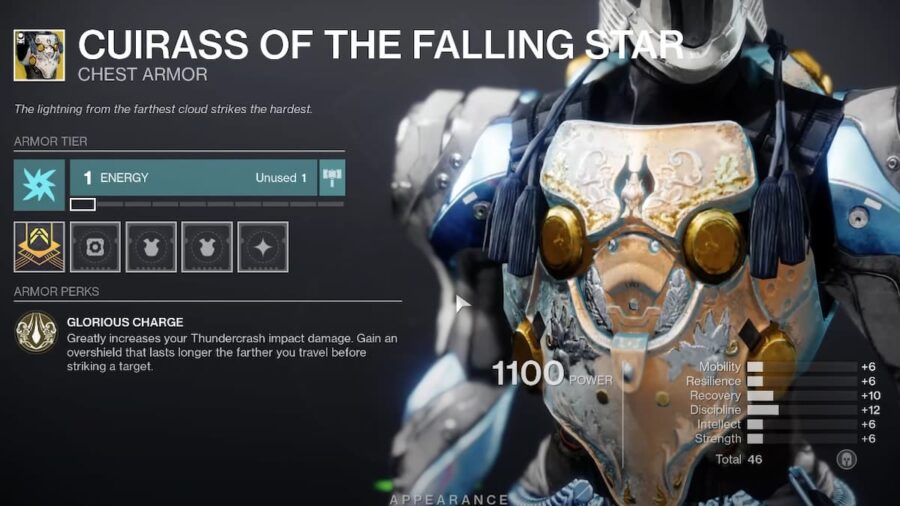 This is one of the most useful chest pieces available for Titans, however, this is specifically meant for builds using the Thundercrash. The Cuirass of the Falling Star will greatly increase the damage dealt by the Thundercrash ability and grant an overshield to the player. Having an overshield is an extremely useful secondary effect for any playstyle.
Gauntlets: ACD/0 Feedback Fence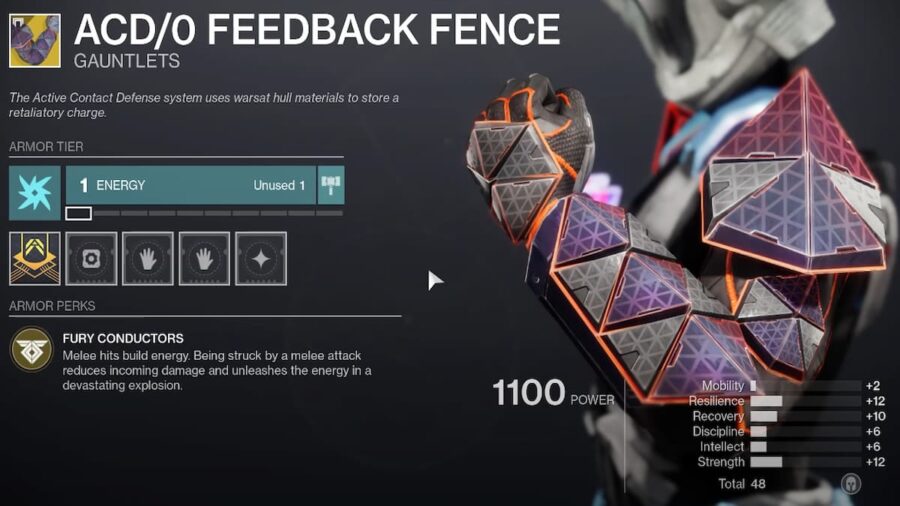 This gauntlet is simply one of the best for the Titan as it doesn't need to be activated to use its ability, Fury Conductors. Instead, this melee-focused gauntlet set does everything passively. Each melee attack done will build energy and reduce the Titan's incoming damage, releasing explosions once enough energy is built up. Alternatively, for a Void-focused Titan, the Doom Fang Pauldron is the perfect option.
Greaves: Phoenix Cradle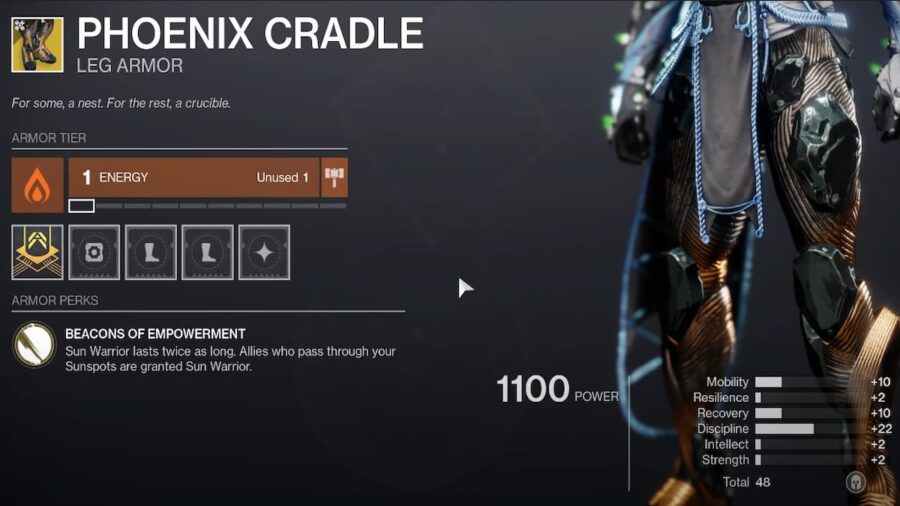 These greaves are the absolute best option for all game types in the Titan world. Its ability Beacons of Empowerment isn't super impressive in lower stakes situations, however, when things are tough, it will be well worth the effort to get. This set doubles the length of the Sun Warrior ability and grants it to allies who pass through the Titan's Sunspots.
Related: How to complete The Pigeon Provides Quest in Destiny 2
Best Warlock Exotic Armor Pieces
Helmet: Felwinter's Helm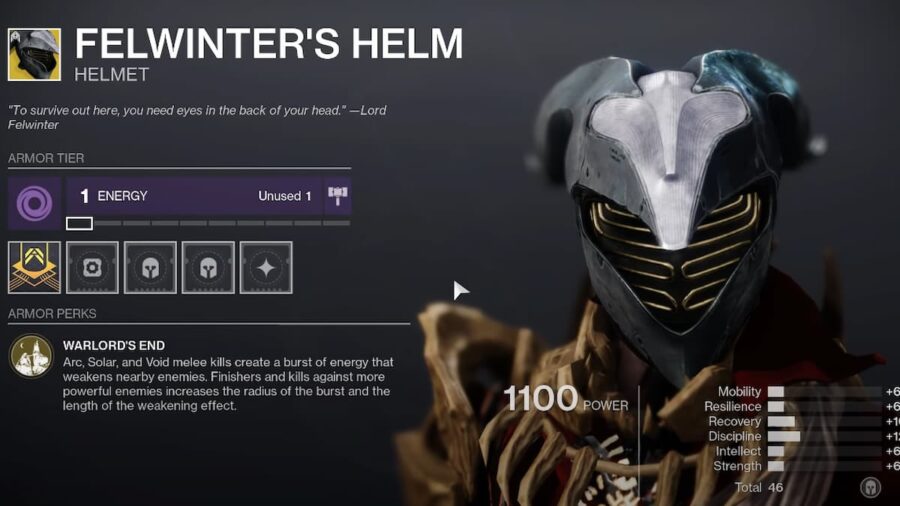 Felwinter's Helm offers a devastating AOE for any build/skill line choice for Warlocks. As such, it has been placed here among some of the best armor pieces. Warlord's End causes the player's Arc, Solar, and Void melee kills to create a burst of energy that destroys all enemies within the radius of the main tagged creature and weakens those who survive. This is incredibly powerful, especially when facing larger hoards of enemies.
Chest Plate: Phoenix Protocol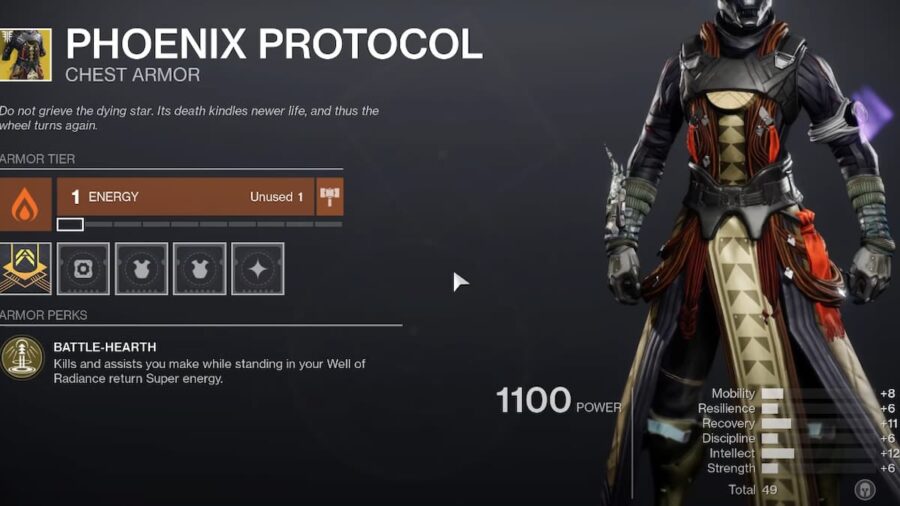 One of the most powerful pieces of exotic Warlock armor, Phoenix Protocol causes the player's kills and assists return Super energy when the Warlock is standing in their Well of Radiance. This allows players within this subclass to fully harness their Super and access it more often. With how powerful Supers can be, this is a potent effect.
Gauntlets: Necrotic Grip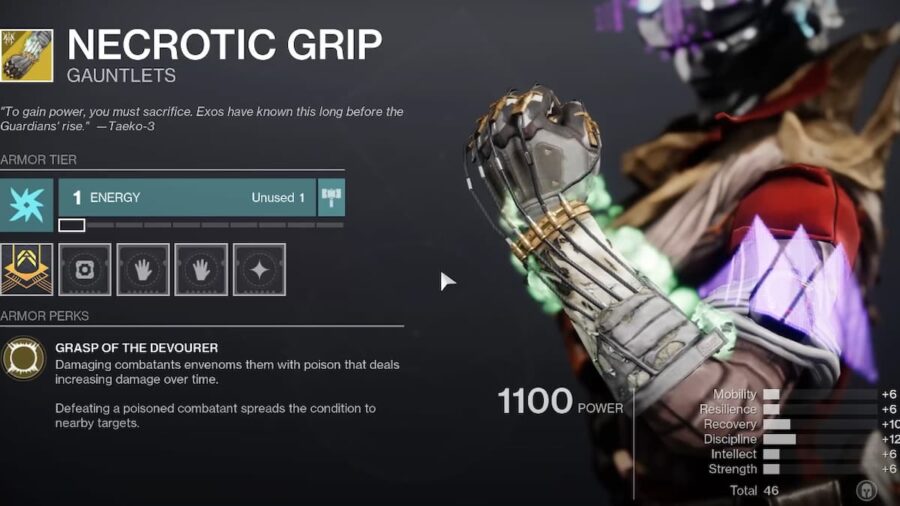 This gauntlet offers a similar effect to the top Helmet for the Warlock. Instead of blowing away enemies, this gauntlet poisons the tagged enemy and all nearby enemies which tick damage away for a good chunk of time. The poison also gets more potent the longer it lasts. Necrotic Grip also isn't reliant on a particular playstyle, so it is perfect for just about any Warlock.
Greaves: Geomag Stabilizers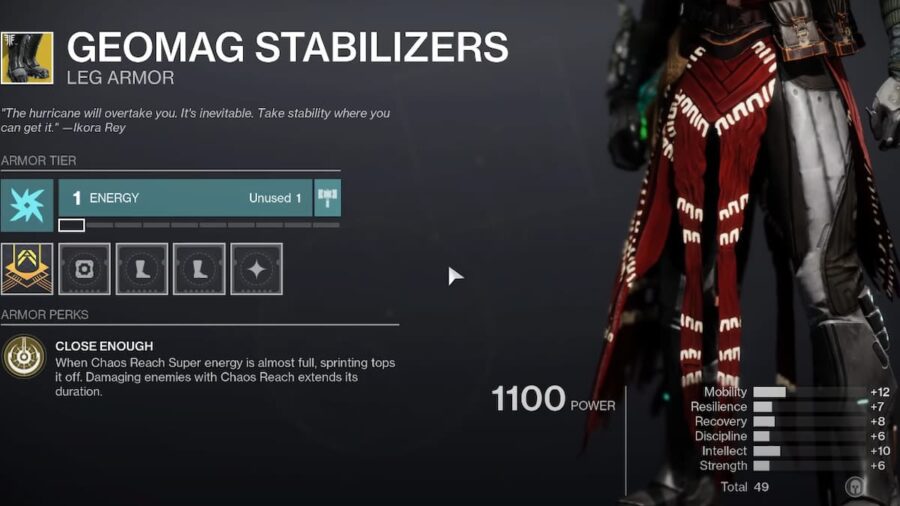 The top greaves for the Warlock is the Geomag Stabilizers as they offer the most bang for what they are. Their perk, Close Enough, focuses on the Chaos Reach super. So, these won't be the best for Warlocks not using this. However, for those using Chaos Reach, when their super energy is almost full, sprinting will bring it to full. Then, damaging enemies with this super will extend its duration.
As for a takeaway, remember that each of these was picked based on its possible full potential. Due to this being a generalized list, these are a mix of items that work well for certain specific styles and some more general styles. Individually, if not utilized properly, these will not offer the best experience to every player. With so many options for exotics within each specialization and scope of each class, there could be a better option for specific class types.
For more Destiny 2 content, be sure to check out Pardon Our Dust GL God Roll, Best Perks in Destiny 2 on Pro Game Guides.