As a free-to-play game, it is no surprise that Diablo Immortal is stacked to the brim with various microtransactions players can buy from the in-game shop. These items include currencies, such as Eternal Orbs and Platinum, cosmetic upgrades, and crafting materials, like Reforge Stones. While the cosmetic upgrades only enhance the aesthetics of your character, buying materials to upgrade your weapon and armor stats can significantly change up your gameplay. With so many items to take into consideration, it can be tricky to know if and where to spend your hard-earned bucks. Here's a guide to help you get familiar with all the microtransactions available in Diablo Immortal.
All in-app purchases (IAP) in Diablo Immortal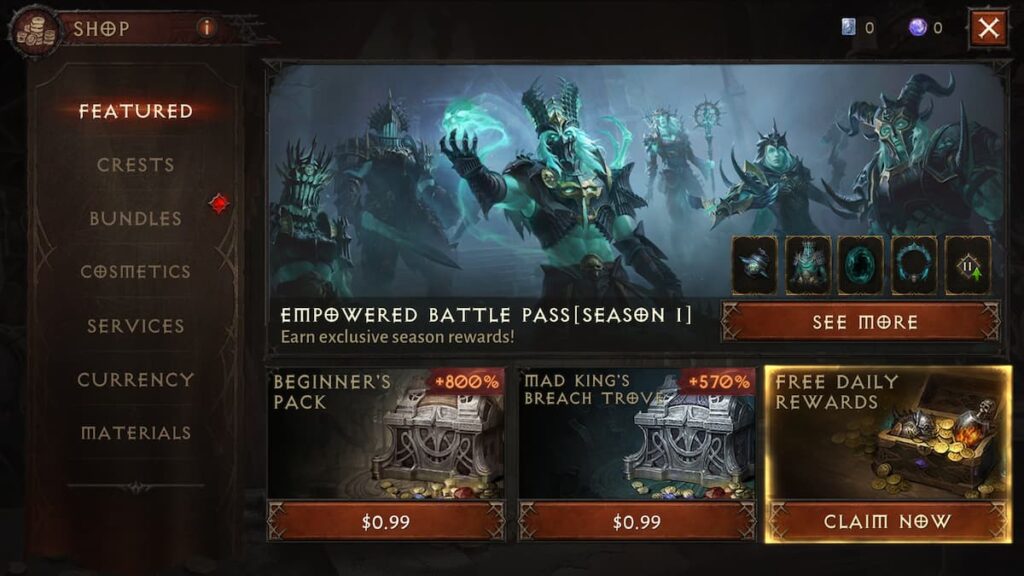 In-app purchases (IAP) are items that you can buy from the in-game shop in exchange for real life money. Diablo Immortal sells many items through the in-game shop that can be farmed without paying a cent. However, some items, like Eternal Orbs, can only be obtained by paying real money.
Related: How to farm Crests and Legendary Crests in Diablo Immortal
Exclusive microtransaction Items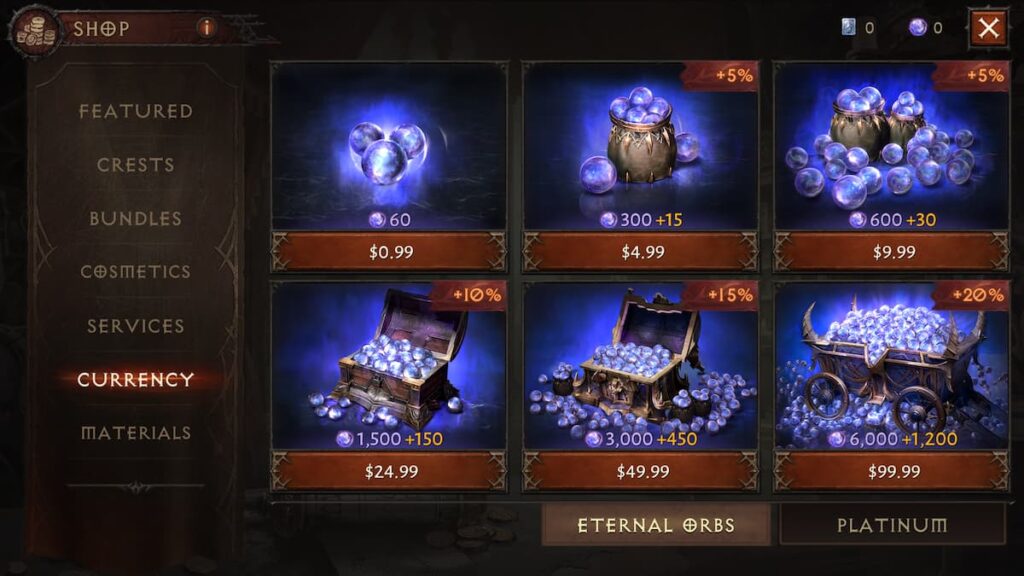 Eternal Orbs - Eternal Orbs are the only item that cannot be farmed in-game and can only be obtained via purchase through the in-game shop. Players can buy multiple items in the shop using Eternal Orbs, like Reforge Stones, Cosmetics, and Legendary Crests.
Empowered Battle Pass - Like most other live service game, Diablo Immortal offers a battle pass that players can subscribe to each season to gain a large chunk of rewards. The battle pass comes in two flavors—Empowered Battle Pass and Collector's Empowered Battle Pass.
Boon of Plenty - This is an additional subscription-based service that players can choose to purchase. Once opted in, players will receive additional gameplay benefits like additional trading slots, remote market access, and increased inventory capacity. However, players lose these additional benefits once the subscription period has ended.
Bundles - Bundles are loot boxes that players can purchase to receive rewards like Eternal Orbs, Crests and Gems. Once you complete a dungeon, you will also get the option to purchase a one-time bundle to receive additional rewards.
Farmable microtransaction Items
Crests - Crests are used to modify the Elder Rift before you jump into them. Adding Rare or Legendary Crests improves your chances of bagging rare drops substantially. Utilizing them is the only way to get Legendary Gems after completing any given Rift. Although Crests can be bought in plenty from the in-game shop, free-to-play players can get Crests from the free battle pass, by logging in daily, and completing activities.
Platinum - Platinum is a semi-rare currency in the game that can be used to create a clan, buy items from the Market, craft Legendary Crests, and buy Echo Crystals. This is another currency that can either be bought with Eternal Orbs or obtained via Daily Quests
Reforge Stones - Reforge Stones are items you can buy with Eternal Orbs from the in-game shop. They can also be obtained through the hilts trader in Rakkis Plaza in exchange for hilts. These items are used for changing the bonus attribute of an item.
Best microtransactions to purchase to get you started in Diablo Immortal
As a newer player in Diablo Immortal, it is wise to know which microtransaction would be of maximum benefit as you start your journey toward immortality. Some items, like Reforge Stones, will not be of much value to a low-level player, as the ability to reforge is only unlocked once your character hits max level. For casual players, items like the one-time treasure troves offer far more value for their price.
Best Microtransactions to buy
Battle Pass - For new players and old alike, the battle pass offers the best price-to-reward ratio. Every month, receive a set of challenges to complete and earn Battle Points that, in return, will unlock a range of rewards, including Crests, Cosmetics, Hilts, and Gems.
Eternal Orbs - Being the only premium currency in the game, Eternal Orbs are one of the best items to purchase from the shop. You can exchange Eternal Orbs to buy Crests, Cosmetics, Platinum, and Reforge Stones.
Bundles - For someone who does not wish to spend too much but needs a little boost, the one-time bundles offer a decent amount of rewards for a small price. Furthermore, completing dungeons will unlock more treasure troves, which contain useful items like Eternal Orbs, Rare ad Legendary Crests, and a handful of Gems.
Worst Microtransactions to buy
Boon of Plenty - Although the Boon of Plenty works similarly to the Battle Pass, it has not been received well by the community at large. Once subscribed, you stand to receive rewards for each day you log in. However, the downside is that the daily gifts can only be claimed by logging in each day. Otherwise, the rewards will be lost.
Wondering whether you can jump into the world of Diablo Immortal, too? Check out All compatible devices to play Diablo Immortal, here on Pro Game Guides.