There are many different resources, materials, and items in Diablo Immortal. This includes Hilts, Gold, and Platinum, but, one of the most valuable is Crests. This item is crucial for earning items and gear for the late game. This may leave you wondering how to get Crests and use them in Diablo Immortal.
Best ways to get Crests and Legendary Crests in Diablo Immortal
There is, unfortunately, no good way to farm Crests and Legendary Crests outside of purchasing them. This requires a premium currency and, therefore, for you to spend real money. You are able to purchase them in limited stock from Jondo Mouren, the Crest Merchant, but will ultimately have to rely on luck from random drops to accumulate a large amount over time.
How to get Crests in Diablo Immortal
There are a handful of ways to get Crests and Legendary Crests in Diablo Immortal, which you can find below. Jondo Mouren is located in Westmarch at the location marked in the image above.
Jondo Mouren Crest Merchant
Battle Pass
Random Drops
In-game Rewards
Joining the Immortal Faction
What are Crests and how to use them in Diablo Immortal?
Crests are an important item divided into two categories: Rare and Legendary Crests. Using a Rare or Legendary Crest will add modifiers to your Eternal Rifts, providing better rewards. They also provide Rift Energy to all players entering the Rift.
Can you purchase Crests using microtransactions?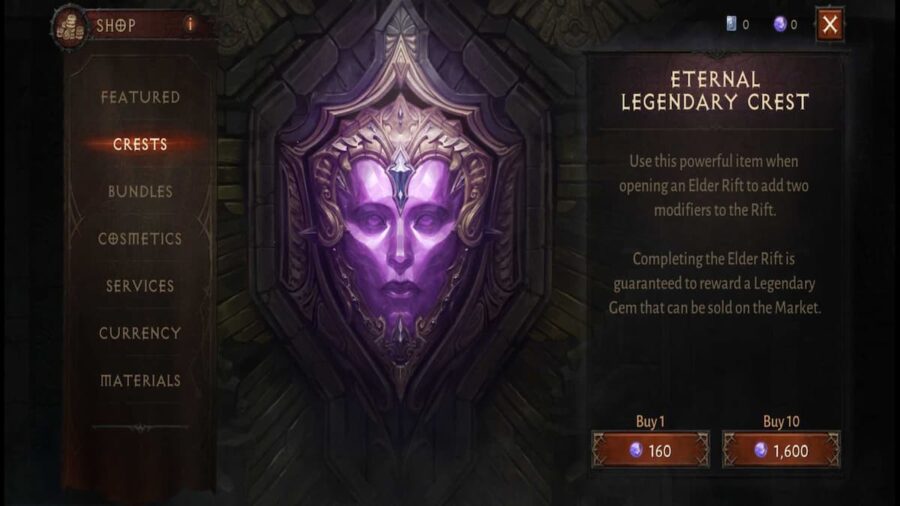 You can purchase Crests and Legendary Crests with microtransactions via Eternal Orbs. This is the premium currency in-game. You will need to spend real money to get Eternal Orbs and, thus, purchase Crests.
How much are Crests and how to buy them?
You will need a lot of Eternal Orbs to purchase Crests. Go to the in-game Shop and then select the Crests tab—this is where you can purchase Legendary Crests with microtransactions. Here is the cost for purchasing a single or group of ten Legendary Crests.
Legendary Crests – 160 Eternal Orbs / 1,600 Eternal Orbs
For more information on Diablo Immortal, check out How to use Essence Transfer in Diablo Immortal and Can you change Dungeon difficulty in Diablo Immortal? on Pro Game Guides.