Disney Dreamlight Valley is a magical life-sim farming game where you can befriend some of the best Disney characters as you restore the land of Dreamlight Valley to its former glory and rid it of evil. You can craft unique items, decorate the biomes, complete special questlines for each character, and even prepare Disney-themed meals. Cooking is essential to your time in the Valley, allowing you to restore energy, grow friendships, or earn Star Coins.
Pan-Fried Angler Fish Recipe in Dreamlight Valley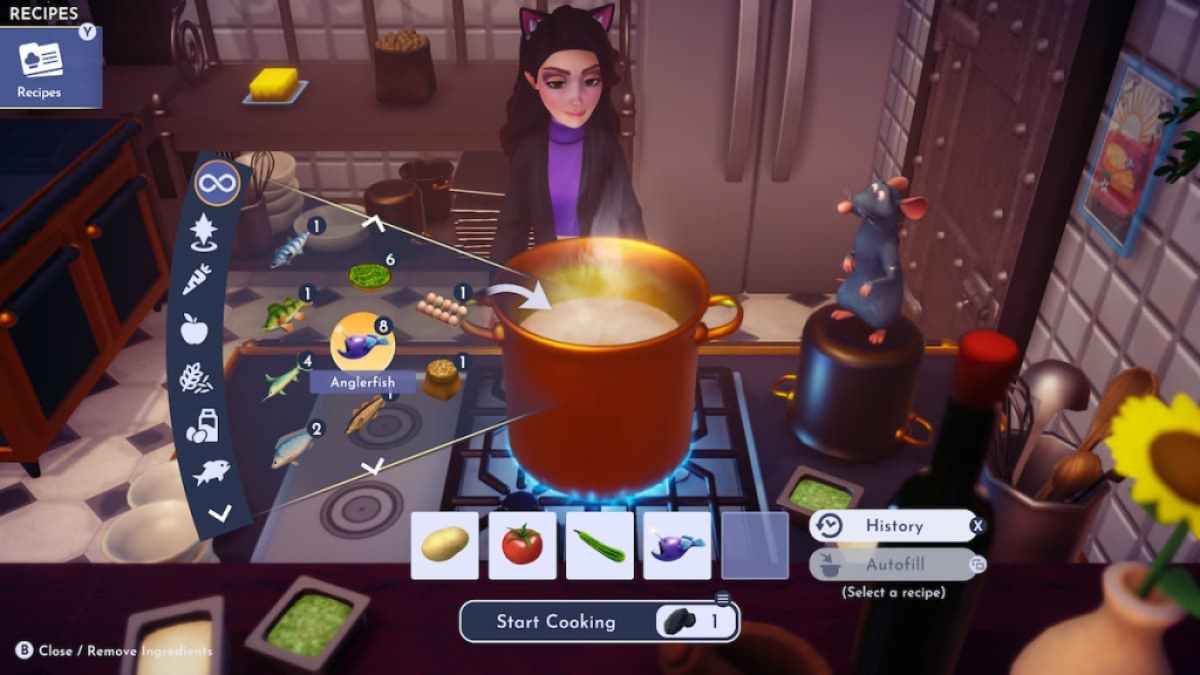 Pan-Fried Angler Fish is a four-star meal that requires four different ingredients, including the exotic Anglerfish. This dish is excellent for restoring lost energy or earning some Star Coins since it is a slightly more complicated meal. When eaten, you can earn up to 4,194 Energy or sell it to any of Goofy's Stalls for 2,550 Star Coins.
You will need three vegetables for this recipe. This meal will be a breeze if they grow in your or Wall-E's garden. However, if not, don't worry. You will be able to get these vegetables from Goofy's Stalls. The main ingredient, the Anglerfish, will require the most patience. Here are all the elements you will need:
Potato x1
Tomato x1
Zucchini x1
Anglerfish x1
Related: Where to catch an Anglerfish in Disney Dreamlight Valley
Where to get ingredients for Pan-Fried Angler Fish in Dreamlight Valley
These ingredients are a bit scattered around the Valley at different Goofy's Stalls, but you should be able to find them relatively quickly. If you have upgraded Wall-E's garden, these vegetables are usually already grown there, and you won't have to worry about spending time planting the seeds. The Anglerfish is the main ingredient you will need and the one that might require the most patience since it is an exotic fish. Here is where you can find everything you need:
Potato: The Forgotten Lands, bought at Goofy's Stall
Tomato: Dazzle Beach, bought at Goofy's Stall
Zucchini: Sunlit Plateau, bought at Goofy's Stall
Anglerfish: The Forgotten Lands, from gold fishing spots
There are plenty of recipes to learn involving all the ingredients around the Valley. The characters often have meals as their favorite gifts of the day, so it's essential to have these recipes ready to prepare so you can boost your Friendships efficiently. Or keep some meals for yourself to help restore energy and give you extra speed as you trek around the biomes.
Looking for more Pro Game Guides Disney Dreamlight Valley content? Check out our guides on How to make Tamagoyaki and other Egg dishes in Disney Dreamlight Valley or How to make Lancetfish Paella in Disney Dreamlight Valley!