Disney Dreamlight Valley is a magical life-sim adventure game with some of the best Disney characters and more exciting upcoming characters to follow. There are plenty of great activities you can complete around the Valley that are important to your gameplay and the friendships you make as well, such as cooking. There is a whole list of recipes to prepare that can boost your friendships, earn you extra star coins, or increase your energy. Here's how to make a three-star Seafood Pasta that you can add to your collection.
Seafood Pasta Recipe in Dreamlight Valley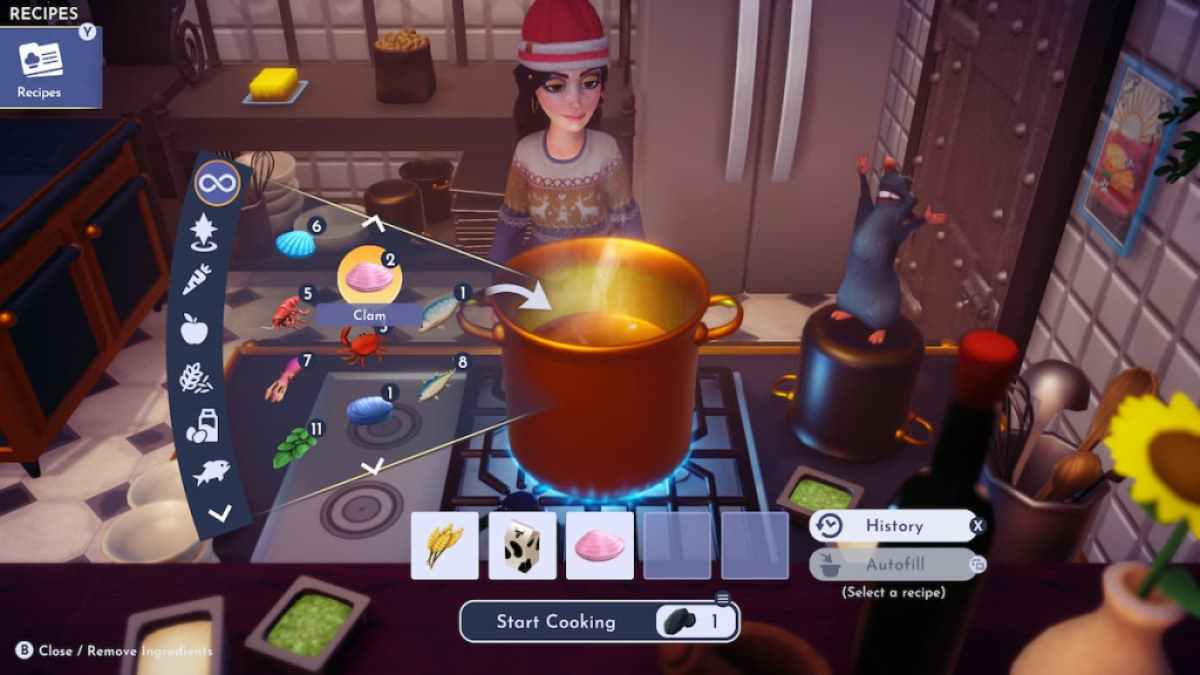 Seafood Pasta is a three-star dish that requires three different ingredients. You'll need a component for the pasta, the creamy sauce, and some seafood. Since it's your choice of seafood, it can be anything under the shrimp icon in the cooking menu, such as scallops, clams, oysters, shrimp, or lobster.
This is a great recipe that can restore up to 921 energy when eaten, or you can sell it at any of Goofy's Stalls for 387 Star Coins. Some characters may also order this at Chez Remy or want this for their favorite daily gift, which is a great way to boost their friendship with them. Here's everything you will need:
Wheat x1
Milk x1
Any Seafood x1
Related: How to make Crispy Baked Cod in Disney Dreamlight Valley
Where to get ingredients for Seafood Pasta in Dreamlight Valley
Gathering these ingredients should be super simple and won't take much time. Wheat and milk are in the central locations around the Valley, so you won't have to stray far. The seafood, however, is entirely up to you. You can use any that you have on hand, or if you don't have any, we'd recommend resorting to the most straightforward option available: scallops, clams, or oysters. These are found right on the beach and are harvestable so that you can grab them quickly and don't have to fish at all. Here's where you can find everything you need:
Wheat: Peaceful Meadow, bought at Goofy's Stall for 3 Star Coins ( 1 Star Coin for seeds)
Milk: Chez Remy, bought at Remy's Pantry for 230 Star Coins
Seafood: Dazzle Beach and Glade of Trust, harvestable or from blue and gold fishing spots
Once you have all these items, head to the nearest cooking station. The easiest way is to head to Chez Remy since you can buy the milk you need and get right to cooking. This yummy pasta dish can now be added to your Recipe Collection and will be much easier to make again in the future.
If you're looking for more Disney Dreamlight recipes, Pro Game Guides has plenty of tips and tricks to help get you started, such as How to cook Margherita Pizza in Disney Dreamlight Valley or All Boba Tea Recipes in Disney Dreamlight Valley!