In Disney Dreamlight Valley, you will meet new characters like Olaf and Mirabel. You need to unlock these characters before you can begin their quests. Many of these quests require you to make dishes or collect rare flowers. You can make headway in the quests if you store different materials and ingredients in your inventory. Here is how you can make Sweet Frost Popcorn in Disney Dreamlight Valley.
Sweet Frost Popcorn recipe ingredients in Disney Dreamlight Valley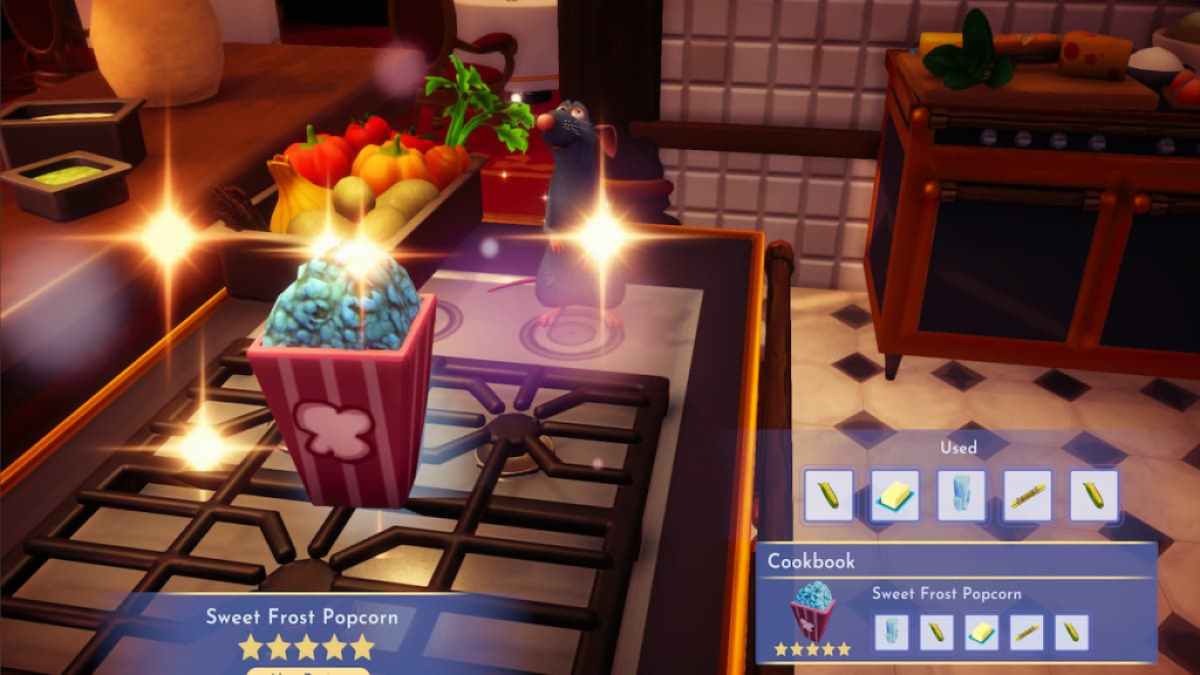 Sweet Frost Popcorn is a dish which is only made during a quest for Olaf. To make this quest item, you will need the following ingredients:
Two Corn: You can buy Corn Seeds from Goofy's Stall in the Dazzle Beach. Corn seeds are sold for 15 Star Coins. Dig a hole in the ground using your shovel, sow the seeds, and harvest them when fully grown.
One Butter: You can buy Butter from Remy's pantry for 190 Star Coins.
One Sugarcane: You can buy both Sugarcane and Sugarcane seeds from Goofy's Stall in the Dazzle Beach. Sugarcane can be purchased for 29 Star Coins and Sugarcane seeds for five Star Coins.
Pure Ice: This is another quest item which you will only get from Elsa. You will need to talk to her and she will give you the Pure Ice for the dish.
It is important to unlock Goofy's Stalls in the different biomes to get access to his collection of items. You can buy items and even sell yours for Star Coins. Once you have all the items, head to Chez Remy's. You can use the cooking station at Remy's. Use the above mentioned ingredients and one piece of Coal Ore to start the cooking process.
Related: How to complete Olaf Presents… "Dreamlight Valley" in Disney Dreamlight Valley
In Olaf's quest, A Story to Tell, you will need to make Sweet Frost Popcorn. Remy will suggest this recipe for Olaf. Once you have made the dish, take it back to Olaf to continue the quest. Make sure to have Remy's kitchen unlocked. That way you can use his cooking station and also buy other items like Milk, Eggs, Cheese, Butter, etc. for various recipes that you would need to make.
To find more on Disney Dreamlight Valley check out, How to complete Olaf's Role of a Lifetime in Disney Dreamlight Valley on Pro Game Guides.