In Disney Dreamlight Valley, players will encounter various popular characters who become companions. You need to complete several quests with these characters to increase your Friendship Levels with them. One of the characters you will meet is Merlin, and the wizard tasks players with different quests. In Merlin's questline, players will find the With Great Power... quest, and for this, you need to locate the Cursed Cave. Naturally, players are eager to know which biome to search for to find this area. Here's how you can find the Cursed Cave in Disney Dreamlight Valley.
Where is the Cursed Cave located in Disney Dreamlight Valley?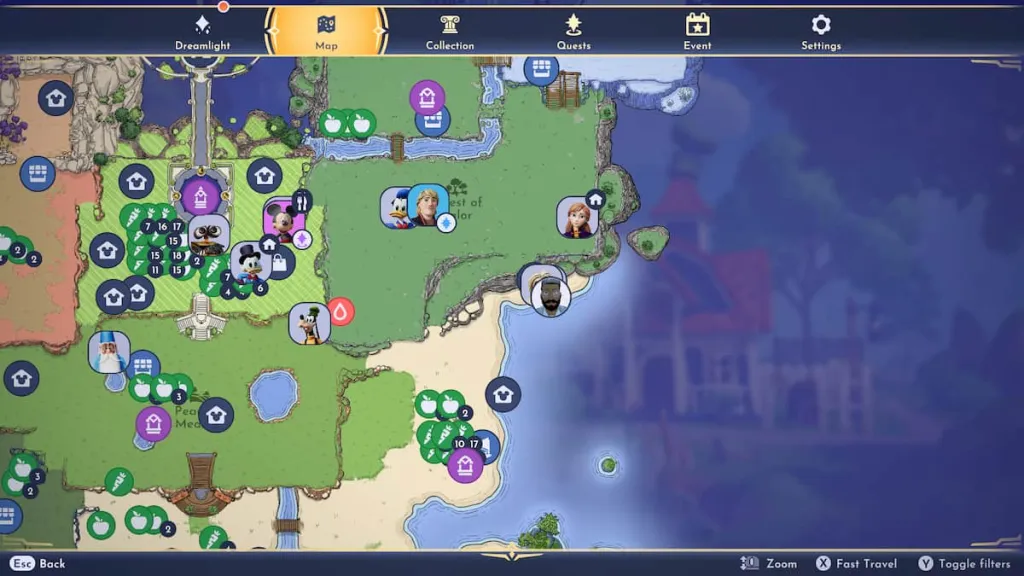 The Cursed Cave is located at the eastern edge of Dazzle Beach. Check the map image above to see its exact location. You can travel south from the Forest of Valor or east from the Peaceful Meadows biome to reach this area at Dazzle Beach. Players can unlock the Dazzle Beach biome by spending 1,000 Dreamlight. After unlocking the area, interact with Merlin, and he tasks you with finding the Cursed Cave.
Related: How to get Vial of Ocean Water in Disney Dreamlight Valley
Players will find Ursala inside the Cursed Cave, and she is trapped at this location. Interact with the character, and you must complete the Mystery Cave puzzle to set Ursula free. Solve the puzzle inside the Mystery Cave, and you will get the Orb of Power. Return to the pillar outside the Mystery Cave, fix the Orb of Power, and go to the Cursed Cave to speak with Ursala. She informs players more about the Forgetting, after which you need to speak with Merlin to complete the With Great Power... quest in Disney Dreamlight Valley.
Wondering how to bring Prince Eric to the Valley? Check out How to get Eric in Dreamlight Valley on Pro Game Guides.