In Dune: Spice Wars, players will come across various Resources that cannot be Traded between opposing Factions. These Resources need to be harvested and are highly essential for sustenance on the harsh desert planet of Arrakis. Players will need to construct specific buildings in various Regions to start producing these non-Tradable Resources.
We played through the Early Access as all of the Factions and discovered that there are five non-Tradable Resources, and two others that can only be traded with Sietches. Water, Hegemony, Fuel Cells, Manpower, and Command Points are Resources that require specific buildings and Development upgrades. Similarly, Authority, and Knowledge can be harvested by constructing buildings and can be only Traded with Sietches. The following list features all the buildings players need to construct to harvest these Resources:
Water

Construct Windtraps at Villages with high Wind Strength. You can also construct a Water Extractor after taking control of the Polar Sink Special Region.
Unlock Water Trade and Water Seller Contacts in Development.

Hegemony

Construct Crafts Workshop at Villages to get +2 Hegemony every day. You can also construct the Administrative Hall at your Faction's Main Base.
Unlock Crew Training Program in Development.

Fuel Cells

Construct Fuel Cell Factory at Villages near Regions with Energy Sources.
Unlock Energy Markets in Development.

Manpower

Construct Recruitment Office at various Villages, and the Recruitment Center at Main Base.
Unlock Ground Command and Call to Arms in Development.

Command Points

Construct the Command Post at the Main Base.
Unlock Ground Command, High Command, and Air Command in Development.

Authority

Construct the Administrative Hall in the Main Base.
Unlock Local Dialect Studies, Lay of the Land, Outpost Logistics, and Sand Diplomacy in Development.

Knowledge

Construct Research Hub in various Villages.
Unlock Local Hubs in Development.
How to trade with Sietches in Dune: Spice Wars?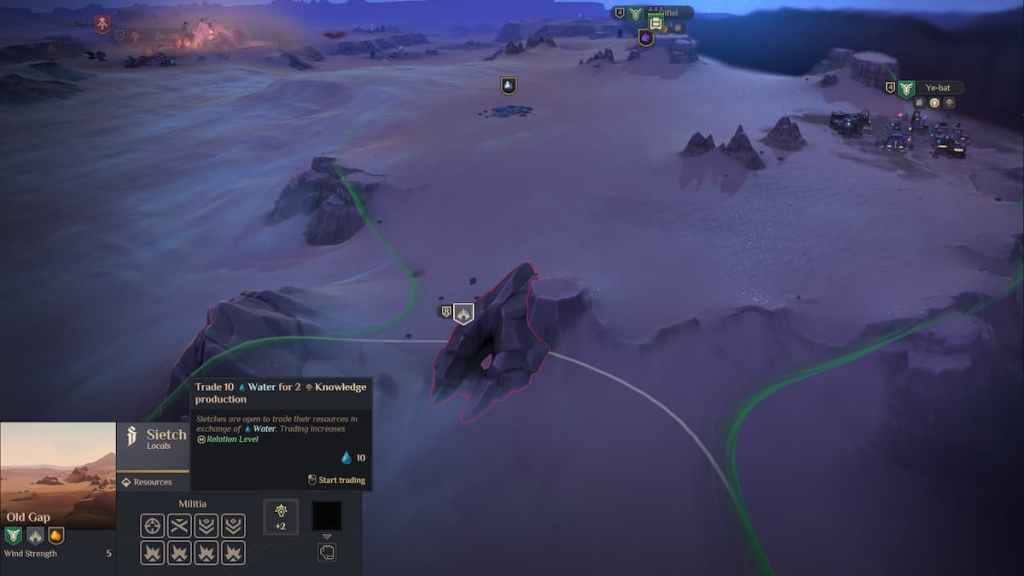 Players can gain Resources like Solari, Plascrete, Authority, and Knowledge by Trading with various Sietches found across Arrakis. You will have to pay them in Water, and this will also develop the Relationship Level with that particular Sietch. However, players should keep in mind that the exchange rate for Authority and Knowledge is comparatively low.
Related: When does DUNE Spice Wars release?
Similarly, your Faction will also need to govern the Sietch Region to send an emissary there. Trading with too many Sietches outside of your Region can easily cause a Water Deficit for your Faction, so players will need to be decisive. It is ideal to strategically develop Relations with neighboring Sietches instead of crossing borders.
Wondering if Dune: Spice Wars follows the novels or the movie? Check out Does Dune: Spice Wars follow the books or the movie? on Pro Game Guides.