Imagine this: You're driving along in Houston, Texas, and you see a billboard advertisement for a nightclub party. Not super unusual, until you notice that the billboard has a picture of a bunny lady, and says Final Fantasy XIV on it. That's a situation you could have really found yourself in the last few days, as an ambitious Final Fantasy XIV nightclub owner allegedly paid for billboards to be posted in four locations across the US.
According to some now hidden tweets on Twitter, and several posts on the FFXIV Reddit, and corroborated by USA Today's video game vertical, a pair of billboards went up in the Austin and Houston, Texas area, on July 5, advertising a beach-themed nightclub party in Final Fantasy XIV. Two more in undisclosed locations in California were allegedly scheduled to be put up later this week. The venue, known as Rain Nightclub, advertised its Summer Bash, featuring a trio of DJ's.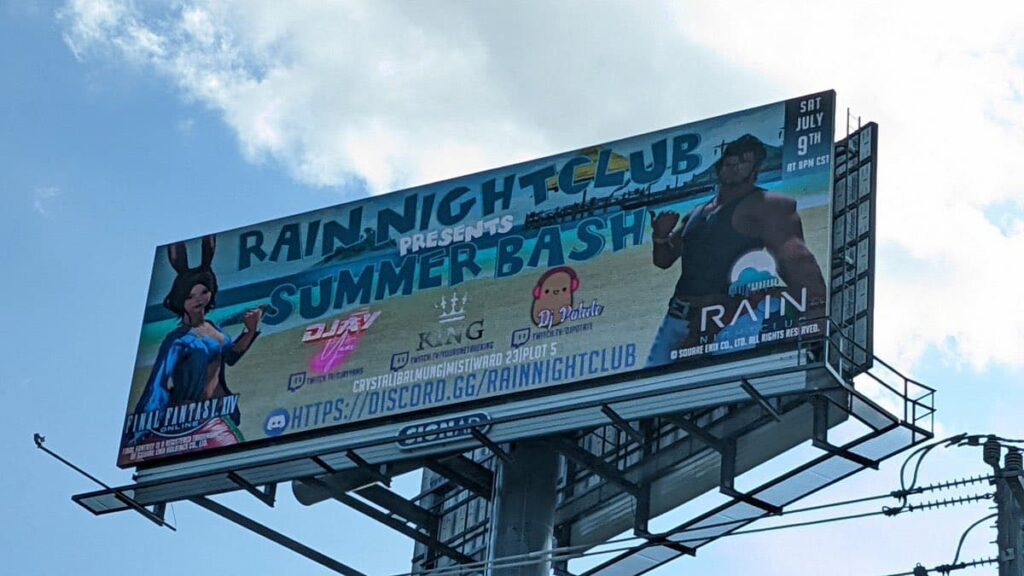 Online nightclubs are not uncommon in FFXIV, where player housing is able to be converted into these venues. But the advertisement almost immediately landed several participants in the billboard's design in hot water. Why? Because the advertisement was using the official logo and images from the game. One of the "models" used in the poster was also using visual mods to change their appearance. And finally, the models appeared to be using data-mined gear to modify their appearance.
The use of the official logo and in-game images has allegedly landed the posters of the billboards with cease and desists, as FFXIV developers Square Enix caught wind of the situation. In a now-deleted post from one of the DJ's advertised on the board, DJ Potate, the board was legally vetted, and they believed they were doing no wrong. They cited the FFXIV Material Usage Licence in this claim. However, there is no public confirmation that legal proceedings have been started by Square Enix.
Additionally, using mods and data mining is expressly forbidden in Final Fantasy XIV's terms of service. Following the billboard reveal, the Final Fantasy XIV community, who often set themselves in the role of enforcers of this kind of rule-breaking behavior, set to work.
They did this by launching a virtual assault on the venue of the nightclub. Turning up with Magitek armor and Tank mounts, they bombarded the Rain Nightclub with massive amounts of visually impressive, but harmless explosions and laser beams. Multiple bards set up at the location, playing obnoxious music. And Blue Mages spent their time spamming the location with their eye-catching spells. Few seemed to see the irony that this kind of harassing behavior is also against Final Fantasy XIV's terms of service.
Related: Final Fantasy XIV Endwalker Patch Schedule – 6.18 Release Date
However, the only ban that seems to have been enforced is for Veira (Bunny Girl) on the poster. In now-deleted posts and a removed Reddit thread, the owner of the avatar revealed they'd been banned and are currently pending a judgment on the permanent ban. In the billboard's image, they were shown wearing modded gear, which is against the terms of service.
To top things off, the Rain Nightclub owners have been accused of being an ERP (erotic role-play) club while putting forward a family-friendly image. They're also accused of being a fake roleplaying club, and instead just an attention scheme on Twitch.
Overall, the billboards have been a disaster for the nightclub. As of July 6, the billboard in Austin, Texas, had been removed. The one in Houston remained for the time being, but was allegedly being removed soon. It's unknown if the ones in California have been put up or will ever be put up. Rain Nightclub has taken down its website (although an archived version is available on the Wayback Machine). The club's Discord is in lockdown. Not a great look for a Summer Bash.
For more Final Fantasy XIV news and info, check out How to travel between Data Centers in Final Fantasy XIV on Pro Game Guides.