With many players having completed the Main Scenario Quests of Final Fantasy XIV: Endwalker, (some less than a week after the main game's launch), their focus has shifted to the upcoming patches. Luckily, we have a good idea of the current patch timeline for Final Fantasy XIV.
When does the 6.18 Patch release for Final Fantasy XIV?
The Final Fantasy XIV 6.18 Patch will release on July 5, 2022. This was confirmed in a post about the European Data Center Expansion made by Square Enix. The 6.18 patch will add new Worlds to the European Data Centers and reshuffle the Japanese Data Centers. In addition, Season One of Crystalline Conflict will draw to a close with the release Patch 6.18, and Season Two will begin on the same date. This was revealed in a post on the Final Fantasy XIV Lodestone on June 21, 2022.
FFXIV Endwalker patches and update Schedule
Here are the confirmed dates for all patches, events, and updates for Final Fantasy XIV: Endwalker. Some of these dates are confirmed, while others are worked out thanks to patch cycle announcements from the February Live Letter. Further dates were also confirmed in the March Live Letter. The release of Patch 6.18 was revealed on June 21.
In addition, we have some unconfirmed dates for core patches of Endwalker listed below based on estimates, previous patch releases, and prior statements from Square Enix:
Patch 6.1 release date: April 12, 2022
Patch 6.11 release date: April 26, 2022
Patch 6.15 release date: June 7, 2022
Patch 6.18 release date: July 5, 2022
Patch 6.2 release date: August, 2022
Patch 6.25 release date: September, 2022
Patch 6.3 release date: December, 2022
Patch 6.4 release date: April, 2023
Patch 6.5 release date: August, 2023
Potential new expansion release: December, 2023/January, 2024
FFXIV Endwalker – Events dates and schedule
Little Ladies Day: March 14 - March 31, 2022
Moogle Treasure Trove Event: The Hunt for Lore: March 14, 2022 - Release of Patch 6.1
Hatching-Tide: April 13 - April 27, 2022
Maiden's Rhapsody (FFXI Collaboration Event): April 28 - May 18, 2022
Make it Rain Campaign 2022: June 3, 2022 - June 20, 2022
Unconfirmed Moogle Treasure Trove Event: Late July, 2022
Moonfire Faire: August, 2022
The Rising: Late August, 2022
Starlight 2022: December, 2022
If those patches and events seem far apart, don't worry—there are almost always minor patches in between that add new stories, new raids, and other content.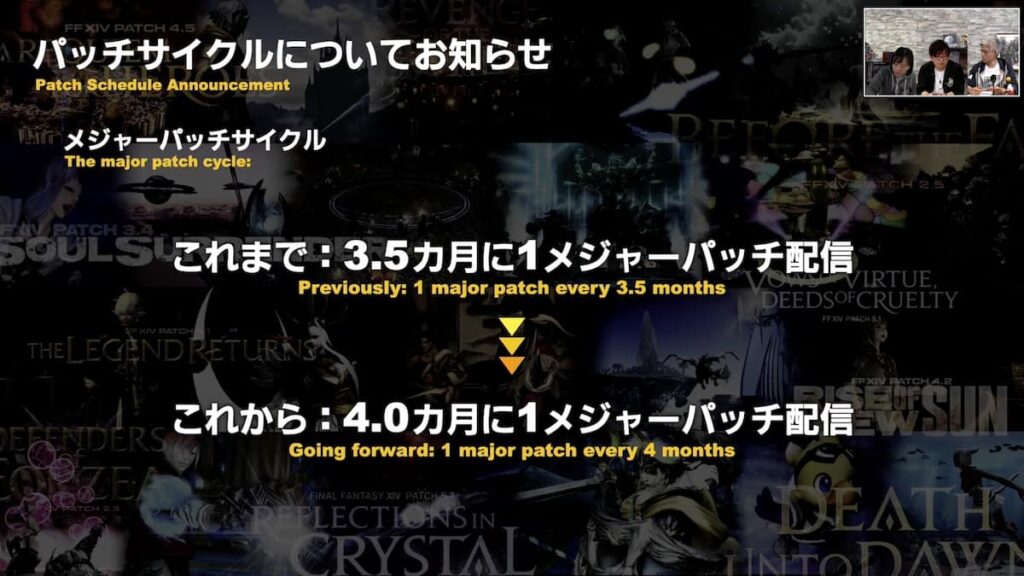 Overall, Endwalker is set for a packed first few years filled with events, patches, new content, and updates galore. Even as Endwalker enters the middle of its lifespan, the patch schedule is filled enough to keep you playing for a long time. Final Fantasy XIV has kept to a fairly strict schedule of an expansion every two years since the launch of A Realm Reborn in 2013, and there's sure to be plenty of content for the rest of the expansion.
For more Final Fantasy XIV: Endwalker information, check out When do Final Fantasy XIV Endwalker's raids release? on Pro Game Guides.