Skull Trooper is an Epic Fortnite Outfit from the Skull Squad set. It was released on 10/30/2017 and was last available 206 days ago. This can be purchased from the Item Shop for 1,500 V-Bucks when listed.
Skull Trooper was released during Halloween in 2017 and I believe hit the shop twice. It finally made its return during the Halloween 2018 season. This is the skin the popular streamer Myth was known for using most of the time.
Skull Trooper is so old that it cost the original 1,200 V-Bucks back when it was released.
Skull Trooper Styles
There are two new style options when it comes to Skull Trooper. First, there's a green glow that's available to everyone. Second, there's a purple glow that is exclusive to players who owned the skin previously. So, if you are an OG player mad about Skull Trooper returning you will have that as a unique feature to show off your old ways.
Skull Trooper Challenges
Not only are there new styles, you can unlock the long leaked Ghost Portal Back Bling. To accomplish that, you'll need to complete some Skull Trooper challenges. Check out our detailed post on this: Skull Trooper Challenges List Guide!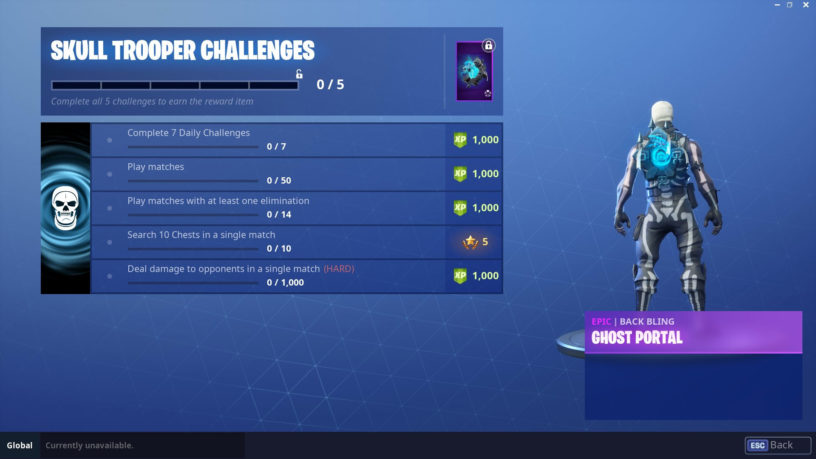 Skull Trooper Challenges
Complete 7 Daily Challenges
Play matches (50)
Play matches with at least one elimination (14)
Search 10 Chests in a single match (10)
Deal damage to opponents in a single match (1,000) (HARD)
Official Description
Victory runs bone-deep.
Cosmetic Information
Release Date: 10/30/2017
Last Seen: 11/02/2019
Days Ago: 206
Rarity: Epic
Type: Outfit
Cost: 1,500 V-Bucks
Availability: Shop
Rate this Cosmetic
Skull Trooper's Attachments
Attachments are items that come with a cosmetic when it is obtained.
Skull Trooper Images
Skull Trooper PNGs
Skull Squad Set