Fortnite continues to be one of the most popular battle royale games, not only because it's completely free to play but because it continues to step up its content regularly. With each season, they continuously add new quests, locations, and some of the best skins for players to equip. So many great skins have become fan favorites, which is why it's even more enjoyable when Epic Games bring in multiple alternative styles for them as the seasons continue––such as Fishstick. Fishstick has become a recognizable character for the Fortnite universe, with a new style added almost every season to fit the occasion. Here are all the Fishstick skins, ranked up to the best!
10. Princess Felicity Fish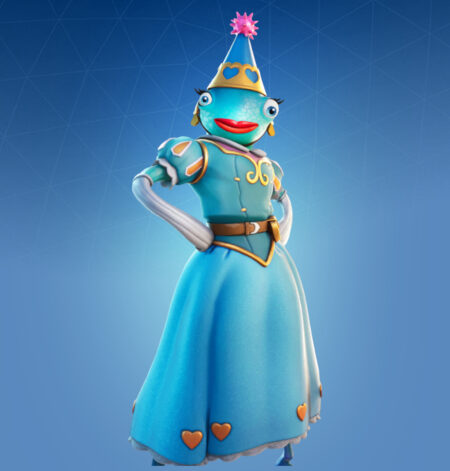 The Princess Felicity Fish is a Fishstick style that depicts Fishstick in princess attire from head to toe, with shiny red lips and long eyelashes. This rare skin comes with alternative color styles and can be purchased in a set with matching royal-themed back-bling and pickaxe. Despite being pretty unique for a Fishstick skin, it's just a little too bizarre to make it higher on the list of the best.
9. Atlantean Fishstick
Fishstick dons an underwater armor set in this Atlantean Fishstick skin. It is featured in a set with a backpack carrying two pointy daggers. The daggers also work as the pickaxe for this style. Although appropriately themed for the Coral Castle location, this skin didn't become a very big hit among the available Fishstick styles and is one of the lesser-liked.
Related: Fortnite Leaked Skins & Cosmetics List (Chapter 3 Season 3)
8. Fishskull
Fishskull appears like the Skull Trooper Jonesy, but of course, in Fishstick style, flashing actual white teeth for his skull face. He is available in the Skull Squad set along with some other bonesy skins, great back-blings, and pickaxes, such as his Bait Bones harvesting tool. This is an excellent white and black-colored skin choice for Fishstick, but a little lackluster compared to some others––unless you're looking for a Halloween costume.
7. Gummy Fishstick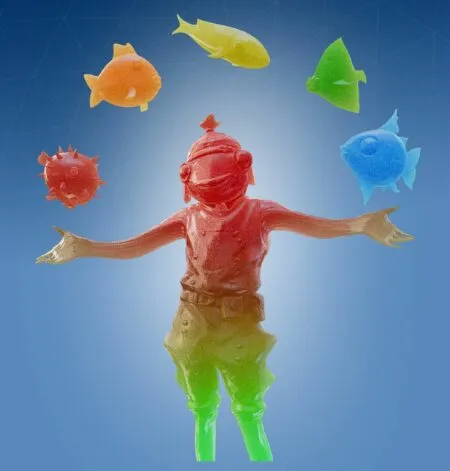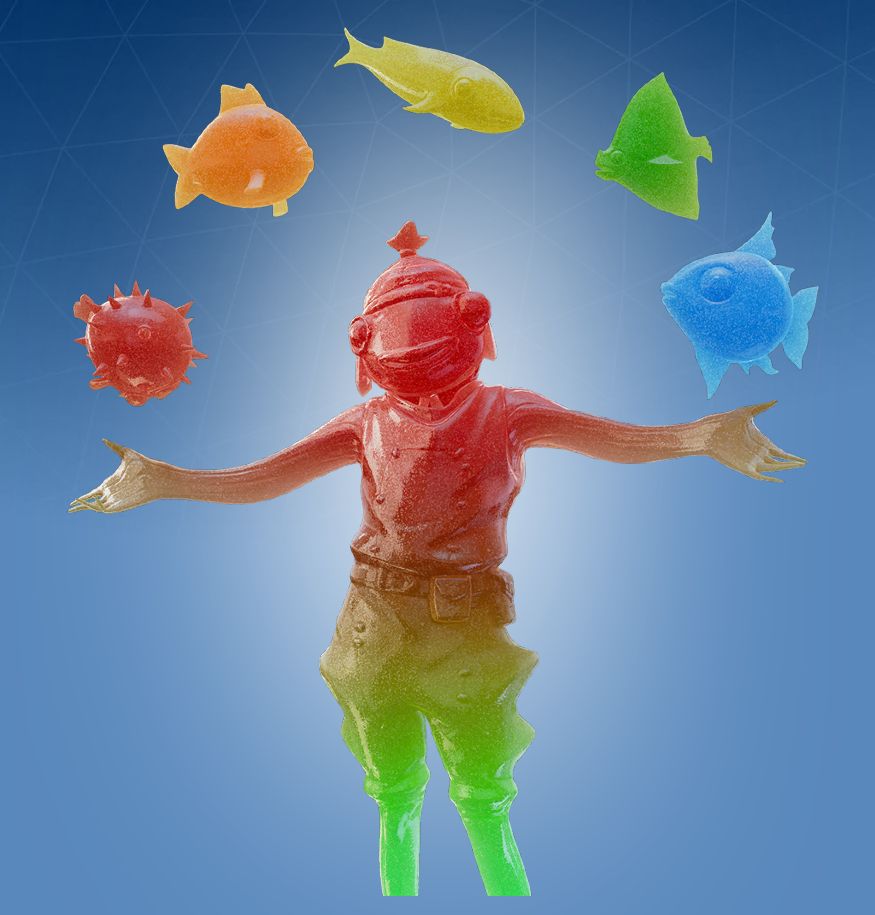 The chewy, yummy Gummy Fishstick skin features three different style choices for Fishstick in a gummified garb, so appealing you could eat it. This candy-themed skin is worth the buy for the style choices but honestly is just a little too eccentric to be at the top of the list. His features are not as prominent in this style, and colors are so bright it may be hard to match accessories.
6. Fa-La-La-La-Fishstick
The Fa-La-La-La-Fishstick is much like the Jonesy elf skins, but of course, with a fishy twist. He features his own mini fish back-bling, The Fishcracker, and Holiday Hooks harvesting tool. The more detailed costume and cute Fishcracker make this a jolly Fishstick choice but may not be appropriate all year long unless you want that holiday feeling 24/7.
5. Contract Giller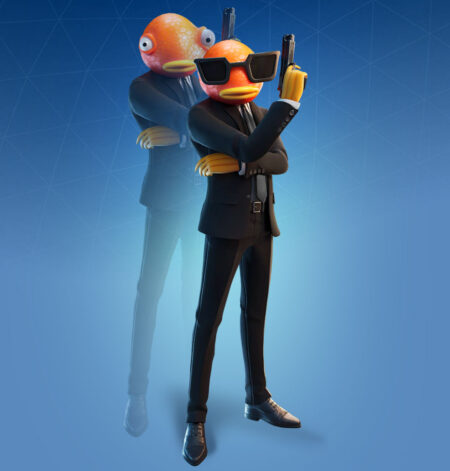 John Wick, but make it Fishstick. The Contract Giller skin is a comical twist on the hired gun, John Wick skin, featuring the goldfish in a clean suit with the style option of shades or no shades. Unlike some of the other bulky Fishstick outfits, he is slim and tall, making him easy to pair with various back-blings. This is one of the better Fishstick skins just because of the cool shades, baby fish Dorsal Destroyer back-bling, and accompanying quests.
4. Triggerfish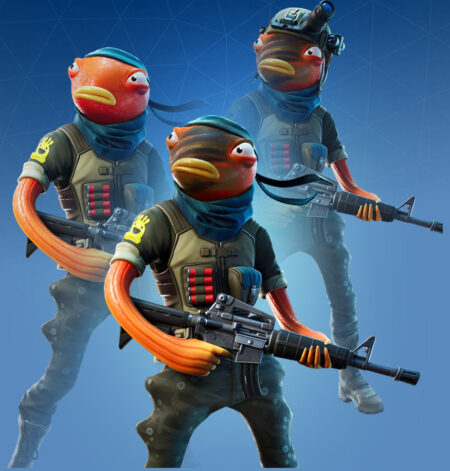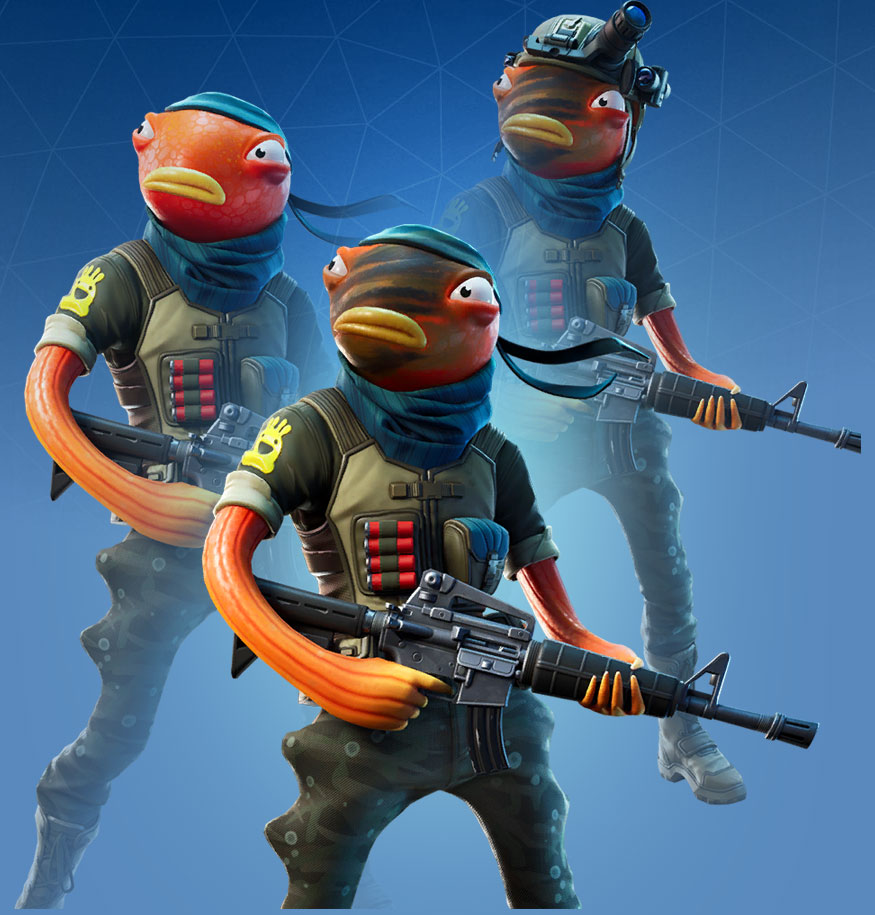 Triggerfish is one of the more popular Fishstick skins due to its tactical style that seems more appropriate for the all-out battle of the game. He is suited up in a full tactical suit, from camo pants, combat boots, and vest. Team up with a trio and don one of the three available styles, or change up your look as you play with the multiple styles Triggerfish offers––a tactical helmet, facepaint, or without. You can also wear these three interesting styles with the interactive back-bling Coral Commandos.
3. Frozen Fishstick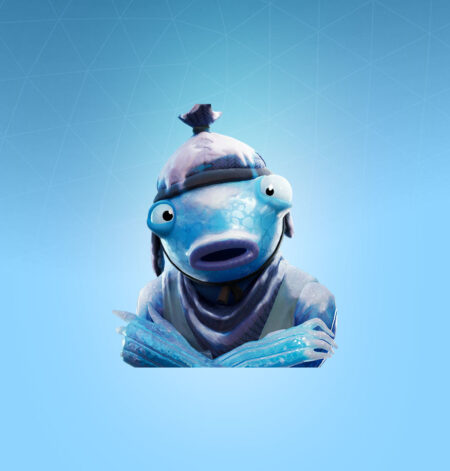 Frozen Fishstick is arguably one of the more adorable of the Fishstick skin options, and one of the only ones that switch up is the usual orange tint of his scales for a pale blue instead. His icy attire is perfect for the wintery terrain and pair nicely with any other ice accessories. He can be found as a part of the Polar Legends pack and bought with any of the matching back-blings and harvesting tools in the set.
Related: Best White Fortnite Skins
2. Fishstick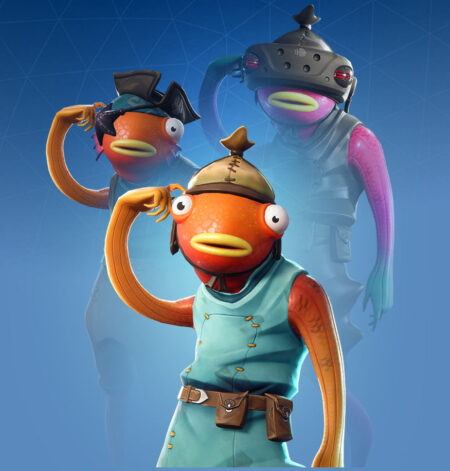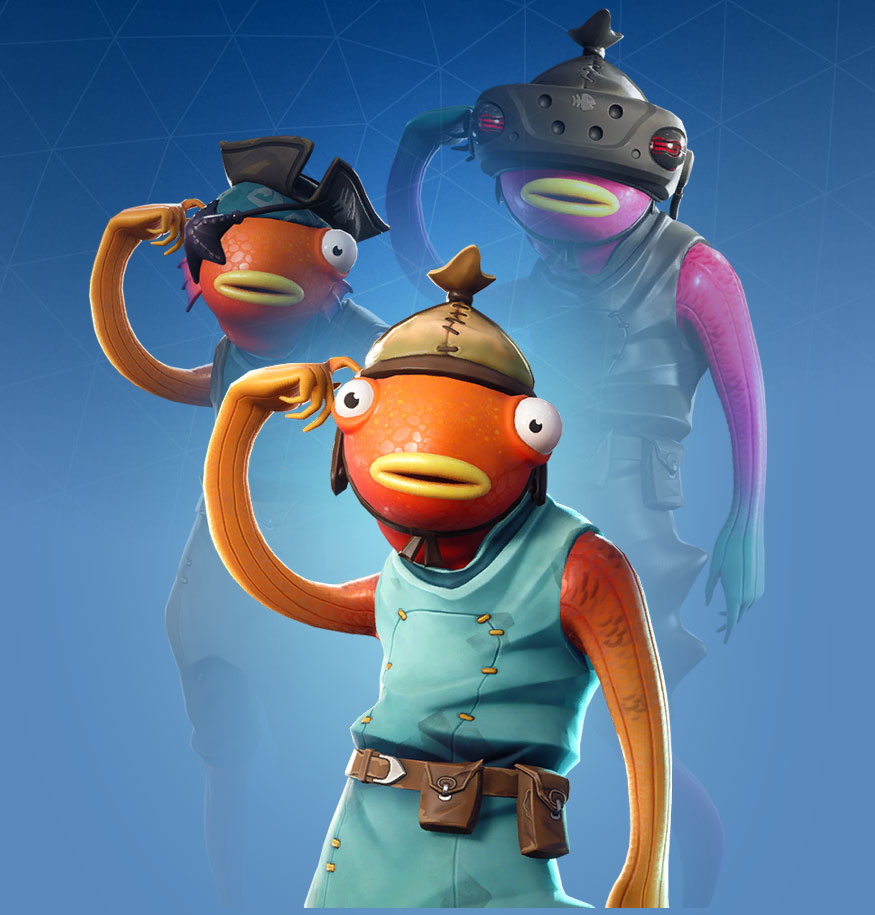 Despite being the original Fishstick skin, it remains one of the best Fishstick styles. It's a simple but humorous appearance with bright orange scales and light blue attire that looks great with watery accessories. However, what makes this skin one of the best is the alternative styles that are included with it, such as the VR Fishstick and Pirate Fishstick. Those lucky enough to own the Fishstick skin during the 2019 World Cup will also have the Fishstick World Cup style available to them as well.
1. Toona Fish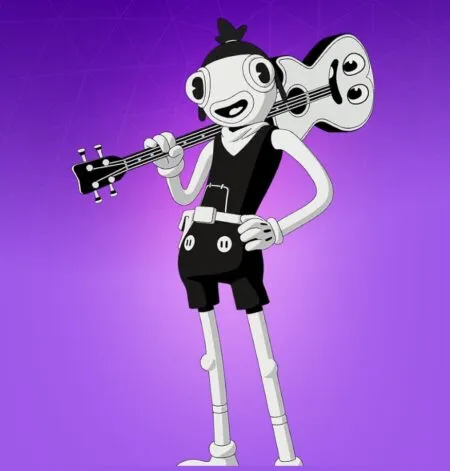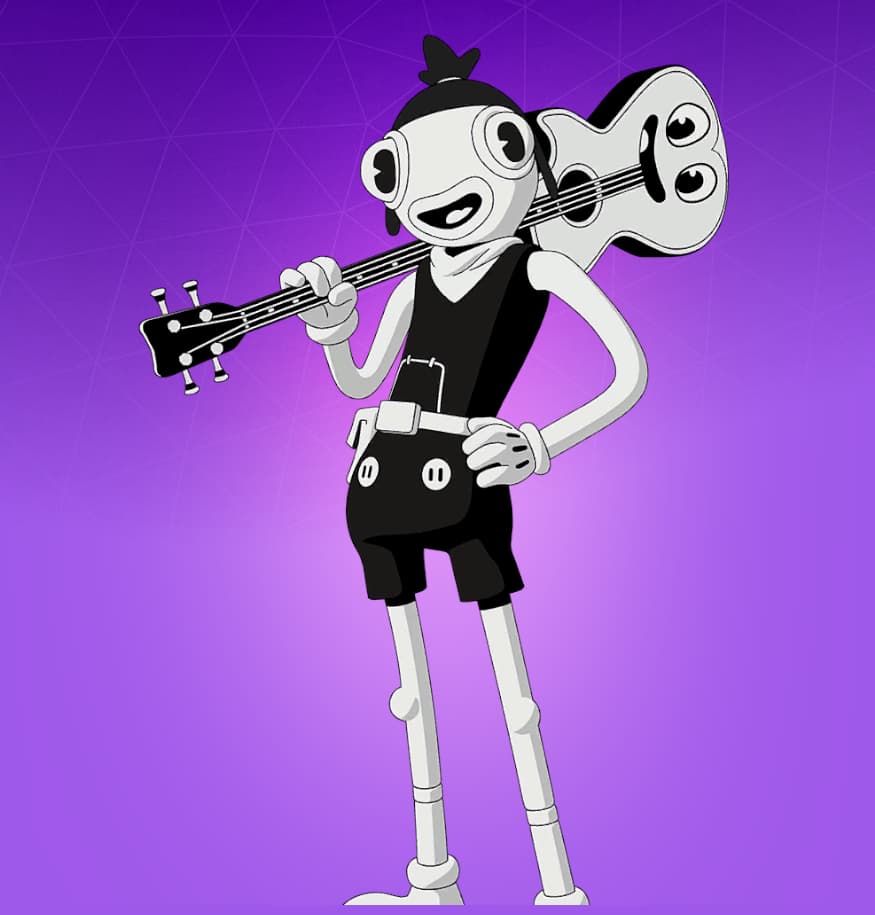 The old cartoon-styled Fishstick, Toona Fish, makes it to the top of the list because of the adaptability and customization options included. Toona Fish was available during Chapter 2, Season 8, as part of the upgraded Battlepass skin. Once you unlocked him, you could collect several different styles and ink pots, each themed on different characters in the game, for him throughout the map as you played. This means there were countless customizations for him that allowed for creativity. Change up his colors to your liking, or keep him black and white for easy matching options. Toona Fish is easily one of the most adorable of the bunch with his toon-like appearance.
Fishstick is one of the most iconic skins available in Fortnite, featuring in most of the seasons so far and accumulating some of the best style options. This is just our opinion on the worst to best skins for him so far. Let us know which ones you think are the best or your favorites in the comments below!
Looking for more Pro Game Guides Fortnite content? Check out our guides on Best Red Fortnite Skins and Top 5 Smartest Fortnite Players Of All Time!