We're putting together our unofficial Fortnite 12.60 Patch Notes! We're attempting to collect all of the changes, updates, and bug fixes from the most recent patch. Epic has been less regular about posting their patch notes, so we've gone ahead and made our own version of them! You can find information on everything that was added in the post below.
Patch Release Date & Time
The Fortnite 12.60 Patch has been officially announced to be released on May 20th, 2020 at 2 AM ET (0600 UTC)! This is expected to be one of the final patches as we head into the next season. You can expect at least a couple hours of downtime once it has been added to the game.
Official Patch Notes
These notes were sent out to Fortnite content creators:
Spy Games LTM

Operation: Infiltration is the newest Spy Games playlist and will arrive after the update at 9 AM ET. Extract the Intel Case from the defending team's turf or prevent your case from reaching the invading team's destination.

Battle Pass Decisions

Reminder to finish up your Challenges for this season's Battle Pass characters. Once the season ends, you won't be able to pick Ghost and Shadow variants for your characters. Lock in your look for Maya, too.

Dynamic Resolution for iOS

For iOS players, there's a new opt-in feature to help you reach your targeted framerate. Dynamic Resolution adjusts the game's resolution automatically to maintain this targeted framerate. Dynamic Resolution can be turned on or off in the Video Settings menu on iOS.

Party Royale Update

The Grappler and Jetpack arrive, and we've also made refinements to several existing attractions.

Next Week: PC Controller Adjustments

Controller tweaking, tuning, and investigation continues. We have some changes for next steps, but we don't want to release right before the FNCS Invitational Finals.
Unofficial 12.60 Patch Notes
Here's where we will be detailing all of the updates and changes that have been added to the game and haven't been covered by Epic. If you're looking for leaked skins, we will have a full look at them right here.
New Challenges
There will be some new available challenges for you to complete very soon. We've got a full look at these and the rewards you can earn in our Storm the Agency Challenges Guide!
The Dragacorn New Animation
If you purchased the Dragacorn Glider then you know that Epic was having trouble with the animation. It has been updated which you can view below. If you don't like the new animation, you can get a refund for it without using one of your credits.
Here is what the new Dragacorn Glider animation looks like in game: pic.twitter.com/lAVV58KUsq

— FireMonkey • Fortnite Intel 🎄 (@iFireMonkey) May 20, 2020
New Styles
A bunch of skins got new styles! Slurp Jonesy, Slurp Bandolette, Slurp Leviathan, Siren, Wolf, Bachii, and even the incredibly rare Recon Expert! The slurp skins were just reactive and didn't have a style, now you can choose to be a Blob Head if you want!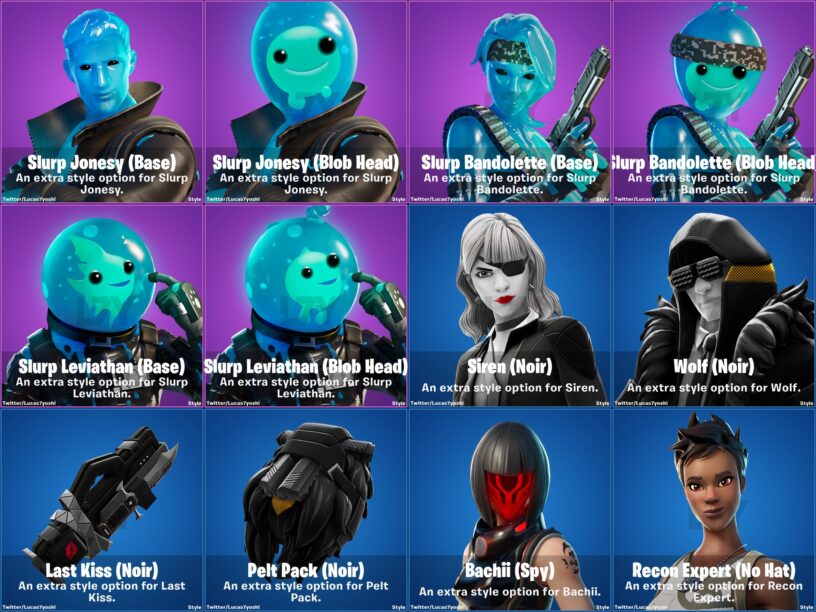 New Back Blings for Ravenpool & Cuddlepool
If you owned the Ravenpool or Cuddlepool skin then you will receive a new back bling for them!
Fortnite 12.60 Patch Bug Fixes
Here are the bug fixes for the 12.60 patch. These were taken from the Trello that display all of the stuff that Epic is working on in terms of bugs.
Battle Royale Issues
The Dragacorn Glider animation should hopefully be fixed. If you weren't aware, there was some kind of issue with it and it was disabled in competitive playlists and appears as the default Glider instead. Here's the official information on it:
While we work on an animation fix, the Dragacorn Glider will temporarily appear as a default Glider in competitive playlists on PlayStation 4, Xbox One, PC, and Mac. The animation fix will apply to all platforms and modes.

After the Glider's animation changes, owners of the Glider will have the option to refund it without the use of a refund token.
Hit damage indicators will sometimes appear in the wrong direction.
The Riot Control Baton should be fixed in the next update. It appears as the default Pickaxe in-game currently.
Creative Mode Issues
A seam that can sometimes be seen running through the middle of the island on mobile should be fixed.
Save the World Issues
Ammo is sometimes being consumed when a weapon is dropped and then picked back up.
Exploding Deathbombs should no longer deal damage to the objective through builds.
Black Metal Weapons should now properly calculate self-damage when a player lands a critical hit.