We are getting closer and closer to Halloween, and if you are a Fortnite player, that means you can expect a Fortnitemares event! Will that be included in the 14.40 patch? Well, we're going to have to wait and see when it is released. This certainly should be an interesting update, because not much was changed in the last patch. We are expecting that when this one drops, the game will be getting quite a few things added, including some potential new POIs, and even a new boss or two to fight with!
While Epic doesn't give out full notes, content creators are sent a general outline of what you can expect from the update. We will have that available in this post as soon as it is sent out. This usually gives us a pretty good idea of the main parts of the patch. However, there's a lot of smaller changes that are added, and those are the things we will be covering.
Update Release Date & Time
The Fortnite Season 14.40 Patch has been officially announced, and will be released on October 21st! Based on the tweet, it looks like Halloween is coming to Fortnite and we can expect Fortnitemares stuff to finally be revealed. There is usually an event and some cosmetics to earn, so keep an eye out for more details. This will be a larger than normal patch for PC, so make sure you have space. Here's the official word from Epic:
Please note the patch size will be larger than normal on PC (approx. 27 GB). This is to make optimizations on PC resulting in a massively reduced Fortnite file size (over 60 GB smaller), smaller downloads for future patches, and improved loading performance.
Server Downtime
The downtime for this Fortnite update will start at 4 AM ET (08:00 UTC), and you can expect a couple of hours before the patch is officially live, so don't wait around for it, even if you're excited to play! It rarely goes much longer than the two hours, so you won't be without the game for too long.
Unofficial 14.40 Patch Notes
Here's where we will be detailing all of the updates and changes that have been added to the game and haven't been covered by Epic. If you're looking for leaked skins, we will have a full look at them right here.
Two New Secret Challenges
There are two new Secret Challenges that you can complete for some easy experience!
Head over to Slurpy Swamp and inside the large factory area with the two large tanks with Slurp Juice in them. You will notice that they are now putrid green in color, and you are tasked with cleaning them! Thankfully, all you need to do to clean them is jump inside of them! The purity of your body will cleanse the tank. Just make sure to jump into each of them to complete the challenge.
The Escape? challenge is right next to the tanks, you just need to go to the broken wall and find the Gnome that is nearby. He clearly was the one that poisoned the juice, so attempt to capture him, and he will rocket off and escape.
Edible Candy
You will now find candy buckets around the map, and if you break them open you will find the following types of candy:
Pepper Ming
Hop Drop
Candy Corn
Jelly Bean
Thermal Taffy
You will find buckets just about everywhere, but they are most often found on tables in front of houses. If you aren't able to trick or treat in real life, then this is one way to do it!
Broom Buckets
There are now Witch's Huts in different areas on the map, one you can find is northwest of Lazy Lake, which features Broom Buckets. If you open one of these up, you will find yourself a Mythic Broom that you can ride. It's pretty much exactly like the Silver Surfer's Surfboard, which launches you in the air and allows you to glide for a brief period. Once you land, you will have to wait 20 seconds before you can use it again.
We've found Witch's Huts west of Sweaty Sands, north of Doom's Domain, and northwest of Lazy Lake near the Sentinel Graveyard.
Bot Lobbies No Longer Work
I've checked out Bot Lobbies, and they appear to be working fine now!
Fortnitemares Game Mode
All three standard modes for Battle Royale are Fortnitemares based. When you play a game, you will play normally, but if you are eliminated you will turn into a Shadow. You will respawn in the air where you were taken out, and you can land back on the map. You have various new abilities, such as observing where players are nearby and possessing vehicles. If you win as a Shadow you will get yourself a Nitemare Royale, which will get you an achievement!
She-Hulk's Fists
A new superhero power is now in rotation, which allows you to wield the power of She-Hulk!
Gain the strength of She-Hulk. Unleash powerful melee attacks and a mighty leap-and-smash.
New Styles
If you have any of the following skins, you will receive the style as soon as the servers are available!
Fortnitemares Lobby
Epic got a lot closer to the classic Fortnitemares lobby with the new one that can be seen below!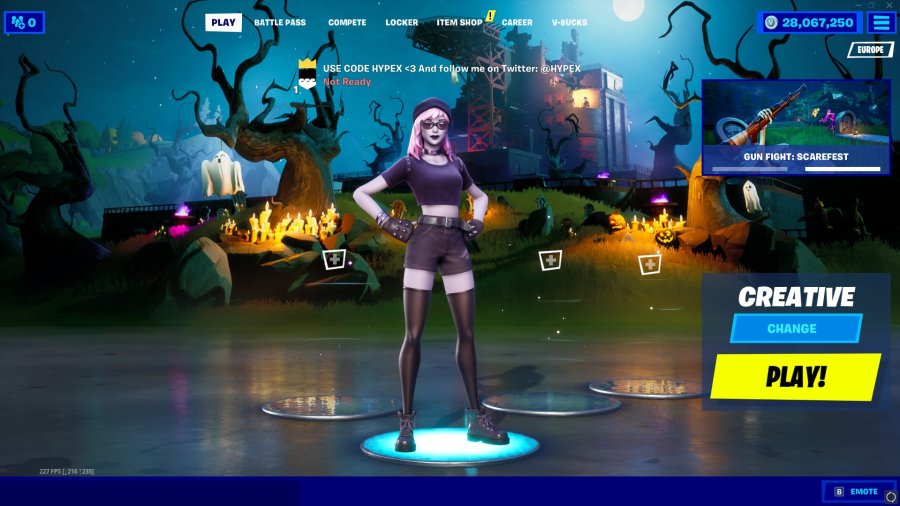 Fortnitemares Challenges
These will be the challenges you'll need to complete to earn the cosmetics listed below.
Become a Shadow
Travel 100 meters on a Witch Broom
Eat Candy
Deal damage with a Possessed Vehicle
Detect players as a Shadow
Eliminate Shadow Midas
Eliminate shadows as Player
Visit Different Witch Shacks
Consume legendary loot as a Shadow
Fortnitemares Achievements/Legacies
Trick or Treat - Picked up Candy during Fortnitemares.
Spiritual Successor - Got a Victory Royale during Fortnitemares.
I will have my Revenge - Got a Nightmare Royale during Fortnitemares.
Squish - Landed on Ant-Man.
Back to the Shadows - Defeated Shadow Midas during Fortnitemares
Ghost Rider - Processed a vehicle during Fortnitemares
Hell on Wheels - Drove a vehicle as Ghost Rider
Shadows Curse - Eliminated by Shadows 13 times during Fortnitemares.
Shadow of your Former Self - Turned into a shadow during Fortnitemares
I collect Spores, Molds, and Fungus - Gathered a Foraged item while wearing a Ghostbusters outfit during Season 4.
Here are some more additional skins that will likely be apart of the event. Looks like a new cardboard cutout outfit, that may or may not be a style.
Here are some cosmetics from the trailer that will likely be available soon! Looks like a Skull Trooper Fishstick outfit will be available!
The Party Trooper outfit will be available in the shop through November 1st!
The new Party Trooper Outfit is available in the Item Shop now all the way through November 1 at 8 PM ET. Own the nightlife with neon with this new take on this Fortnitemares favorite!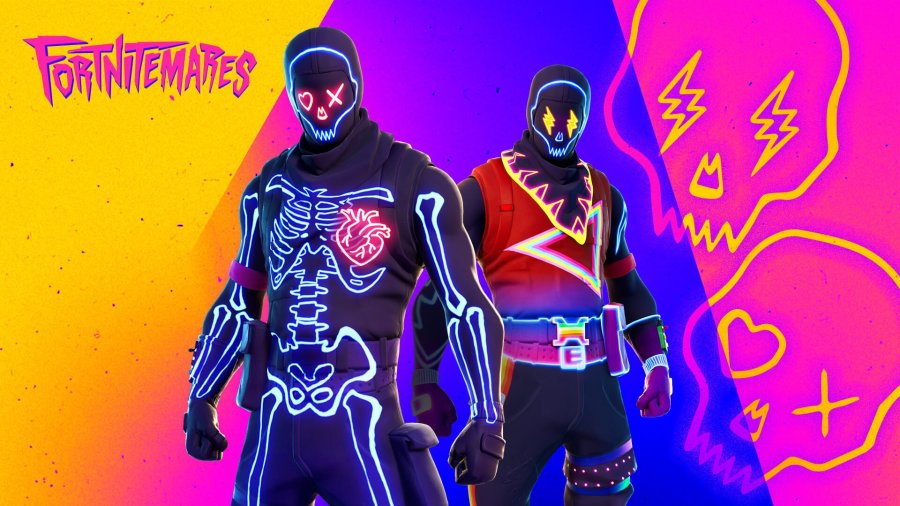 Fortnitemares Weapons & Items
Here's a look at the candy, flying broom, pumpkin launcher, and crossbow you will be able to find in the game. The pumpkin bucket will drop the candy, I'm assuming it will be scattered all-around the map.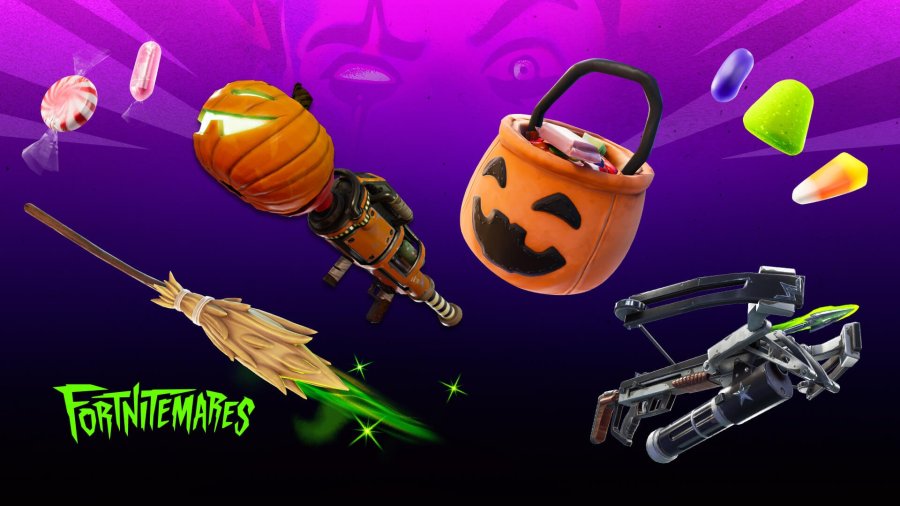 Fortnitemares Cosmetics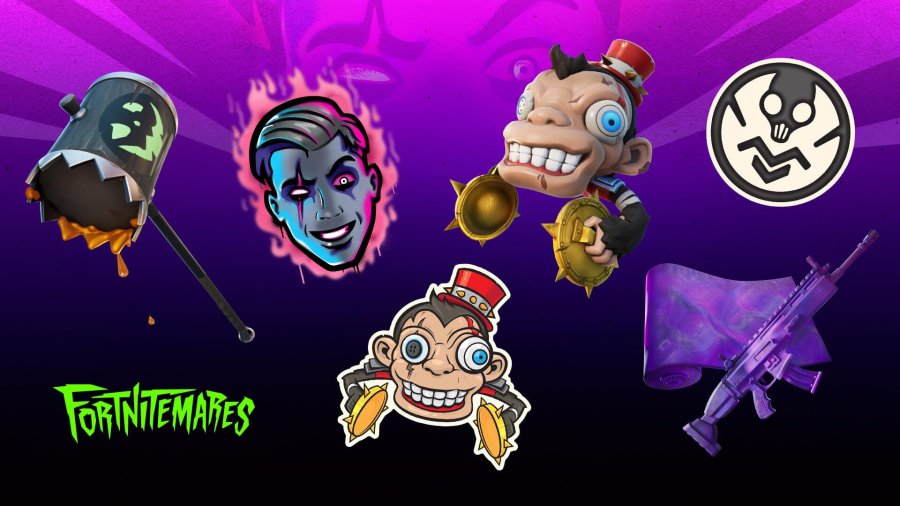 Looks like you'll be able to earn some pretty interesting cosmetics:
Over the course of Fortnitemares, complete new Challenges to unlock special rewards, including Midas' Shadow Wrap, the Smash O'-Lantern Pickaxe, Bobo Back Bling, and more! Be seasonally-appropriate or stay scary year-round.
Wrath's Wrap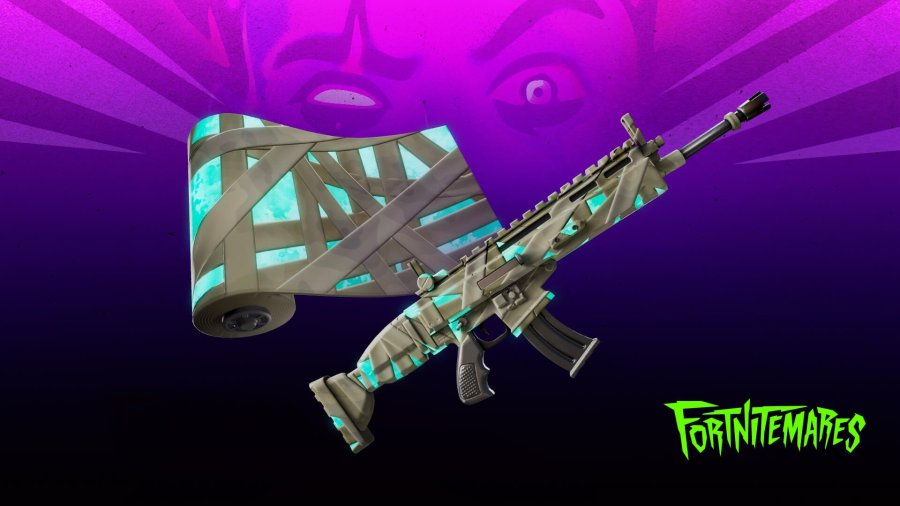 There will be a code you can unlock by playing in Fortnite Creative maps:
Over the course of Fortnitemares, Fortnite Creative will feature four Fortnitemares-inspired featured islands. In each featured island, you'll be able to discover digits of a mysterious code. Explore these haunted islands and combine 20 total digits to get the Wrath's Wrath Wrap.
Fortnitemares Trailer
FORTNITEMARES TRAILER! pic.twitter.com/8tjwUhvjuC

— ShiinaBR - Fortnite Leaks 🎃 (@ShiinaBR) October 21, 2020
Official Patch Notes
Here are the official patch notes that were sent out to Epic content creators. It looks like Fortnitemares is going to be added to the game, and it will center around The Agency. There will be new challenges that will earn you a Back Bling and Pickaxe. The loot pool is also changing, as the Charge Shotgun is to be vaulted!
Ghostly New Gameplay

Fortnitemares returns with a terrifying twist in Solos, Duos, and Squads! What was once The Agency has been reclaimed by the ranks of a reawakened mastermind out for revenge. Join his army to fight alongside friend and foe alike and snatch a shadowy victory from the living.

New Challenges

The Island is overrun with haunted huts and daunting decorations. Complete new challenges and get a new terrifying Back Bling, Pickaxe, XP, and more!

Loot Pool Changes: Trick or Treat Edition

We're vaulting the Charge Shotgun; let us know how this changes your play. Ghoulish weapons have returned to aid in the shadowy showdown. Soar through the skies like a witch, while those with a sweet tooth will find new treats quite enhancing. More super-powers are rotating in, so put those fists up!
Unconfirmed Speculation
I'll be compiling some of the leaks and details from previous patches that could possibly end up in the game during this update. I have labeled them based on how likely I feel they will be apart of the patch!
Confirmed: Fortnitemares
Based on the leak of Fortnitemares: Revenge of the Midas it seems quite likely that it will be released this patch. It seems like Midas will be taking up residence in The Authority, because his gold chair has been found inside of it again.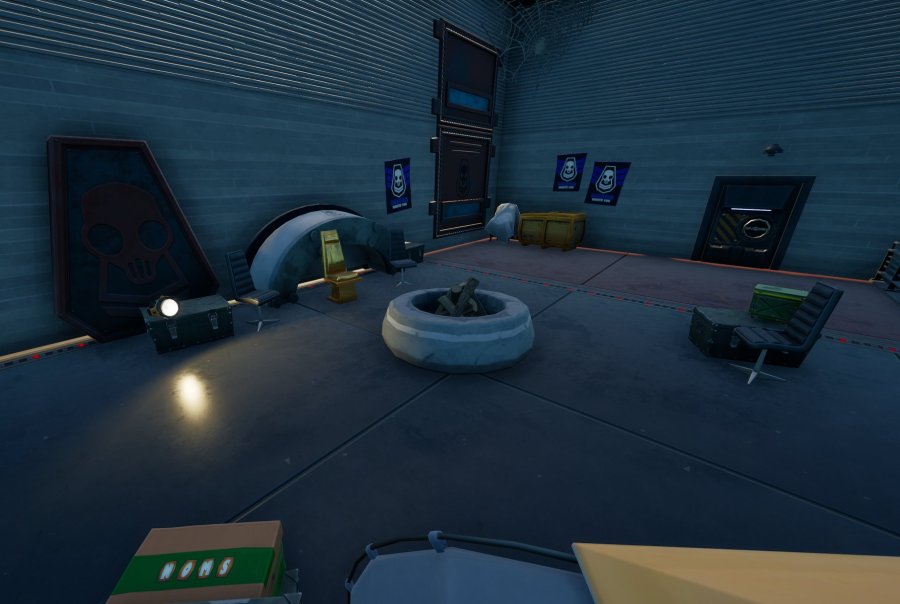 If you haven't fully been keeping up with the leaks, then a couple of NPCs were found in the files. One of them was a Midas character, that could possibly be a new boss fight during the Halloween season. This was accompanied by a Ghostly Ghost Henchman. He will have a selection of weaponry, including the Pumpkin Launcher that has become pretty notorious in Fortnite. I would make a guess that they could show up at The Authority, which would become a spooky area to fight in!
Very Likely: New Loot Boxes
You will likely find the following new loot boxes that were
These are the things you will likely be getting out of these boxes. The broom is reportedly going to be something you can fly around on, and the candy will be similar to other consumables in the game!
Wbroom
Pepper Ming
Hop Drop
Candy Corn
Jelly Bean
Thermal Taffy
Very Likely: More Halloween Skins incoming?
We already got a big batch of Halloween skins in the previous update, and I would expect some more. There has already been a leak about a skin called the Dancefloor Soldier that should be arriving in the game prior to Halloween.
Unlikely: Mystique Boss
We are still waiting on Mystique to make her appearance in the game. I feel like it's going to be unlikely in this patch, because this will likely mostly be focused on Fortnitemares and Halloween.
A leak in the game has shown that Mystique will have a Mythic weapon that will be a Dual Auto Pistol. The kind of look like MAC10s, but are in pistol form. This would be something different that we haven't seen in the game. We have seen dual pistols before, but automatic dual pistols would be something different. They could make for a decent swap of your SMG if you want to try something different in that slot of your loadout. Mystique having pistols would make some sense, since her superpowers probably wouldn't make the best abilities like some of the other superheroes.
The leaked stats for this are that it takes 3.1 seconds to reload, has a magazine size of 40, and it deals 20 damage to the player.
Fortnite 14.40 Patch Bug Fixes
These were taken from the Trello that display all of the stuff that Epic is working on in terms of bugs.
General Issues
The Honey Hitters pickaxe has been disabled, this will hopefully be fixed in the update.
Battle Royale Issues
The inventory in Team Rumble is still currently shuffling whenever you respawn. This is very annoying, but there is a workaround that you can do where you drop all the items and pick them up in the order you'd like them to be in. However, this appears to be scheduled to be fixed in this update.
Doctor Doom's Mystical Bomb has been disabled, and will hopefully be fixed.
Creative Issues
If a player is not given matchmaking permissions, they will not be able to access the Team Size setting.
Sky color does not change when adjusting the light color setting in the island settings. This will be resolved in the next update.
Fog thickness and lighting were unintentionally changed in the v14.30 update. This will be resolved in a future update
Save the World Issues
We're investigating the reports of crashing after the most recent STW Update. This mostly occurs when attempting to load into or leave a mission.
The Epic Mini-Boss may not spawn during the second wave of 'Trap The Storm' missions with the appropriate modifier. Avoid this mission if you have a quest that requires you to eliminate Mini-bosses.
Mobile Issues
We're aware of an issue that is causing vehicle buttons to appear missing on mobile.
Silver/Gold foil style variants for Mystique and Doctor Doom may appear with a black texture on Nintendo Switch.