Along with the amazing rewards you can earn from the OG Battlepass and Reboot Rally event, you can also claim some more great skins and accessories in the Bonus Rewards.
These Bonus Rewards offer more overtime goodies you can claim until the season ends, but they remained a mystery until they were released. Page 2 has been up in the air in anticipation of its release, but the wait is over. Here's all the details!
What are the page 2 Bonus Rewards in Fortnite?
We had a nice peek of what we could unlock in the Bonus Rewards on page one, but page 2 had been kept a big mystery until its release. The page only displayed question marks in place of the rewards we could claim, and it left us full of speculation.
I would love, along with many more Fortnite players, to see an exclusive surprise skin we've never seen before. However, there were already some potential leaks floating around social media that didn't look quite as promising.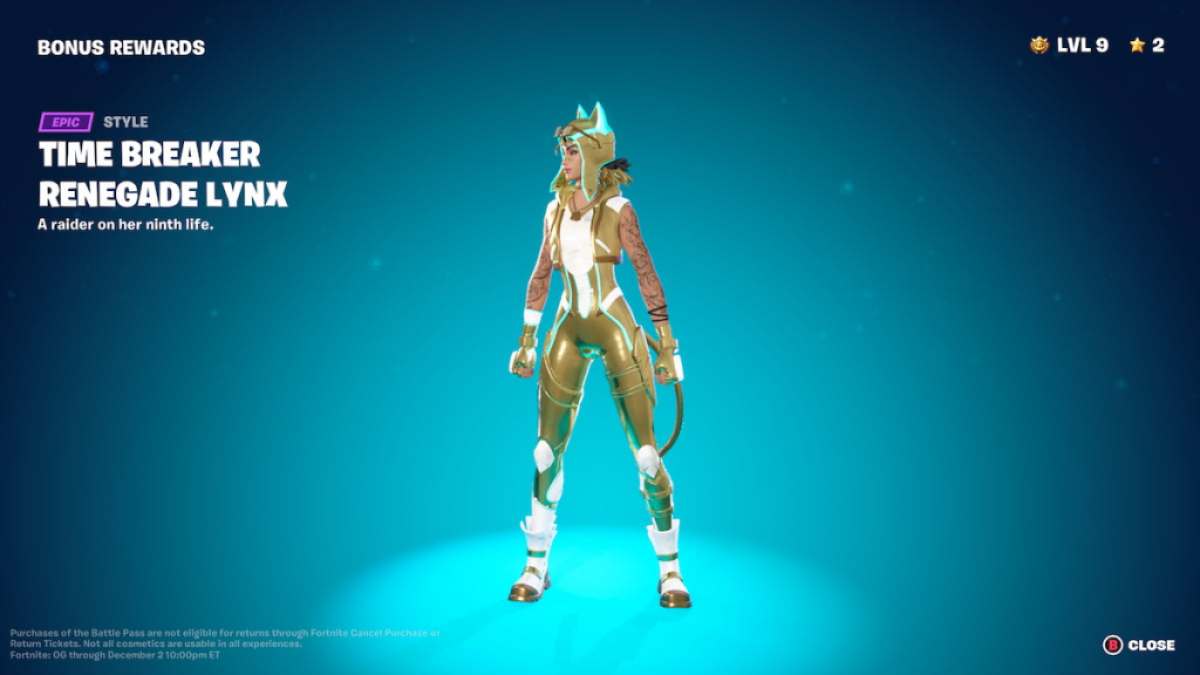 These leaks said we would get three Gold versions of the skins already in the Battlepass: Omegarok, Lil Whip, and Lynx. However, they could include more customizable colors and options, almost like our Spectra Knight. It turns out they were practically right because the three mystery skins are gold versions of the previous skins, but not quite exactly as they were assuming. They are a 'Time Breaker' shimmering gold and white color scheme, and only Lynx comes with one more extra style, which is her closed mask.
When do Fortnite page 2 Bonus Rewards come out?
The three bonus rewards on page 2 were released on November 16, 2023, with the next set of updates at 9am EST. Remember, you can't unlock Bonus Rewards until you ultimately claim all rewards in your OG Pass first.
Related: All leaked map changes in Fortnite OG Season (Chapter 4 Season 5)
All Fortnite OG Bonus Rewards
Here's a look at all the Fortnite OG Bonus Rewards you can claim in-game. They will be available only up until the season ends, so start earning Battle Stars and claiming them before it's too late.
Do the 'Split Emote - 6 Stars
100 V-Bucks - 5 Stars
Dark Storm Renegade Rustcat Back Bling Style - 5 Stars
Just Desserts Weapon Wrap - 4 Stars
100 V-Bucks - 5 Stars
Scratchmark Shredder Pickaxe - 6 Stars
Magmatic Renegade Lynx Skin Style - 9 Stars
Time Breaker Lil Split -20 Stars
Time Breaker Renegade Lynx - 20 Stars
Time Breaker Omegarok - 20 Stars
Although the OG Super Styles aren't exactly what people were expecting, they turned out to be pretty awesome looking, especially if you like those classic remix skins. You'll need to keep playing as much as you can to earn Battle Stars and claim your goodies before they're gone.
Looking for more Pro Game Guides Fortnite content? Check out our guides on Fortnite OG Chapter 4 Season 5 Loot Pool or All Hidden Gnome Locations in Fortnite OG (Chapter 4 Season 5)!