One of the most exciting aspects of a Battle Pass is all of the cosmetics you'll be able to earn during the course of that season! Well, we don't know exactly what's coming out yet, but we're taking a look at what you can likely expect in our Fortnite Chapter 2 Season 4 Skins post! We'll be going through everything that is currently known about the Fortnite x Marvel Season 14 Battle Pass, and keep you up-to-date whenever anything new releases. Once the pass is officially announced, we will have high quality images of all of the skins and cosmetics that will be available.
It looks like the Fortnite Chapter 2 Season 4 skins that you will get are Mystique, Iron Man, Doctor Doom, She-Hulk, Thor, Groot, Storm, and Wolverine. There's also other possibilities that include Sif and Galactus. Spider-Man, Captain Marvel, and Ant-Man could possibly make an appearance, but they are far less likely.
Fortnite Chapter 2 Season 4 Skins List
Here's our list of all of the currently known skins that will be a part of the Chapter 2 Season 4 Battle Pass. There are some leaks in this look at what's to come as well. We will be adding everything to our database soon!
Here's the additional items that will be coming in the Battle Pass.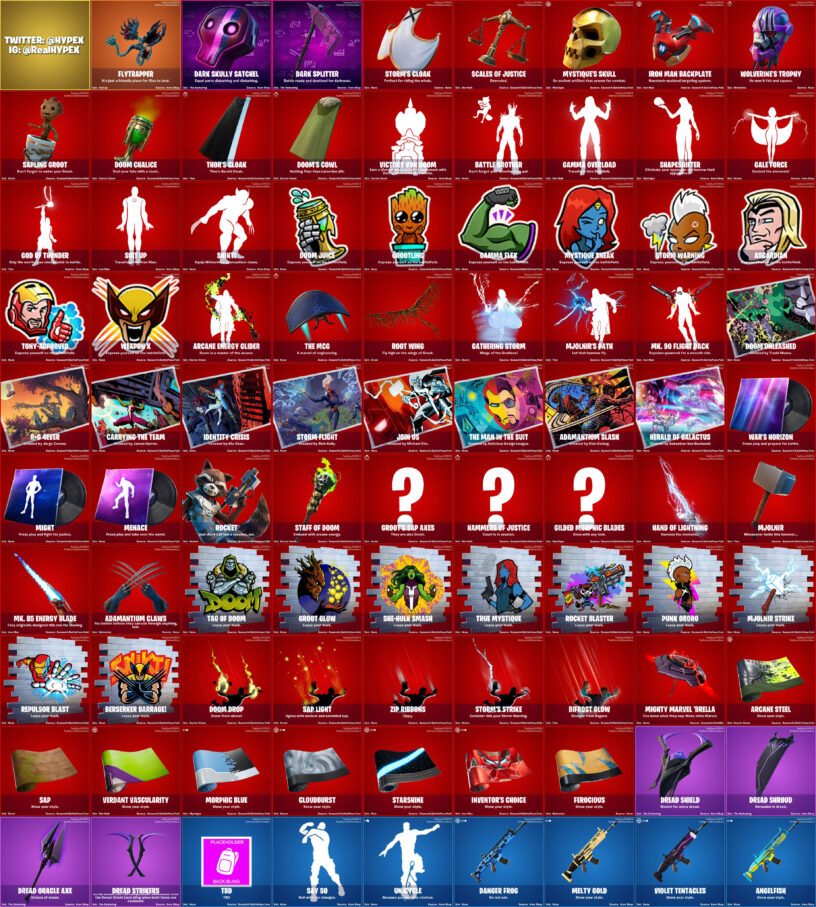 NEW: Mystique
Mystique is a bit of a surprise addition, I wouldn't have counted her among characters I would expect to appear in the Battle Pass. She has shape-shifting powers, which makes her a great spy character. It will be interesting to see what styles she has because the sky is the limit with her.
NEW: Iron Man
Iron Man is a pretty big fan favorite from the movies, so don't be surprised to see him as a skin in the game. He has now appeared in the comic book, which makes him incredibly likely to be apart of the skins that are going to be added to the game.
NEW: Doctor Doom
Doctor Doom has come into conflict with many different Marvel superheroes including the Fantastic Four, Spider-Man, Iron Man, Black Panther, X-Men, and the Avengers. For all we know, he could be the one that is the mastermind behind the Black Winter and the plague that is overtaking the universe! Him being brought to help Thor means that he might have turned over a new leaf!
She-Hulk
It has now been leaked by Tabor Hill that She-Hulk is either going to be part of the Battle Pass or purchasable in the Item Shop during Chapter 2 Season 4. While she isn't as powerful as the original Hulk, she is of course incredibly strong. When She-Hulk transforms, she has more control over her powers, rather than being the nearly unstoppable wrecking ball that is the Hulk.
She-Hulk has been essentially confirmed due to her appearance in the comic book.
Thor
Hard to say whether or not Thor will just be the level one skin you get, or if it will be the "secret" skin you earn while you play through the season. These mystery skins have obviously not been too secretive lately, and you have needed to complete a new weekly challenge each week to obtain the skin. I expect at least one skin will be like this and Thor would make quite a bit of sense. Based on the Fortnite comic book, we know he's going to be the long flowing hair Thor and not the short-haired version from the Avenger movies.
Groot
Groot has also been rumored to be a part of the Battle Pass, but there hasn't been confirmation yet. The leaks was by HYPEX, who has been on point with pretty much everything he has said this season, as he supposedly had some "trusted source" that has been feeding him information. Groot is of course from the Guardians of Galaxy franchise, and would also be a likely candidate for the role of first Legendary skin you get when you obtain the Battle Pass. He is particularly interesting, because we've seen him in many different look in the movies between his grown up tree stage to his sapling in a pot, and then to adolescent sassy Groot who just liked to play video games.
It looks like they are going more comic based with his look, so he's looking pretty menacing as an adult! I hope they have multiple versions of him, because the younger Groots are pretty cute and they could even make a pet Groot in a plant pot that dances!
Storm
Storm is a pretty well-known X-Men character, and has apparently even wielded Thor's hammer Mjolnir in the comic books. Storm can control the weather and send down lightning, create tornadoes, thunderstorms, blizzards, and hurricanes. Depending on how deep they go with the character, she can do a whole lot of other stuff like channel electricity through her body and flash freeze objects and people! Tabor Hill leaked the inclusion of Storm in the Battle Pass.
Now that Storm has appeared in the comic book, it looks like she will be her classic X-Men self in appearance!
Wolverine
Wolverine is another skin that was leaked by HYPEX. He is one that makes total sense, especially with the ability to now have harvesting tools that can be used on either hand. Wolverine with his claws slashing at trees, boulders, and vehicles to harvest materials? Count me in! While him wielding a gun will be a bit weird, having him in the game will be a great addition. I'm not sure what version of the character we'll get, but I'm expecting it to be the classic yellow suited one that is most well-known from the comics. If we could maybe get an old disgruntled style like he is played in Logan... well that would be great too.
Wolverine has now been pretty much confirmed due to appearing in the comic book teasers for the season.
Galactus
Galactus is appearing to be getting setup to be one of the main antagonists of the season. He is the catalyst that sends Thor through the rift and into the realm where the story of Fortnite plays out. He is known as the Devourer of Worlds, so him looking to swallow up the planet where we play our battle royale on would set him up as quite the villain to thwart. I could see him being the level 100 skin, because we generally get more villainous characters deep into the battle pass. Galactus hasn't really leaked, but the fact that he's part of the comic book makes him a likely candidate for a skin.
Emojis
These emojis are found in the Season 14 folder if you looking in the data-mined files. Each folder is used to keep the cosmetics separated by season, so it looks like these could be part of the Battle Pass. Epic might have some more car fun in-store for us, so be ready to take a ride.
The unique one is the bulldozer emoji, because that isn't available in the game yet. It could be a lot of fun getting to drive it around and destroy things with your big bulldozer shovel. You could also maybe carry people inside of it and use it as cover. There's a lot of application for it, so maybe we'll see some unique vehicles come available.