Fortnite has changed the way Legendary Quests work for Chapter 2 Season 7. Instead of the accolades we saw in previous seasons, Legendary Quests for Season 7 are more like advanced Epic Quests. In this guide, we are covering the basic instructions to complete these quests as easily as possible.
Cheat Sheet Map
The map below provides the locations of all the spawns for this week's Legendary Quests with specific locations. Follow the instructions below the map if you need more detail.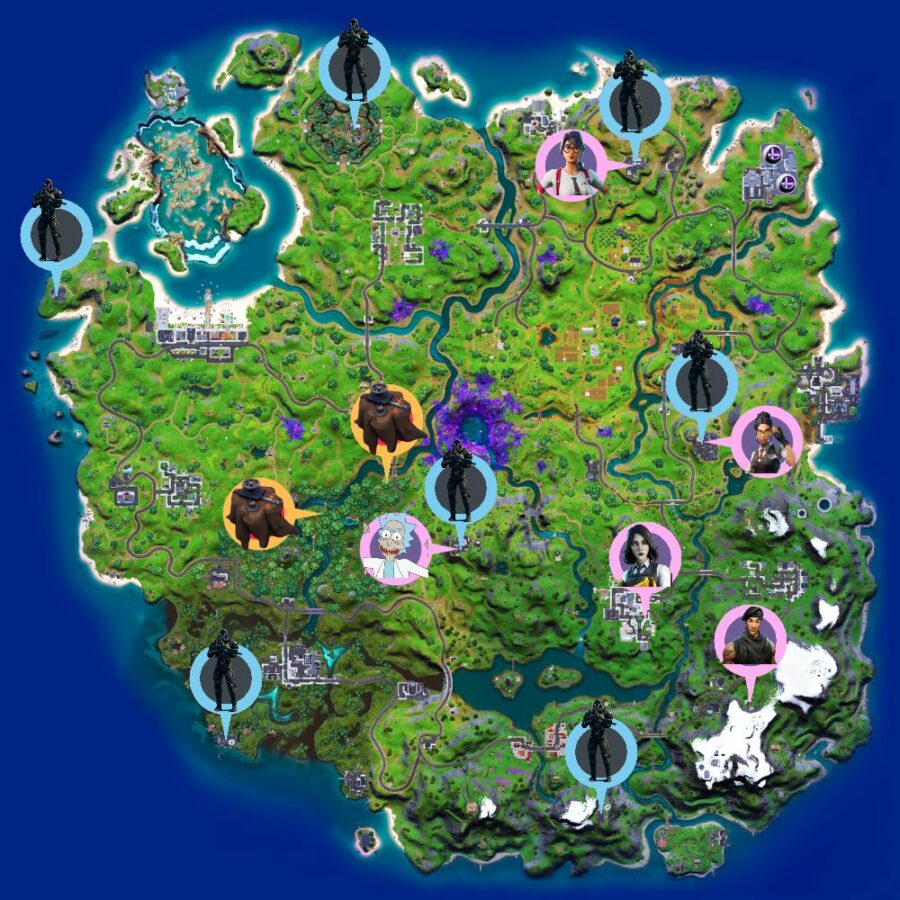 Guides & General Tips
Interact with a dead drop in Weeping Woods. [1]

For this quest, you must be sure to find a Dead Drop in the Weeping Woods area. The orange markers in the map show where you can find them. For further detail, use the guide linked above.

Step onto a body scanner. [1]

Body Scanners can be found in the small buildings at the landmark Satellite Dishes throughout the map. The blue markers in the map above show where you can find the landmark dish locations. From there, look in the small buildings on the edges of the complex. For further detail, use the guide linked above.

Converse with Rick Sanchez, Rook, Marigold, Maven, or Special Forces. [3]

This quest only requires you to speak to three of the five NPCs listed. They can be seen in the pink Markers on the map above. Rick Sanchez is at Defiant Dish, Rook is at Dockside Dish, Marigold is at Lazy Lake, Maven is at Dinky Dish, and Special Forces is at **REDACTED**, which is just west of Catty Corner..

Deal damage with IO tech weapons. [200]

IO Tech Weapons can most easily be obtained at the IO Posts throughout the map. The blue markers in the map above show you where you can find them. The Rail Gun is often considered the best weapon to do this since it can deal over 200 damage from a long distance in one shot!

Damage an IO guard. [1]

Guide: All IO Guard Locations
IO Guards are at specific locations throughout the map. Each post shown in the blue markers above has at least three IO guards patrolling the area. To complete this quest, you only need to damage one. This can be done with any weapon, so land at the one of the IO posts shown above, find a guard, and fire away!
That's all the Legendary Quests for Week 2 of Chapter 2 Season 7! Be sure to check our Fortnite Homepage for the latest news, content, and guides for Fortnite!
We have guides for everything in Chapter 2 Season 7! Go to your Complete Guide for Fortnite Chapter 2 Season 7 to help you master this season and get to the highest level possible!