Unlike other popular Battle Royale Games, Fortnite allows you to improve your aim mechanics with the help of its several creative mode Aim Course maps. Apart from learning your aim mechanics, such custom-tailored maps also help you in understanding other game aspects like the recoil pattern of weapons, combat tactics, and your positioning during a fight.
Are you an advanced Fortnite player? Test your knowledge with our quiz: How well do you know Fortnite quiz
Best Fortnite Aim Course List
One Shot: Switch! Trickshot Arena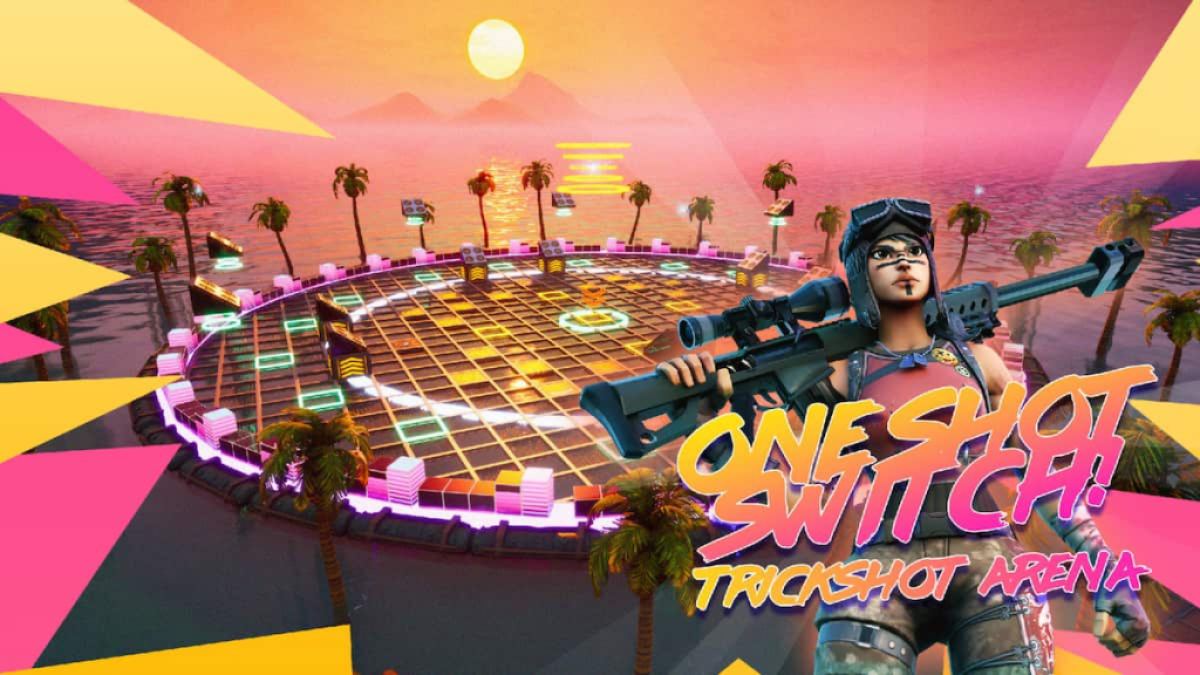 One Shot Switch Trickshot Arena Map Code: 1001-7293-0182
This ultimate sniper trickshot arena is perfect for practicing your aim, one-shots, and no-scopes. Hop in and race to get to 500 points first to win. The twist is every thirty seconds, and you'll get a new sniper loadout which will challenge you to be adaptive and learn to utilize each weapon to the best of your ability.
Fresh's Sweat Fest Mega Map
Fresh's Sweat Fest Mega Map Map Code: 8594-5347-7737
This mega map is packed full of every training course you could possibly need to grow your skills and become one of the sweats. Designed by skilled creators, this map is various modes from solo aim, crank practice, realistic battles, aim duels, box fights, FFAs, and more, all packed into one so you can hone the skills that you want. Become the sweatiest of the sweats.
The Bow Gun Game
The Bow Gun Game Map Code: 3411-8390-0877
This unique gun game is equipped with all varieties of bows, perfect for teaching you to steady your aim and get precise headshots. With every elimination, you change to the next type of bow. Your goal is to beat all other players to 10 eliminations and come out on top as the winner. You'll need perfect aim to be the speediest, most deadly player on the server.
Chapter 4 Warm-Up
Chapter 4 Warm-Up Map Code: 7264-2987-8032
The perfect way to warm up and practice your aim before hopping into matches is to try out this Chapter 4 Warm-Up map. This allows for personalized training simulations, where you can turn on and off the mechanics you wish, jump into various courses, and fine-tune the skills you really want to improve. With box fights, slide practice, piece control, and more, there is everything you could possibly need all in one place.
Skaavok Aim Training (V3.02)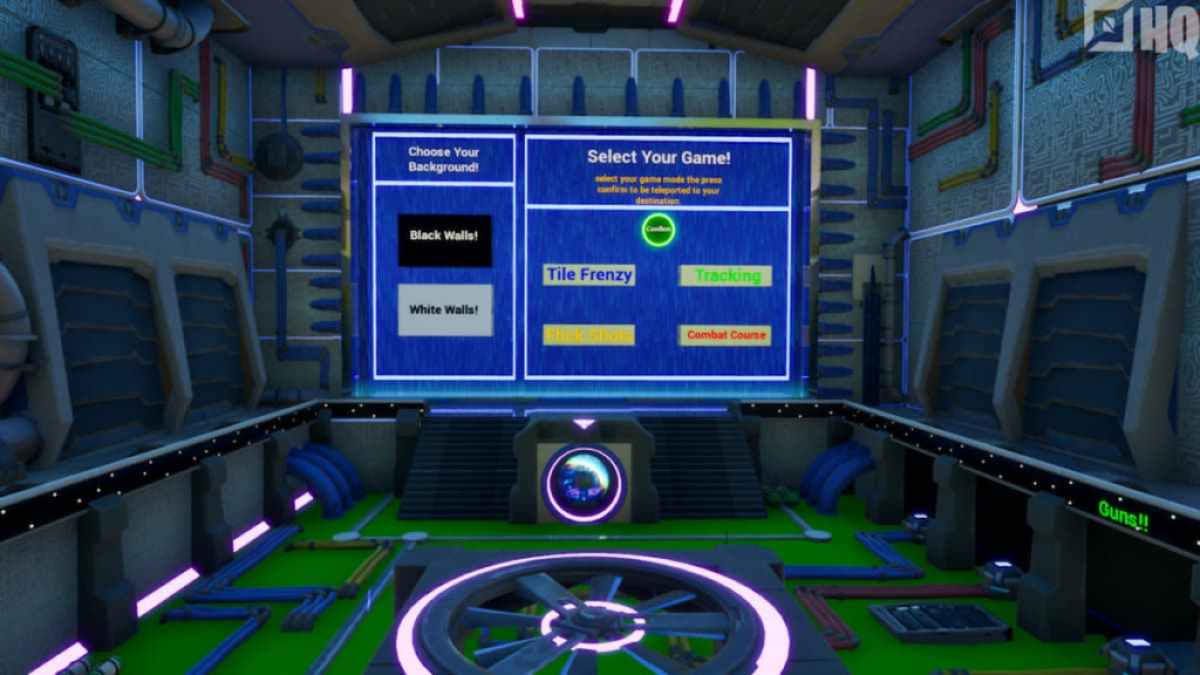 Skaavok Aim Training Map Code: 8022-6842-4965
With a whole arsenal of weapons to choose from and various maps and game types are your fingertips, Skaavok Aim Training makes it easy to practice hitting your shots and defeating your enemies as quickly as possible. In this lobby, choose to play box fights, 1v1s, FFAs, and more, all updated for the current season. You can also choose to play in public with other online players or stay exclusively with your party.
Easy Trickshot Map 10 Levels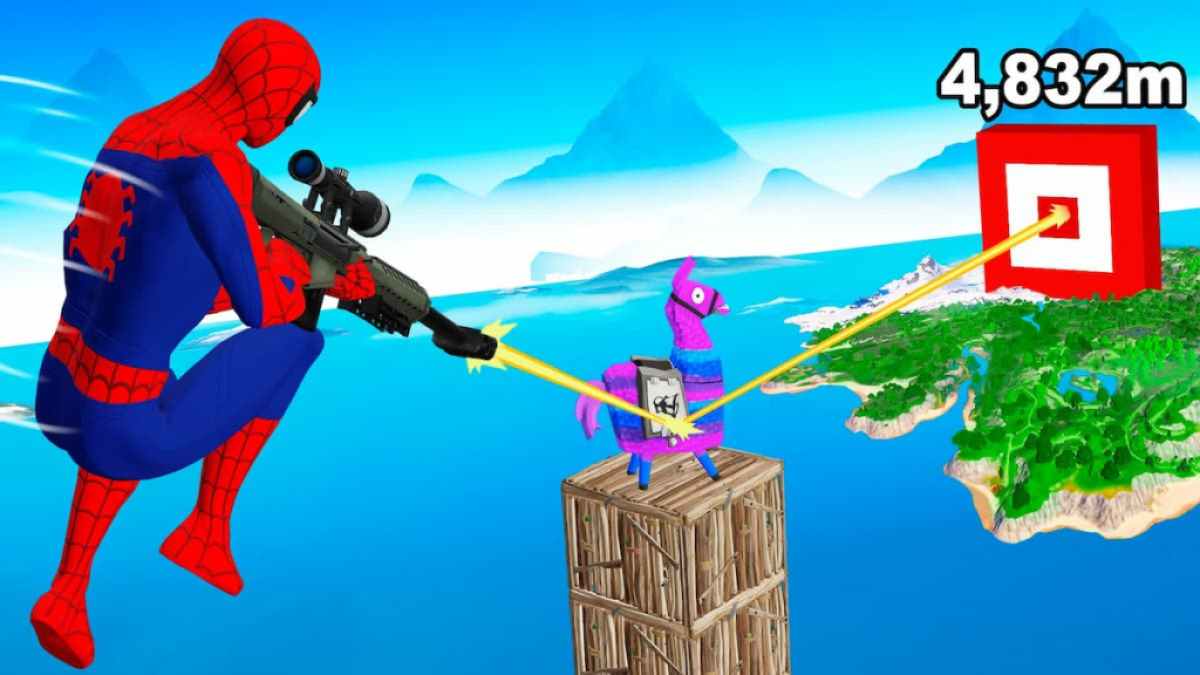 Easy Trickshot Map 10 Levels Map Code: 2405-1203-1515
This map offers 10 different trickshot levels, each with its own unique twists and turns to help you practice your sniper no-scopes and trick shots from various heights and scenarios. You can also participate in a trickshot battle arena, with your own pick of weapons, close-quarters, and objects that propel you up into the air. Put your no-scope and sniper skills to the test and see who can come out on top.
Chick-Pop!
Chick-Pop! Map Code: 9862-5067-0679
Chick-Pop! is a unique mini-game filled with chickens. It is perfect for practicing your aim as you attempt to take out as many launching chickens as you can before time runs out. Utilize a sniper, pistols, and other weapon options, and pop as many chickens as you can by practicing your precise aim. You can take your time and play as many rounds as you'd like in this casual solo experience.
Headshots Only Pump Wars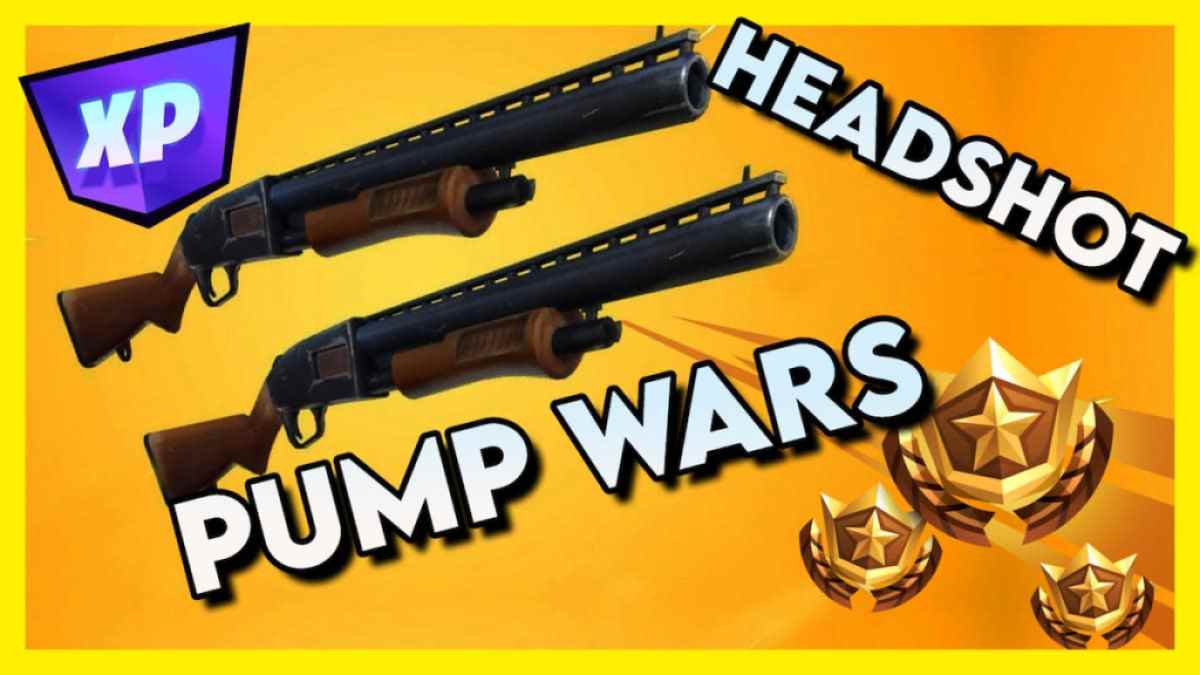 Headshots Only Pump Wars Map Code: 0545-1862-6292
Having trouble hitting your shotgun headshots? Headshots Only Pump Wars is the perfect game mode for all-out chaos PVP and to practice hitting your headshots, which can be a deadly one-shot. You can improve your skills for the main battle royale modes and earn XP and make progress toward the battle pass as you do.
Aim + Mechanics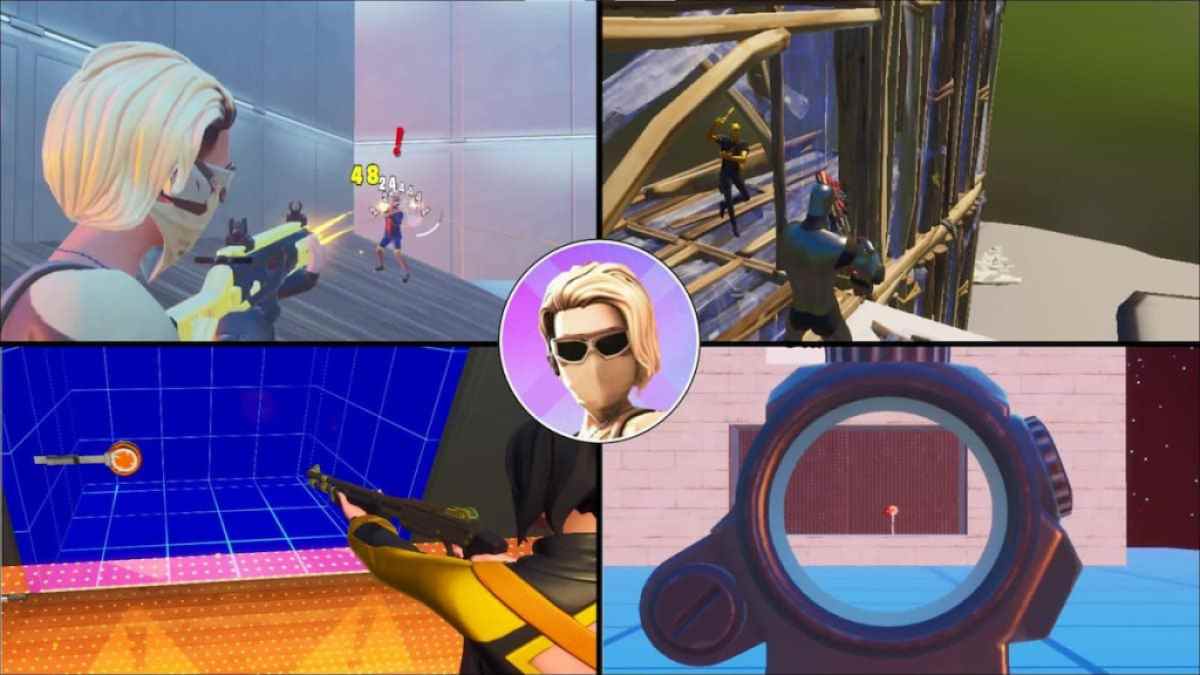 Aim + Mechanics Map Code: 1611-0113-8283
Aim + Mechanics is an excellent choice for training your aim and training your crosshair placement. With unique selections of courses, such as moving bots, automated targets, and building maps. You can practice aiming close range and distance and on moving targets that mimic real gameplay mechanics.
100 Level Weapon Parkour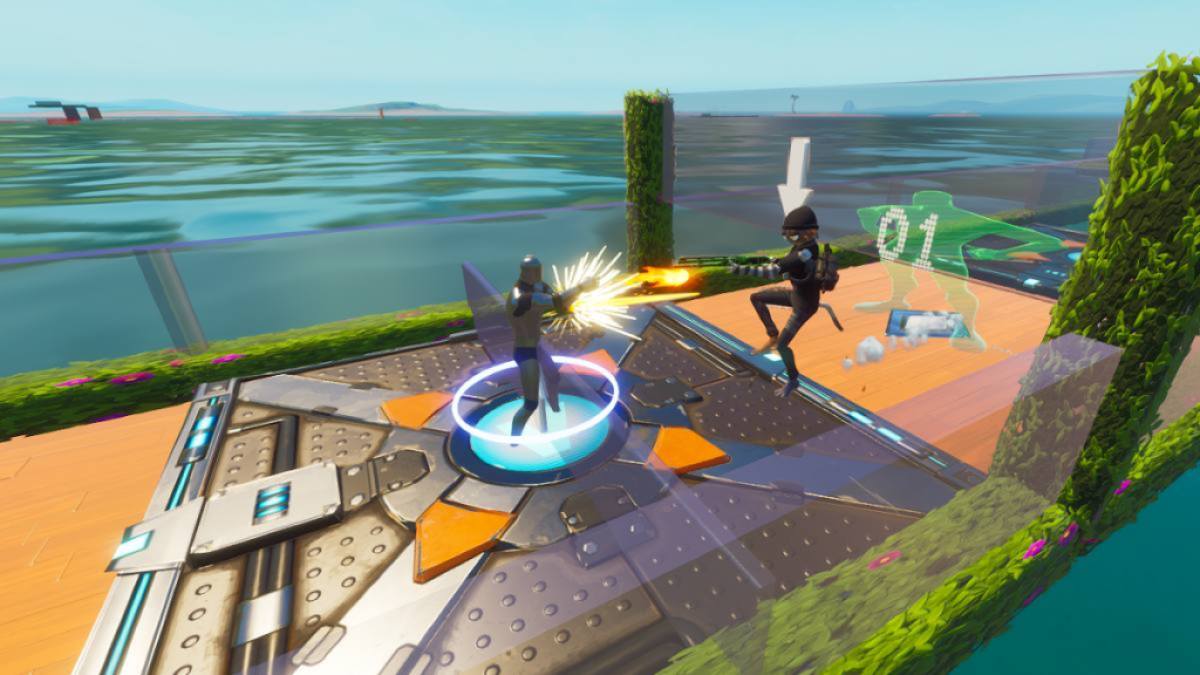 100 Level Weapon Parkour Map Code: 3847-8257-0584
100 Level Weapon Parkour is an excellent new form of aim training that improves your aim during moving and doing parkour. It works as a death run that requires you to master sprinting and mantling while throwing progressively harder aim challenges at you with every level. If you're looking to practice your aim while running and jumping instead of while standing still (because in the heat of battle, who has time to always make calculated attacks), this is the perfect map!
Zombie Pop Party
Zombie Pop Party Map Code: 8231-8188-6171
Zombie Pop Party serves as an intense multiplayer aim training map with friendly competition instead of head to head combat. Your goal is to get 50 points before any other player, which can be done by zeroing in on your tracking and having a quick reaction time. Designed for a party of up to four players, Zombie Pop Party is the ideal game for players who want to improve their skills but still have a casual social experience.
Head-Shot Only Box Fight (Striker)
Head-Shot Only Box Fight Striker Map Code: 1239-8960-3295
Aim Training comes in many forms, and one of the best pits you against other live targets. While box-fights may have their own category in Fortnite maps, this map adds a degree of difficulty that is sure to improve your tracking skills. In this combat-based training map against other real players, you must master your close-combat shotgun kills with quick precision if you wish to win even a single round. This aim-training map is not for beginners!
For more Fortnite News & Guides, check out Fortnite Dropper Codes or Fortnite Tycoon Codes List on Pro Game Guides!