With the v16.20 update that Fortnite dropped in April came a fun, new feature that allows you to travel across the map easily. Vehicles can now be modified by adding off-road tires! In this guide, we explain where and how to modify your vehicles.
How to Mod Vehicles in Fortnite
There are many locations to mod your vehicle in Fortnite. You'll find that every gas station that has been on the map prior to this update now has an extra section or building near it, and those are the locations where you can supe up your boring old sedan to an off-road monster.
Step One: Find a Garage
Related: How to Play the Spire's Message at a Guardian Outpost in Fortnite - Pro Game Guides
The image above shows you the exact locations of every mod-shop/garage on the map. Once you have made it to one of these garages, follow the instructions below to mod your vehicle.
Step Two: Mod Your Vehicle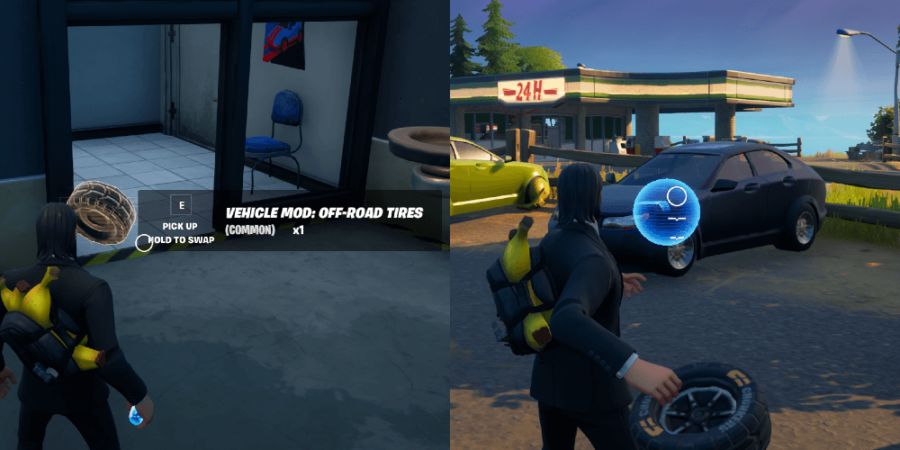 When you find a garage, look around inside for objects with off-road tires. Usually you'll find one on the floor somewhere, but you can also break racks and tire workbenches (shown above).
After you have collected a tire, you can pick it up like you would any other time. Select it in your inventory and use the secondary trigger button to hold it in your hand like a grenade. Aim at the car you wish to add the off-road tires to and use the primary trigger button to throw it. It will automatically equip itself to the vehicle and you'll be ready to drive!
Don't forget, we have complete coverage of the latest season! Check out our Complete Guide for Fortnite Chapter 2 Season 6!