Our Fortnite Chapter 2: Season 1 Overtime Challenges Guide features a look at all of the currently available information on challenges, rewards, and when they are going to be released! If you're unfamiliar with these challenges, they do this at the end of each season for players to earn some extra styles for skins and hopefully finish up their battle pass.
Fortnite Season 11 Overtime Challenges Start Date
The first set of challenges were released on January 9th, 2020. You can complete them to earn new styles for the Remedy skin. There will be additional sets of challenges to unlock styles for the other Battle Pass skins in the weeks to come.
Fortnite Season 11 Overtime Challenges List
Remedy Challenges
Rippley Challenges
8-Ball Challenges
Chic Challenges
Gold 8-Ball Challenges Guide
Earn Bronze Battle Medals by getting eliminations in a match (3)
You just need to get two eliminations in a match to get the bronze medal. This should work in Team Rumble, so that will obviously be much easier to complete in there.
Ring the doorbell of a house with an opponent inside in different matches (3)
This could be a bit annoying, but Salty Spring is pretty popular so I would head there and wait for someone to hack their way through the roof of a house. Once that happens, ring the doorbell and run for it or just leave the game!
Dance at Rainbow Rentals, Beach Bus, and Lake Canoe (1)
You can go to all of these locations in one game, but it's probably a lot easier to just split it up and head to Rainbow Rentals in a game and then go to the other two in the second game. You could also just do three games so you can glide on over to each of them. Team Rumble makes it easier because you get a glider to use over and over.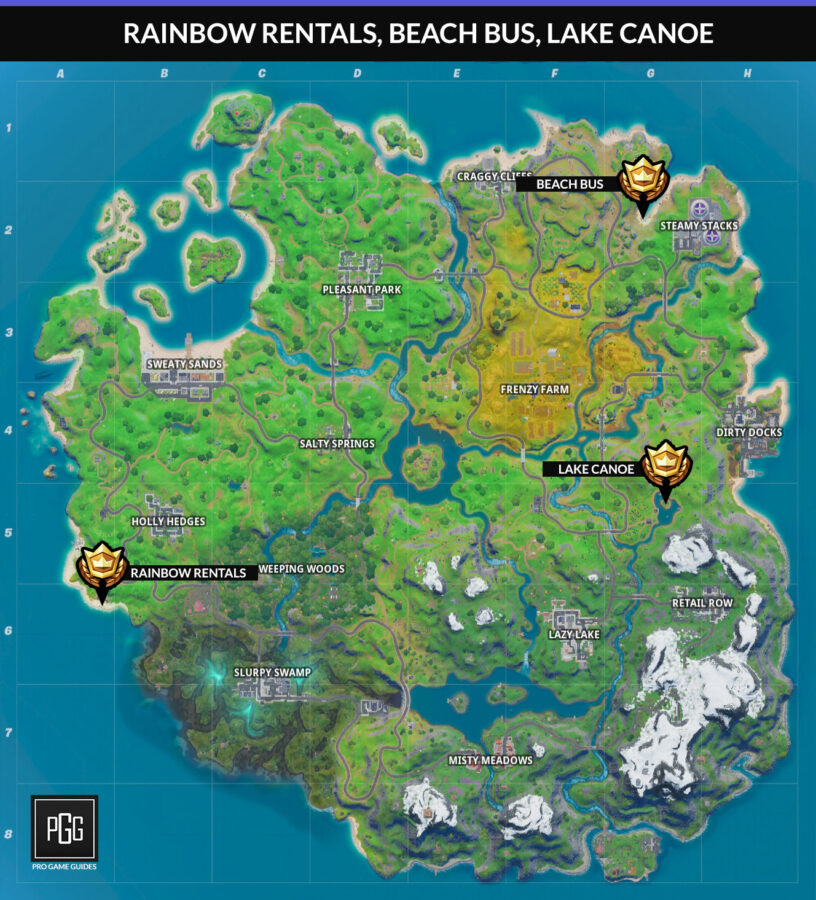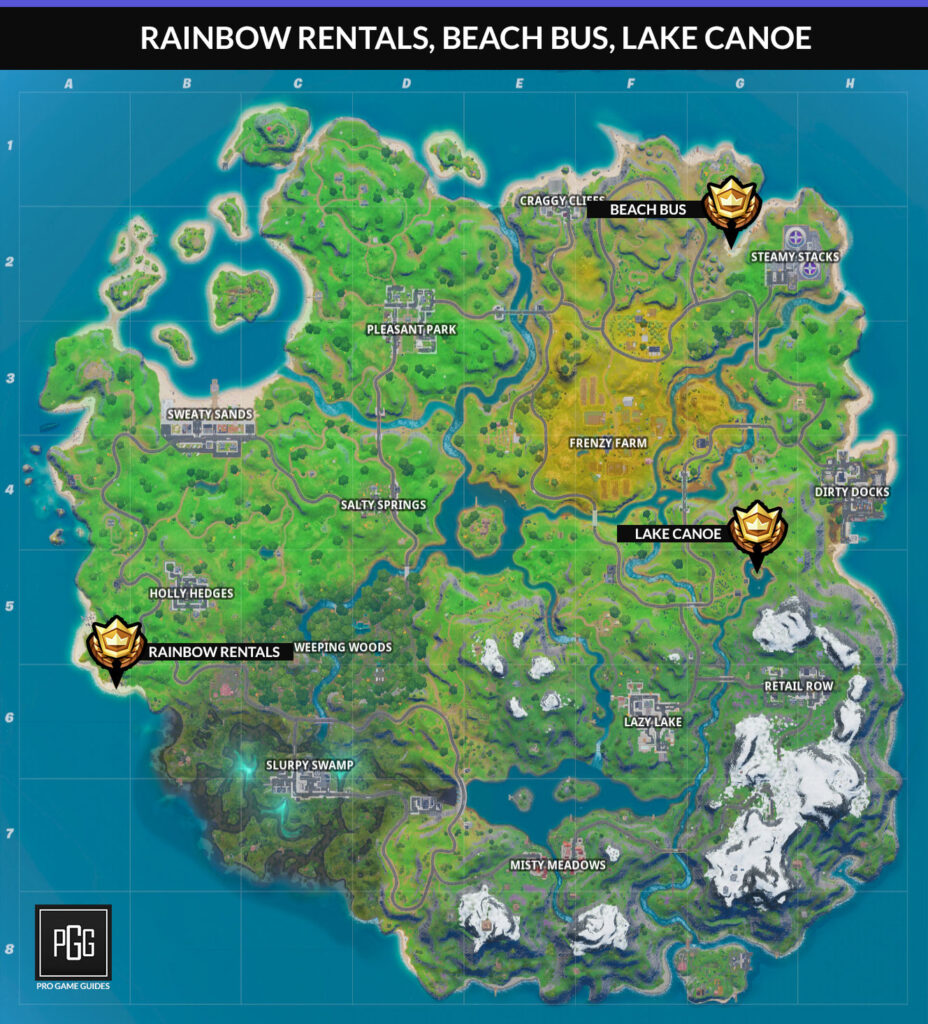 Swim at different No Swimming Signs (2)
You'll want to head to the no swimming location that is located northwest of Lazy Lake. It's ABOVE the waterfall and on the bank, so don't accidentally fall down that way! Once you've done that, you can make your way south down the river and possibly find a boat. Then head to the west when you hit the lake and swim in front of the one that is near the dam.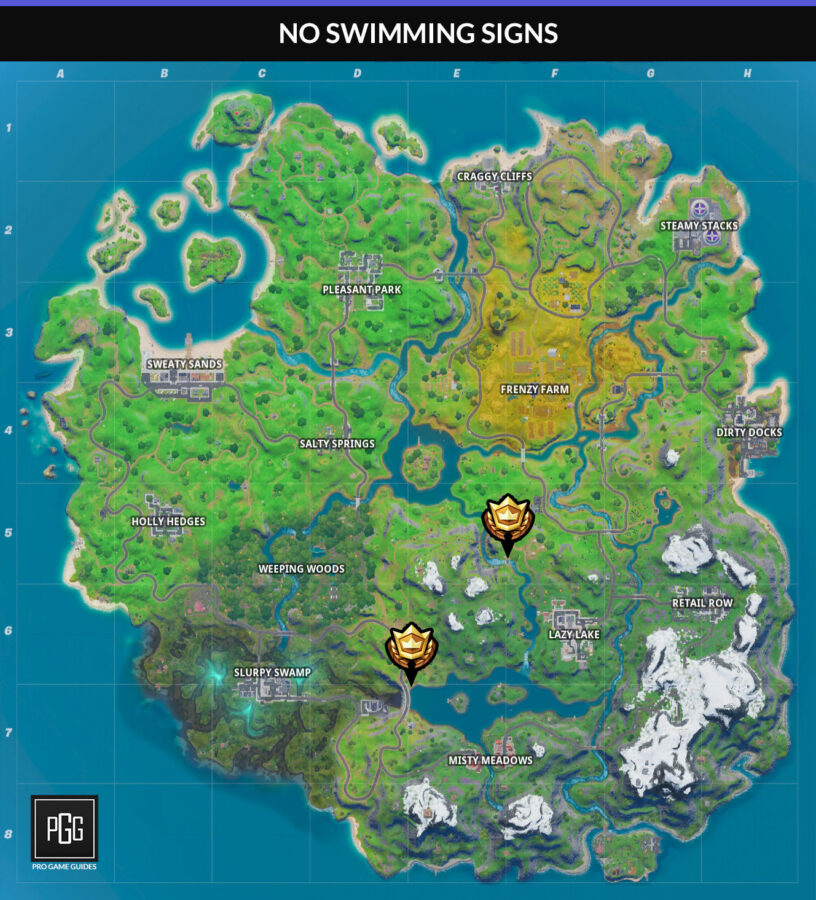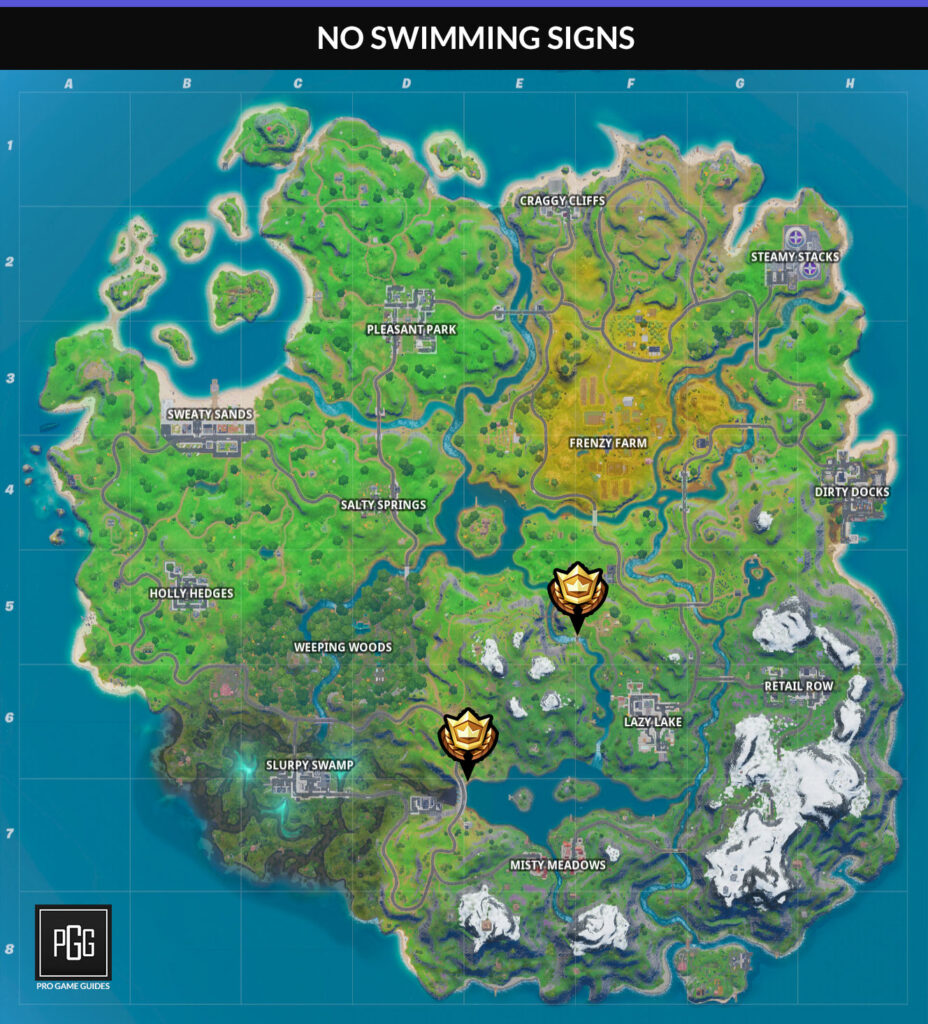 Deal damage with a Harpoon Gun to opponents (75)
This is going to be annoying, but you're going to need to hit an opponent with a Harpoon Gun. I'd try this in Team Rumble, but I'm not sure how good the Harpoon Gun spawn rate is in that mode.
Gain Health or Shields in a bush (1)
Find a bush to hang out in and gain some health or shield.
Search the hidden gnome found inbetween Fancy View, a wooden shake, and a big house (1)
This gnome can be found northwest of Holly Hedges. There's the big unnamed house and just north of that in the flowers is the gnome!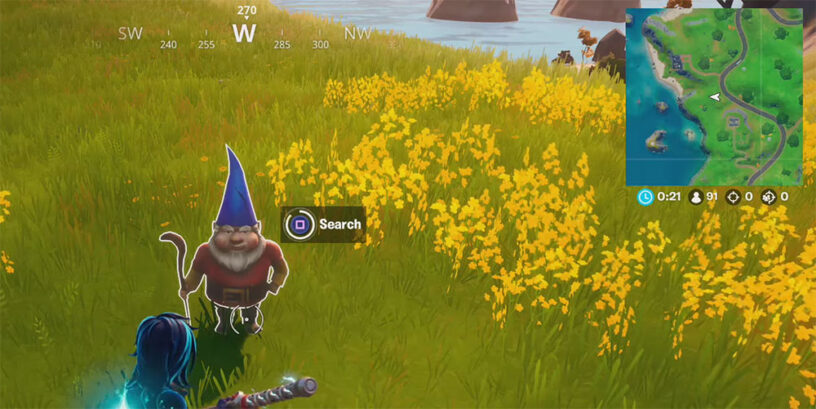 Bounce on bouncy objects in different matches (3)
Head over to Sweaty Sands and go to the beach area and jump on one of the umbrellas you can find there. You can do this same thing in three different matches.
Visit mountain Base Camps (3)
You can find the Base Camps along the southeastern portion of the map. Here are the exact locations of the three you need:
Travel 100 meters while dancing (100)
Equip one of the dances you have that has Traversal on it and start dancing and moving forward. Team Rumble is going to be your safest bet for doing this uninterrupted, especially in the early stages of the game. The Boing! emote from Season 11 is a Traversal emote, if you aren't sure if you have one already.
Purple Rippley Challenges Guide
Earn Gold Scavenger Medals by searching chests, llamas, or supply drops (3)
You need to search 12 Chests, Llamas, or Supply Drops to earn this medal. I've seen reports of some players not receiving credit for this challenge, so you might need to wait until it is resolved. Team Rumble would be the easiest option for this one. Head to a named location that your teammates aren't going to, and you should be able to loot enough chests to complete the challenge.
Achieve AR Specialist Accolades in different matches (3)
You'll need to deal 250 Assault Rifle damage in a single match to obtain this medal. It's pretty easily done in Team Rumble, just make sure you have enough ammo to support all your shooting!
Land in a Named Location in different matches (3)
Land at any location on the map that has a name on it in three different matches!
Deal any damage with a placed Trap to an opponent (1)
This might be one of the most difficult ones to complete in this set. If you aren't so great at the game, you might just need to get lucky by placing a trap and hoping someone runs into it. This is more easily done in a squad game where there's a lot of people running around. You could try it in Team Rumble, but I don't usually find too many traps as loot in this mode. Try placing the trap early in a game at an entrance of a busy area if possible.
Destroy SLURP Barrels, SLURP Trucks, or SLURP Silos (10)
I would just head on over to Slurpy Swamps and destroy barrels that are located all over the place in this area!
Swim 50m in under 5s (1)
This one's a bit weird, but you'll just want to find an area where the current is flowing heavily and swim with it. That speeds up your swimming pretty significantly. You can also try jumping out of the water which gives you a bit of a boost.
Visit Lazy Lake and Slurpy Swamp in the same match while riding in a Motorboat (1)
There's boat spawns directly west and east of Lazy Lake. I would grab one of these boats then go down the river and into the lake. Head west from the lake and go through the dam down into the swamp area and make your way to Slurpy Swamp!
Eliminations at Risky Reels, Fort Crumpet, or Hydro 16 (5)
Risky Reels is going to be the most popular location, it can be found west of Frenzy Farm. It's in the middle of the map, so it is naturally going to see more traffic. Hydro 16 is the dam that is directly east of Slurpy Swamp, and Fort Crumpet can be found west of Sweaty Sands.
Search the hidden gnome found inbetween Logjam Woodworks, a wooden shack, and a bucket tree (1)
This hidden gnome can be found west of Slurpy Swamp in front of one of the big trees!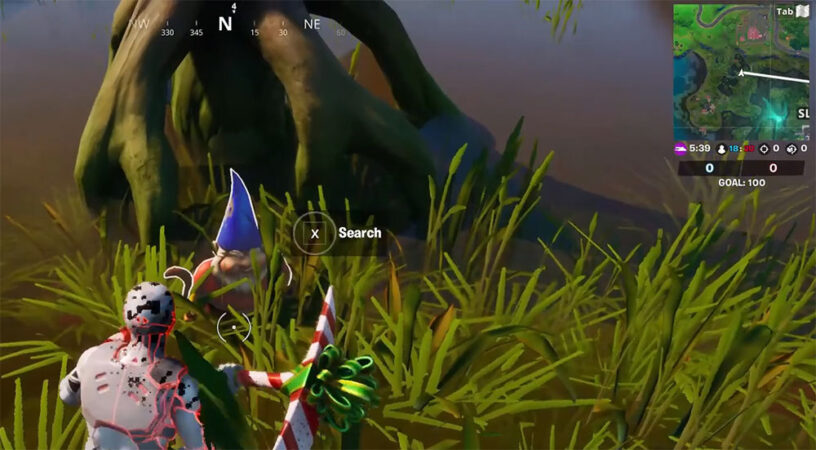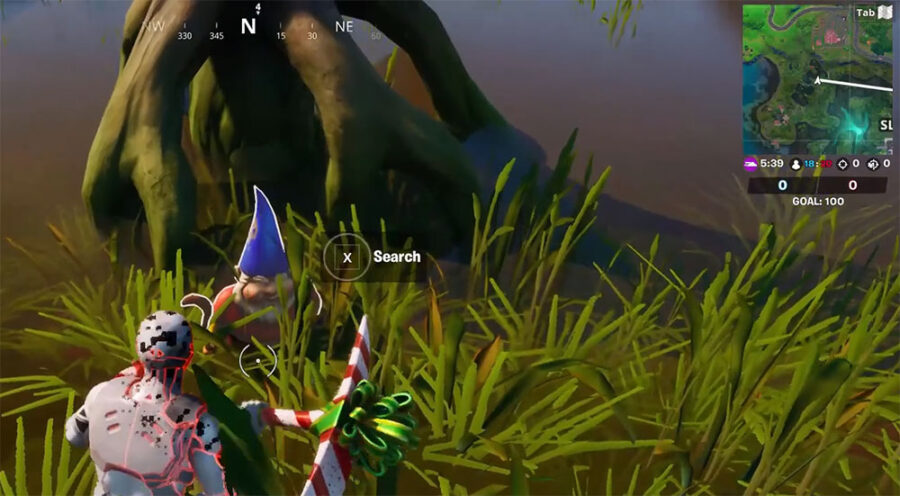 Catch a fish with a Fishing Rod, a Harpoon Gun, and an Explosive Weapon (1)
Pretty simple challenge, you'll just need to locate a Harpoon Gun and Explosive Weapon. Believe it or not, you can launch a rocket at a fishing spot and you can receive a fish for your troubles!
Purple Remedy Challenges Guide
Just head to three of the marked locations on the map below and that's it!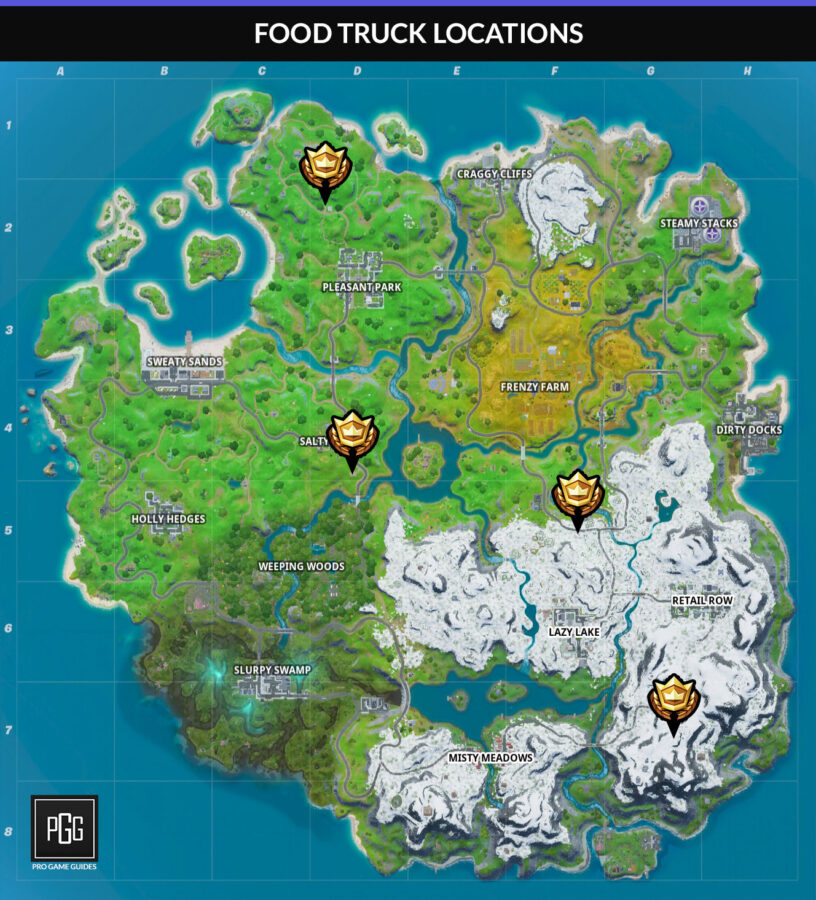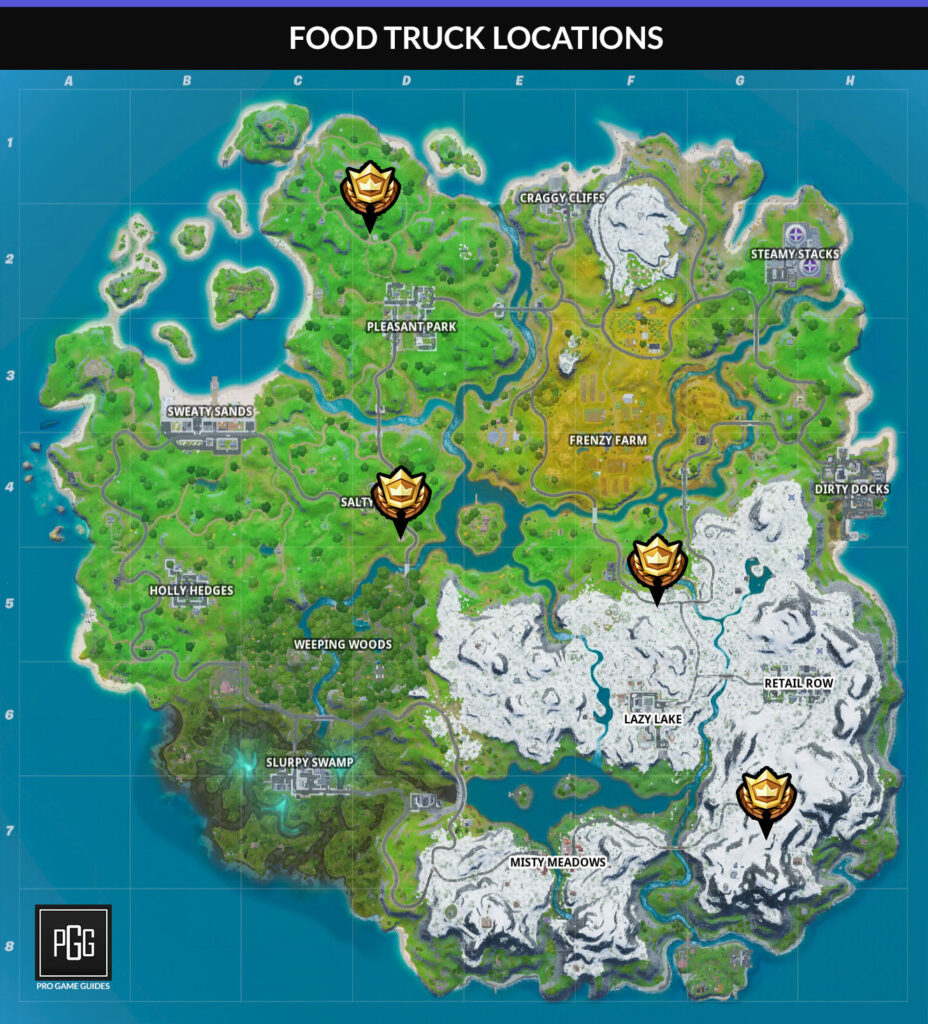 Earn Silver Survivor Medals (3)
To get a Silver Survivor Medal you will need to survive until there is 25 players left in the game. You can hide in a tree or just play games normally to earn them. You'll need to do it in three separate games to complete this challenge.
Search chests at Landmarks (7)
Any of the following parts of the map should get you credit as long as you open a chest at them: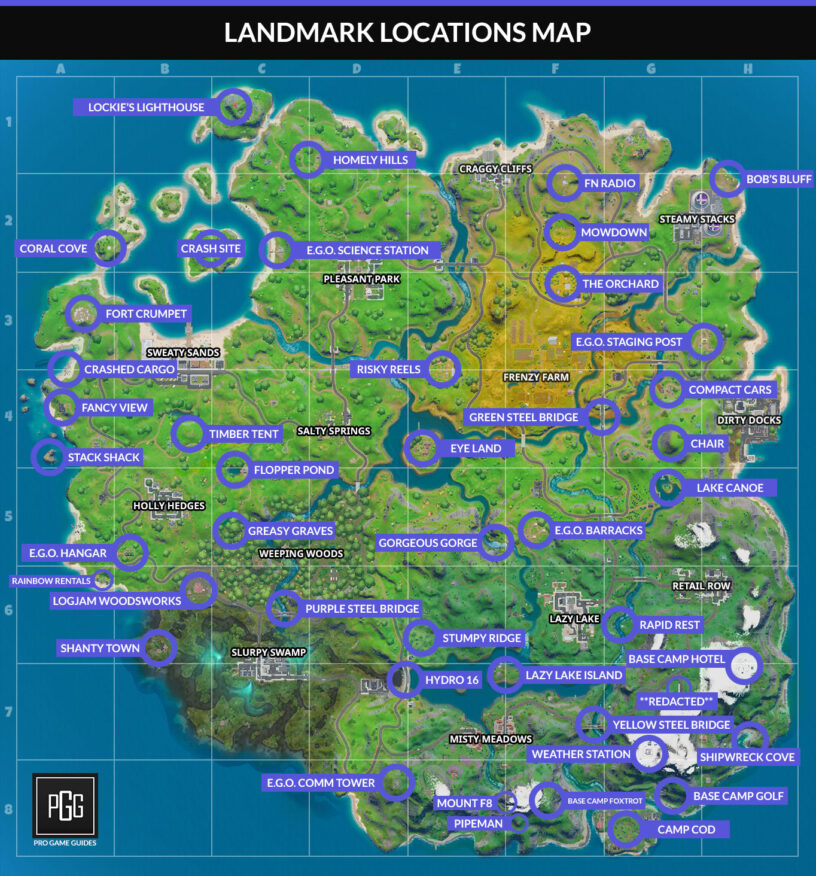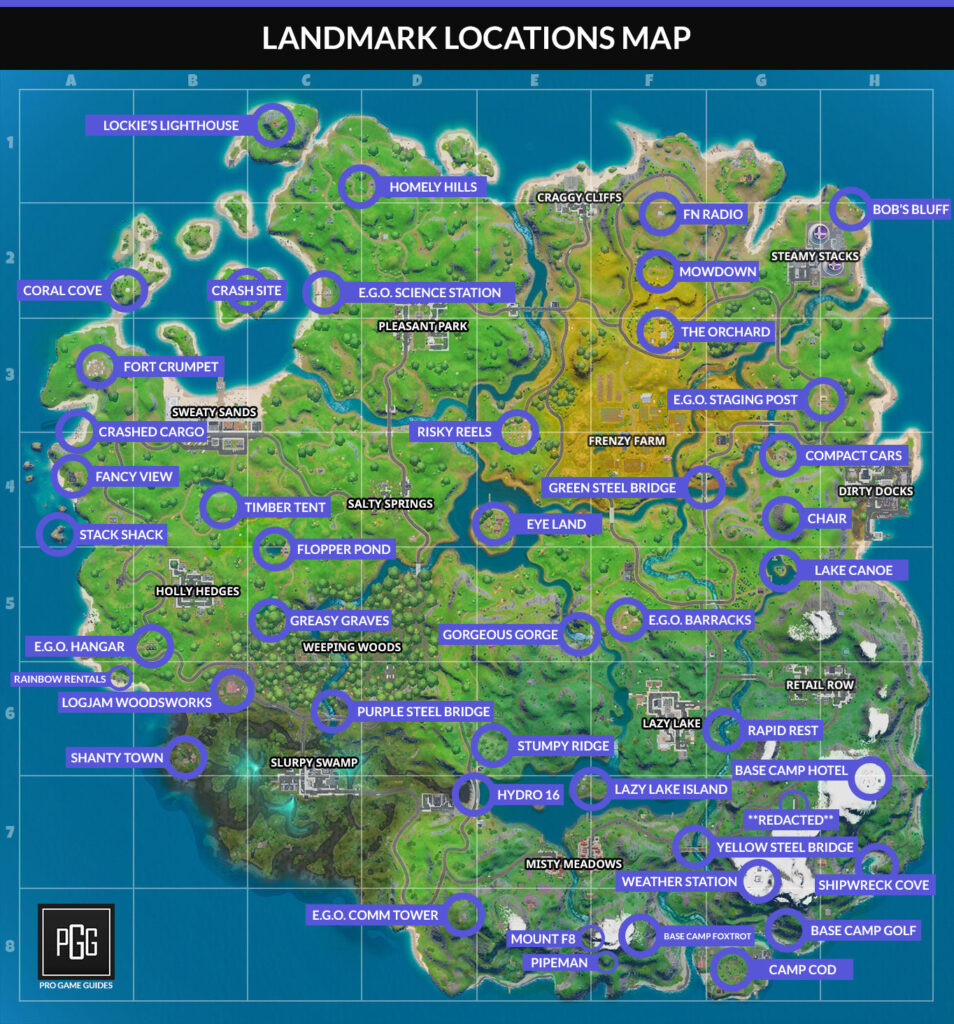 Reach 100 of both Health and Shield in different matches (3)
Heading over to Slurpy Swamp would be an easy way to get these done because you can wade around in the blue waters, jump into a vat, or break open barrels. Otherwise, just open chests for potions and max your hp and shield!
Deal damage with a Common, Uncommon, and Rare weapon in a single match (3)
Head into Team Rumble and grab up the different rarity weapons you need to get this done.
Deal Damage to enemy structures (2,500)
Team Rumble again is the way to go with this. You get a lot of building going on, so you can just destroy things at will.
Visit 3 different bus stops in a single match (3)
You can find bus stop locations in just about every named location and various other places scattered around the map. Some bus stop locations don't seem to be tracking correctly, so you may want to jump into Team Rumble to get this done so you can try different ones.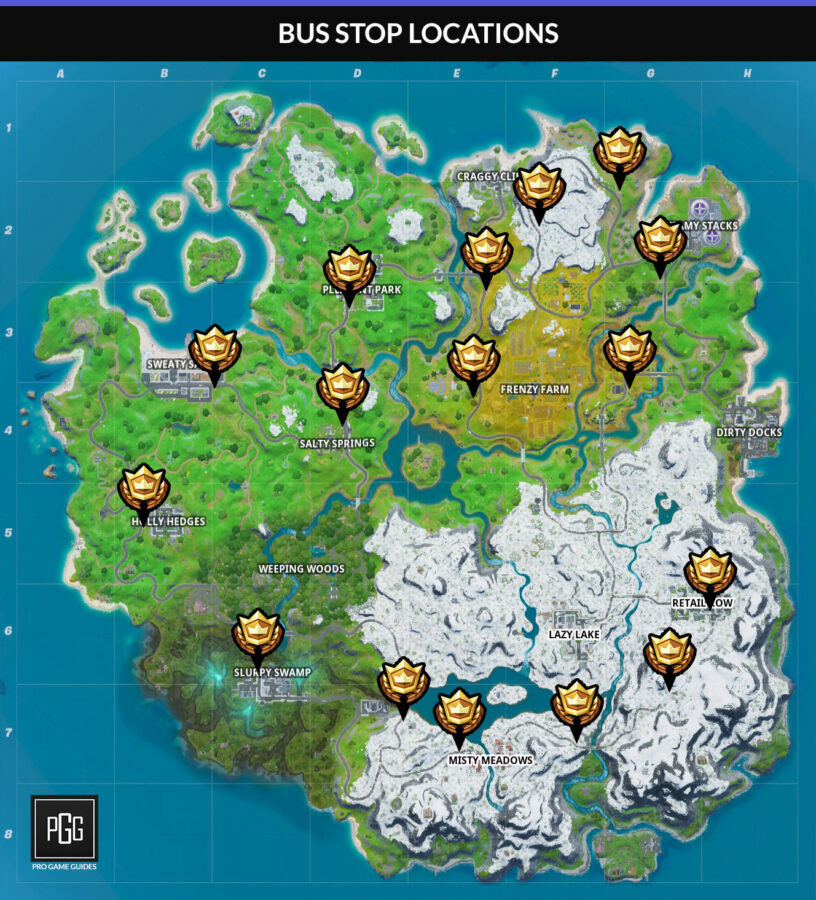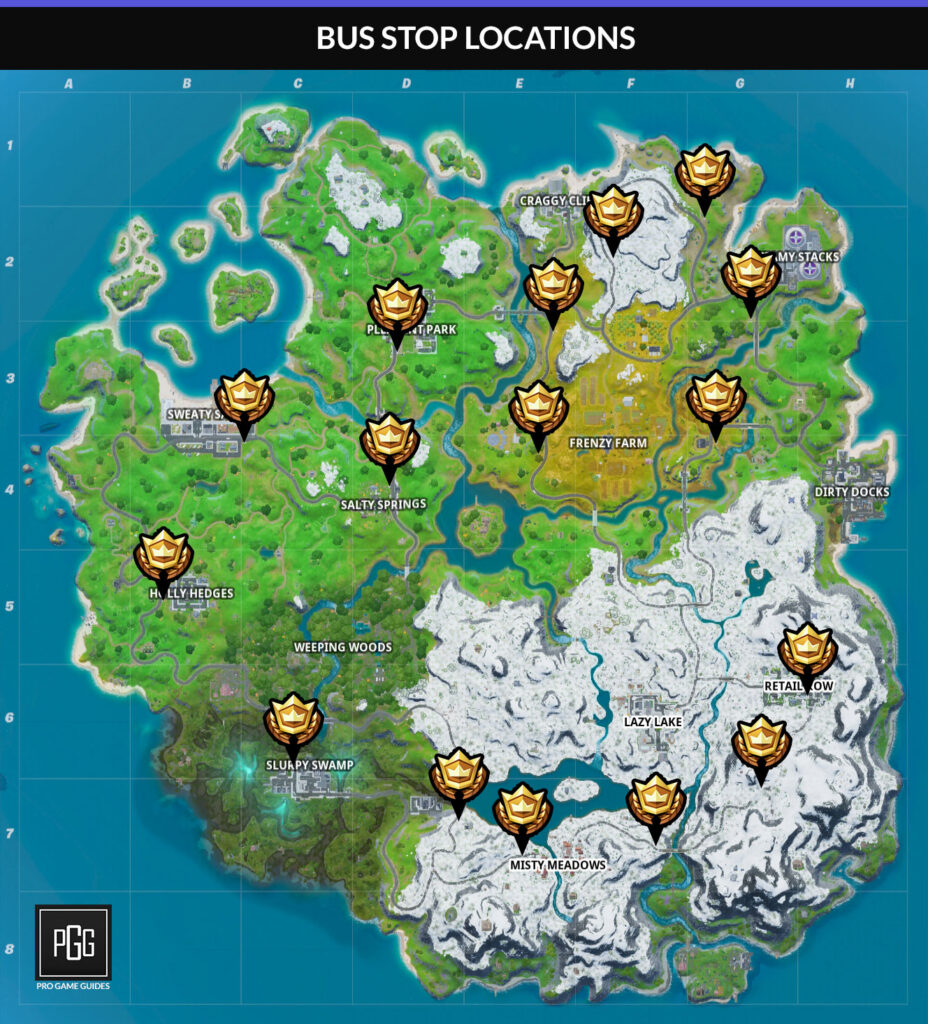 Be first to catch a fish, first to land from the Battlebus, or first to get an Elimination (1)
Dive out of the bus as quickly as possible and land near a fishing area to grab a pole and catch a fish as soon as you can! You might need to try this a few times if other people are trying to complete this one.
Yellow Chic Challenges Guide
Catch an item with a Fishing Rod at different locations with No Fishing signs (3)
This is a pretty easy one to complete because not only are all three signs in the same area, but there's a barrel of fishing rods right next to each of these. The location you want to go to is Slurpy Swamp, and you will find the signs to the north, west, and south portions of the area. You need to catch an ITEM not a fish, so make sure to do that before leaving each of the areas!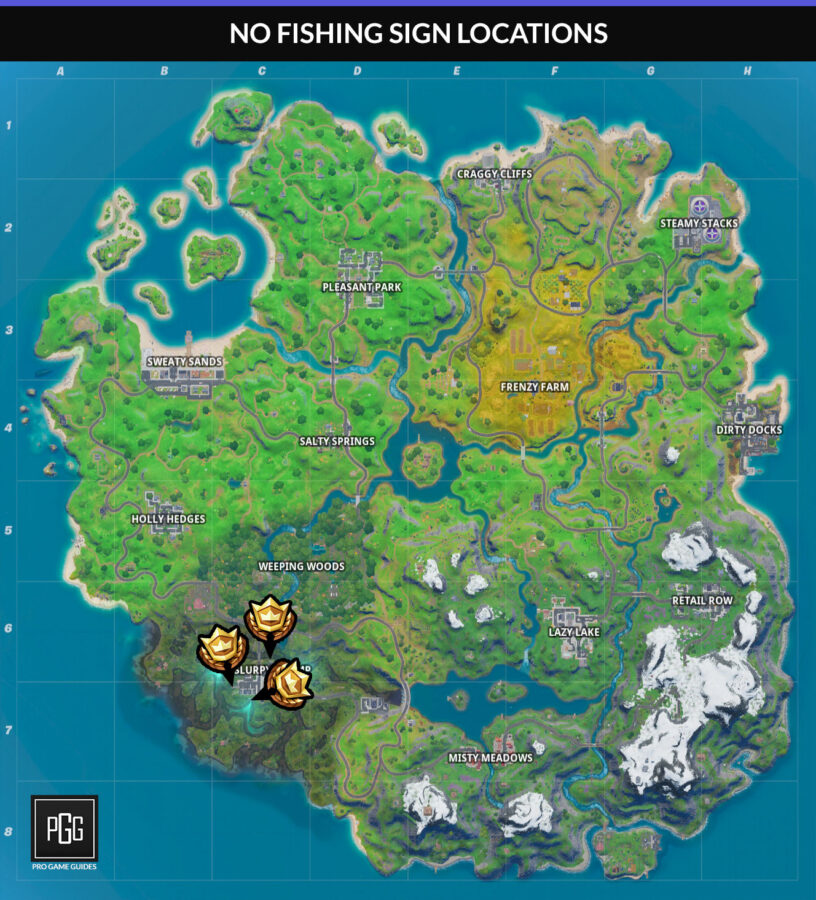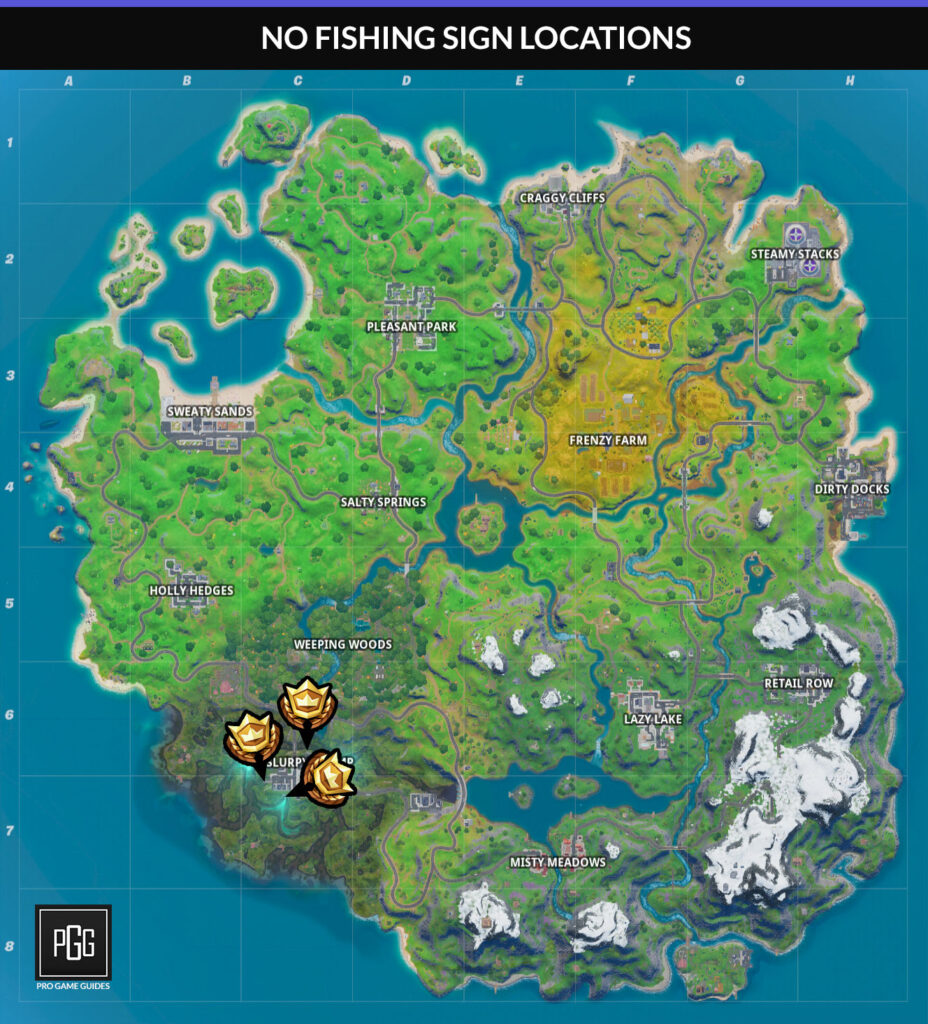 Consume an Apple, a Mushroom, and a Slurpshroom (3)
You'll need to eat three different consumables that can be found in the environment on the map. Apples can be found at the orchard that's directly north from Frenzy Farm. Mushrooms can be found scattered around Weeping Woods, and in a small wooded area northwest of Frenzy Farm. Slurpshrooms are relatively new, they are bright blue and they give you a healing/shield over time. These can be found scattered around the Slurpy Swamp area.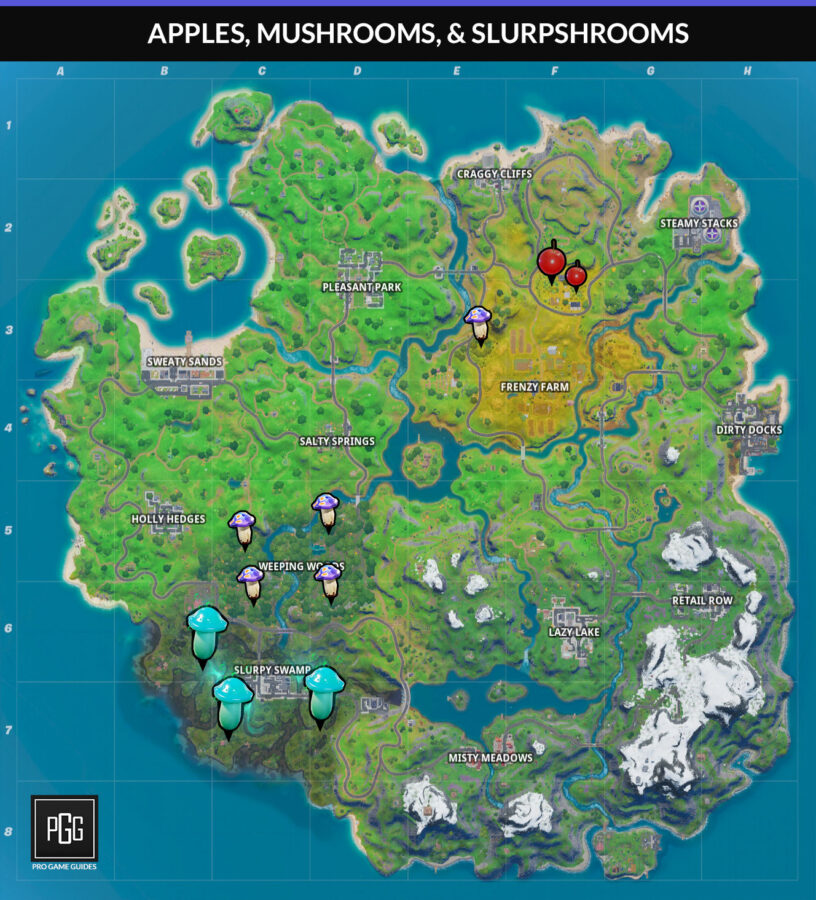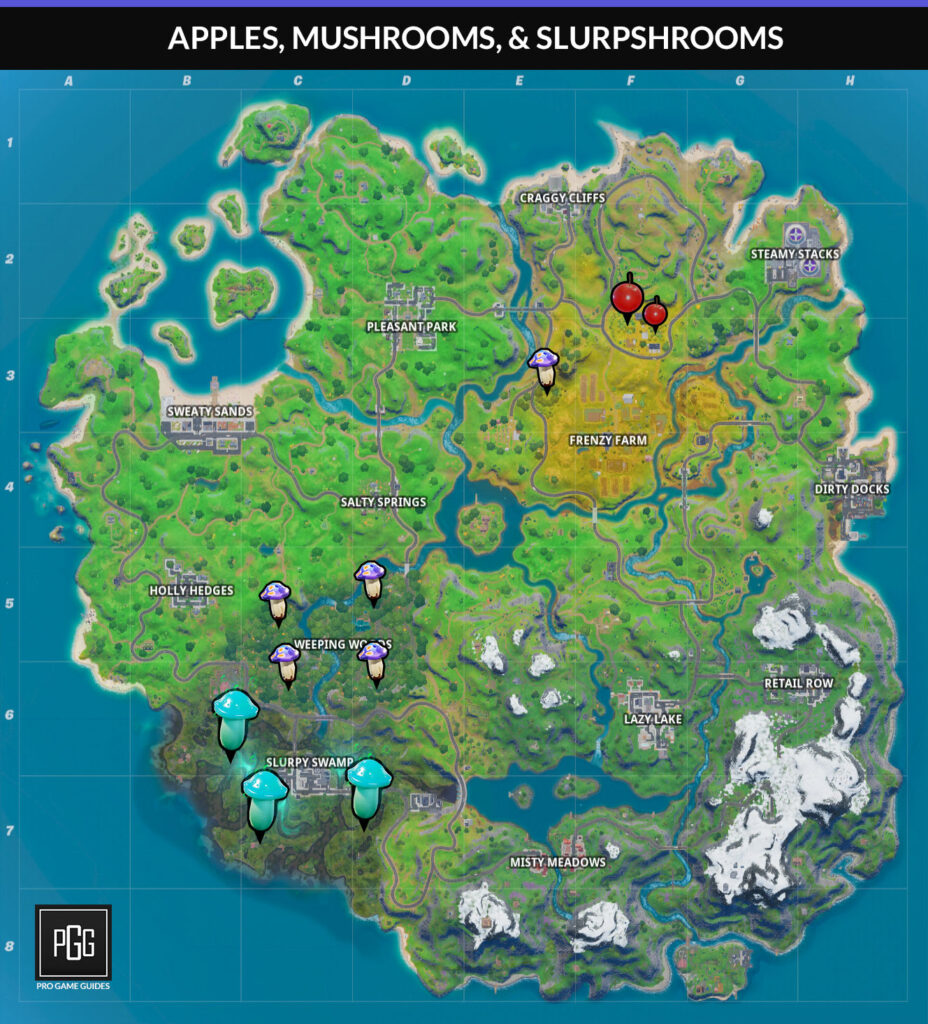 Search a Rare Chest or Supply Llama (5)
Rare chests and Supply Llamas are completely random, and you'll just have to run into them while playing the game. I would probably just try for Rare Chests by going to areas and looking for chests and hope that a rare one spawns. Supply Llamas are scattered around randomly and only a certain amount spawn in a game. So, you can try gliding around and scouting for them from the sky or you can just hope to get lucky.
Eliminations at different named locations (5)
This is a pretty simple one, head to one of the named locations and get some eliminations.
Catch a fish at Lake Canoe, Lazy Lake, and Flopper Pond (3)
Flopper Pond is in the middle of the map to the west, you'll get credit for the Lazy Lake portion to the west of the Lazy Lake town itself, and Lake Canoe is in the middle of the map to the east!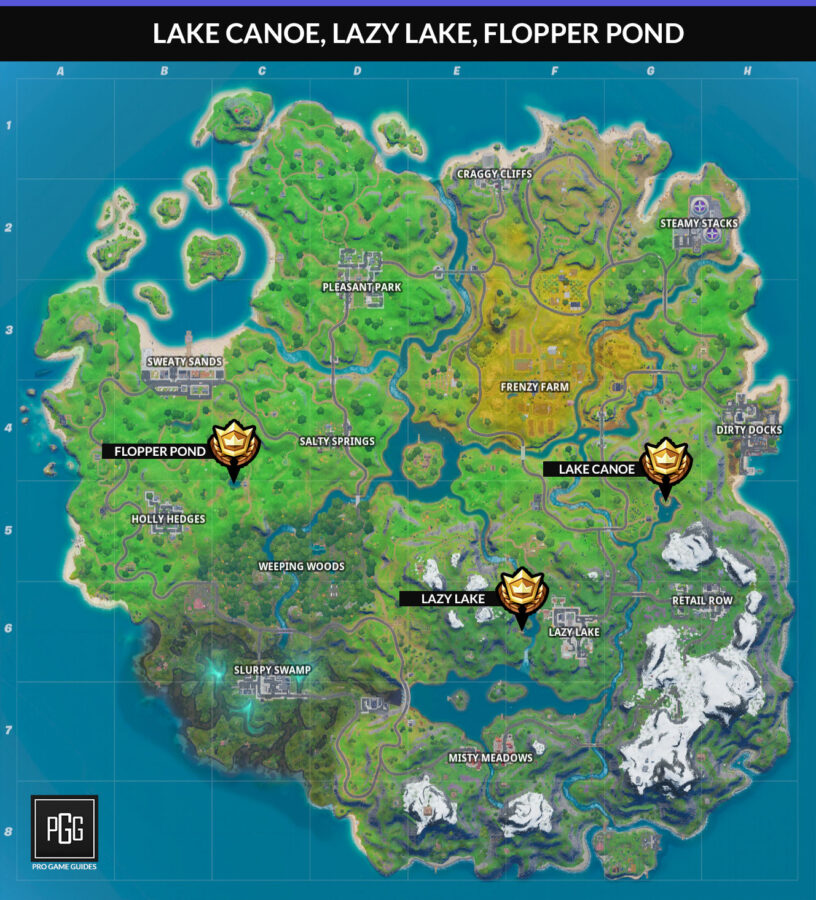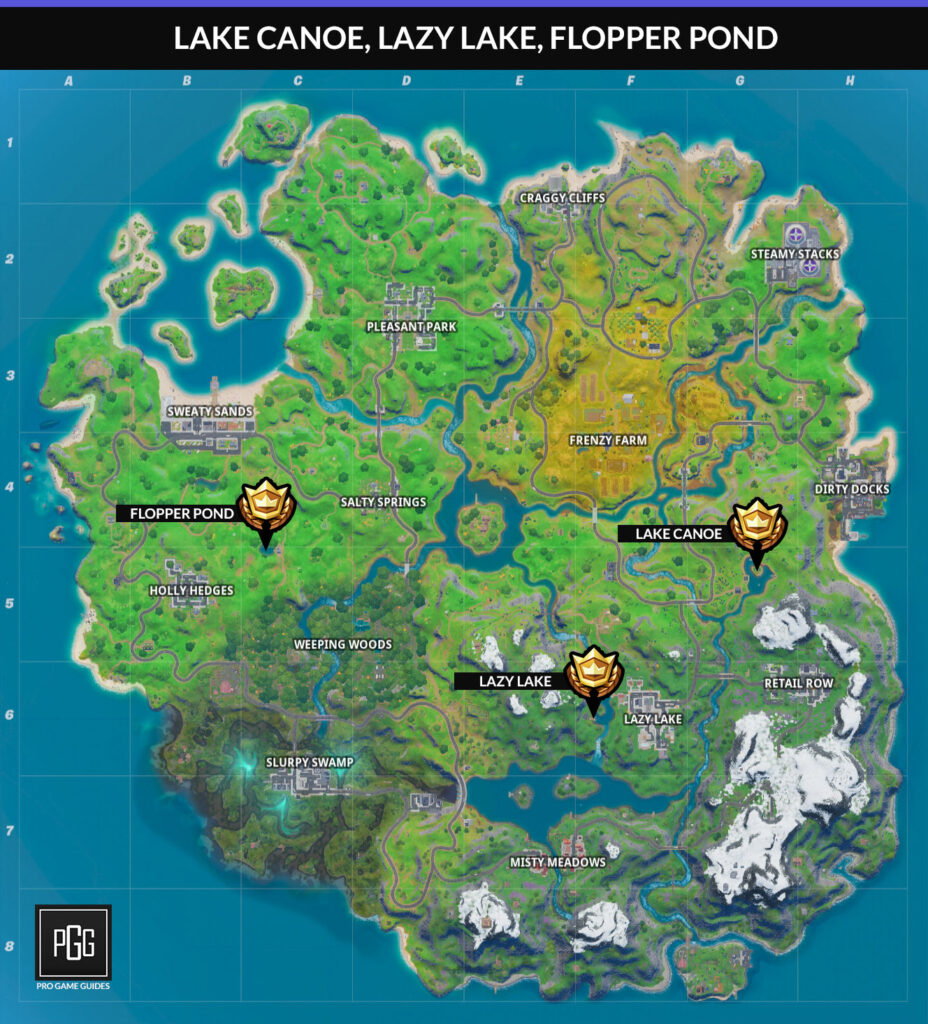 Visit a lonely recliner, a radio station, and an outdoor movie theater (3)
The Lonely Recliner is to the east and on the snowy mountain and to the direct west of Dirty Docks. A Radio Station is very close to Craggy Cliffs, it's to the east on the hills. The Outdoor Movie Theater is Risky Reels, which can be found to the west of Frenzy Farm.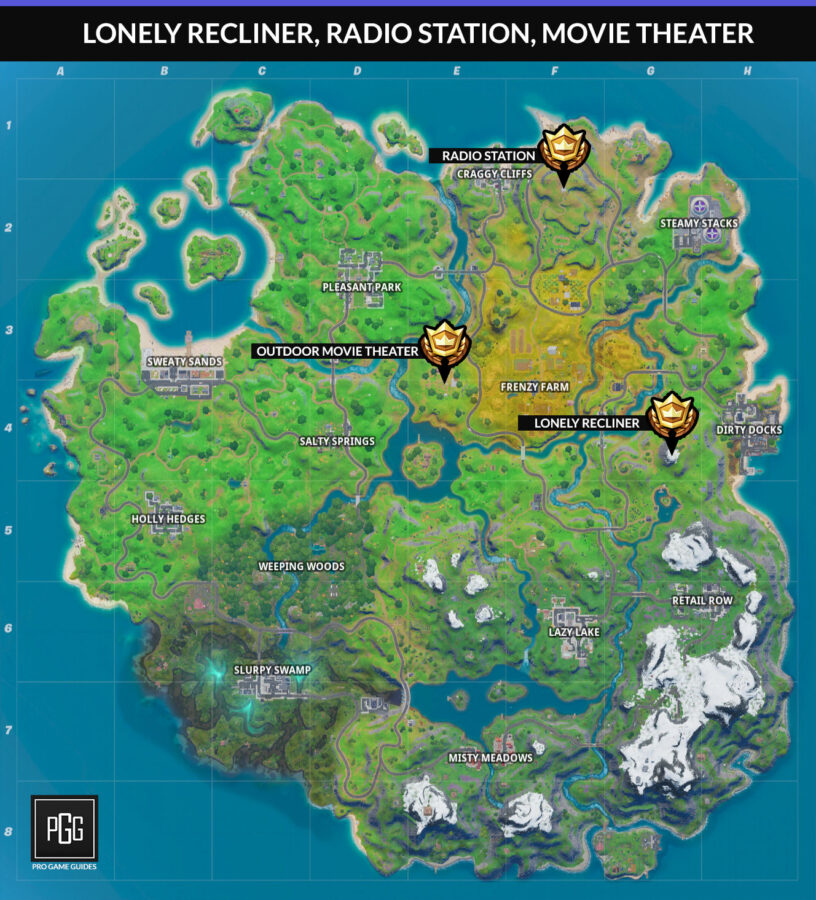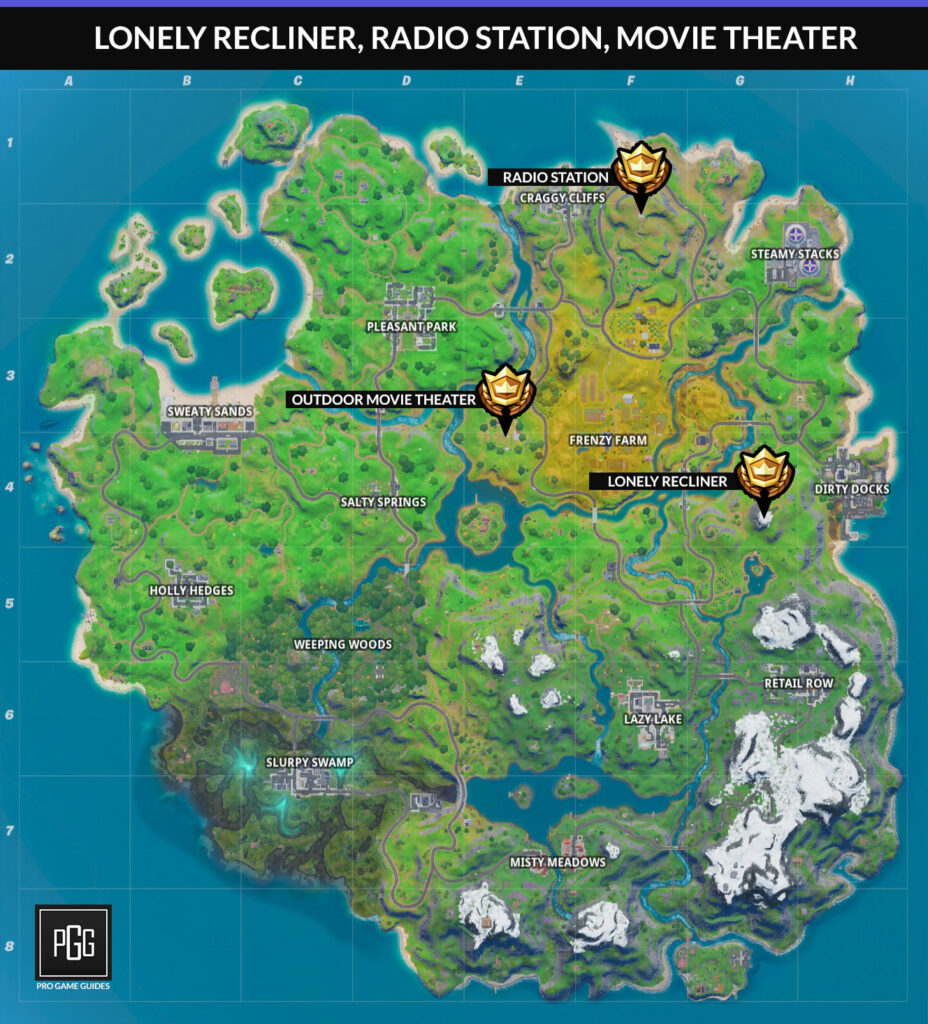 Get an elimination with an Assault Rifle, Shotgun, and a Sniper Rifle (3)
A nice and easy challenge, just get an elimination with all three of these weapons. You should be able to do them in different games, you don't have to get them all in one game.
Destroy a telescope, a television, and a telephone pole (3)
You can find these in various areas, but to find them all kind of next to each other they have been displayed on the map below. The telescope is on the island that is west of Craggy Cliffs. There's three houses next to each other in the northwestern part of the map, and you can find a telephone pole outside and the tv in the house.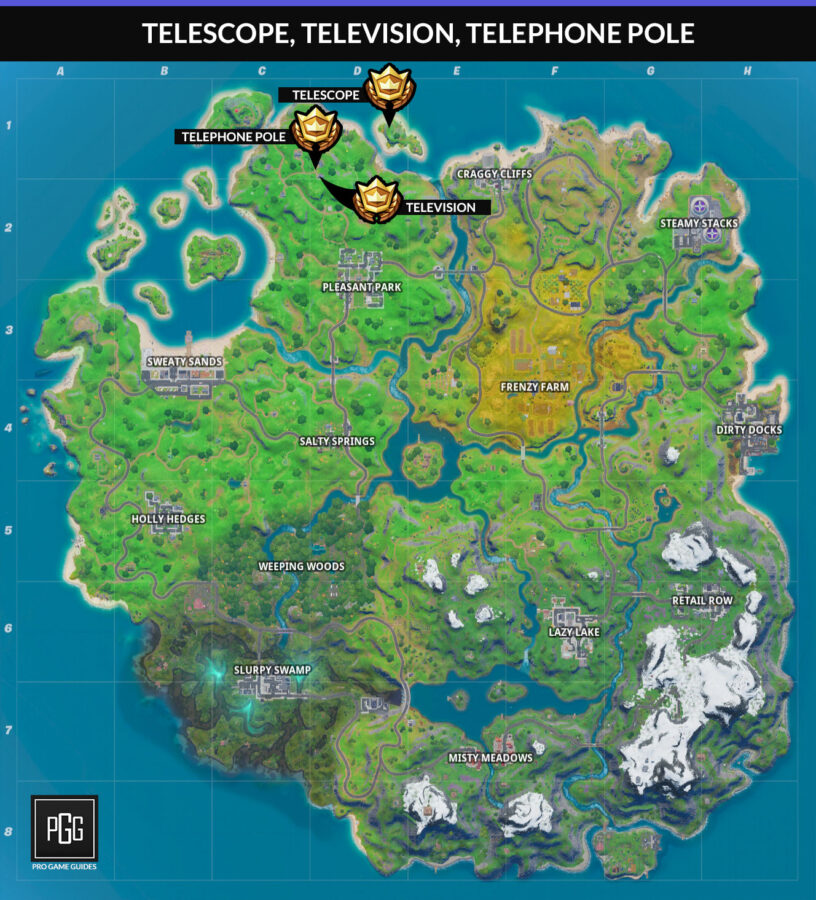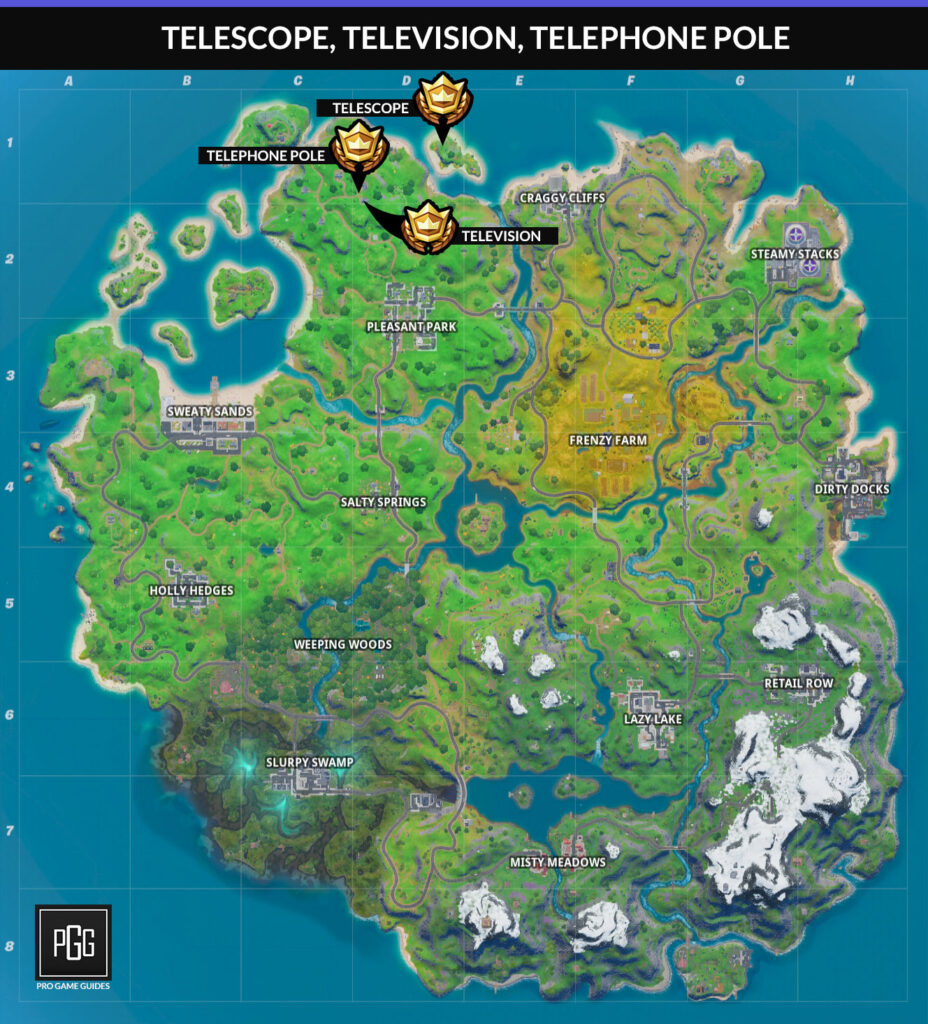 Search the hidden gnome found in between a race track, a cabbage patch, and a farm sign (1)
There were two Gnomes previously, and now we need to grab the third one. The one we need is the Race Track Gnome! That one is north of Frenzy Farm and is on the hill that overlooks the orchard.
Dance at the top of Mount H7, Mount F8, and Mount Kay (3)
The three mountains you need to dance on are scattered across the southeastern part of the map. I'd do this one in Team Rumble because you get the glider that can be used to fly across to each of the mountains which allows you to dance on all of them in one round. Start at Mount H7 and then work your way to the west. Mount Kay is the tallest peak, so you can easily fly from there to Mount F8.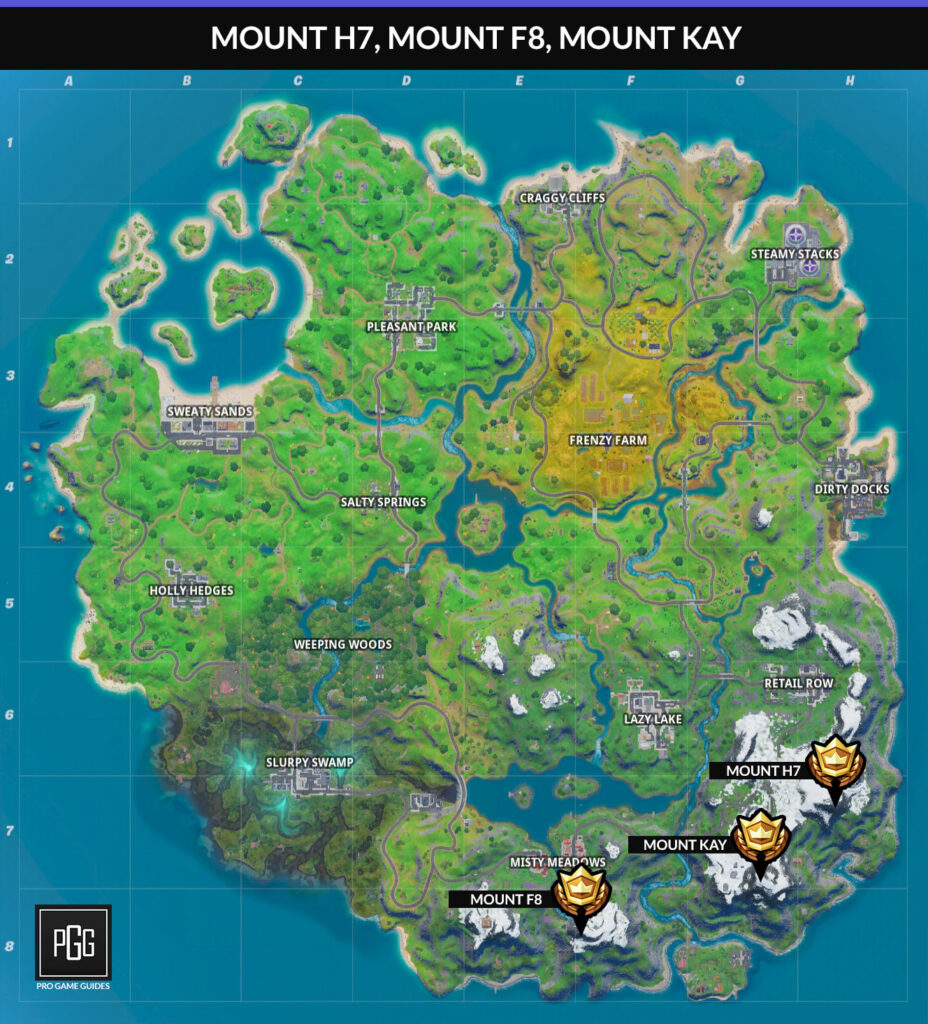 Fortnite Season 11 Overtime Rewards