In Frostpunk, the environment is your enemy. Through waves of bitter cold, several of your citizens will grow sick and die. Food is scarce, and warmth is nowhere to be found. By making tough decisions and preparing for the frost ahead, you can prevent your people from succumbing to the ice. Your first attempt at this game will likely be brutal and rife with struggle. However, we can offer some advice that can help you avoid making the same mistakes as we did. Here are some tips and tricks for Frostpunk.
Best tips and tricks for Frostpunk
Bunkhouses are always superior to Tents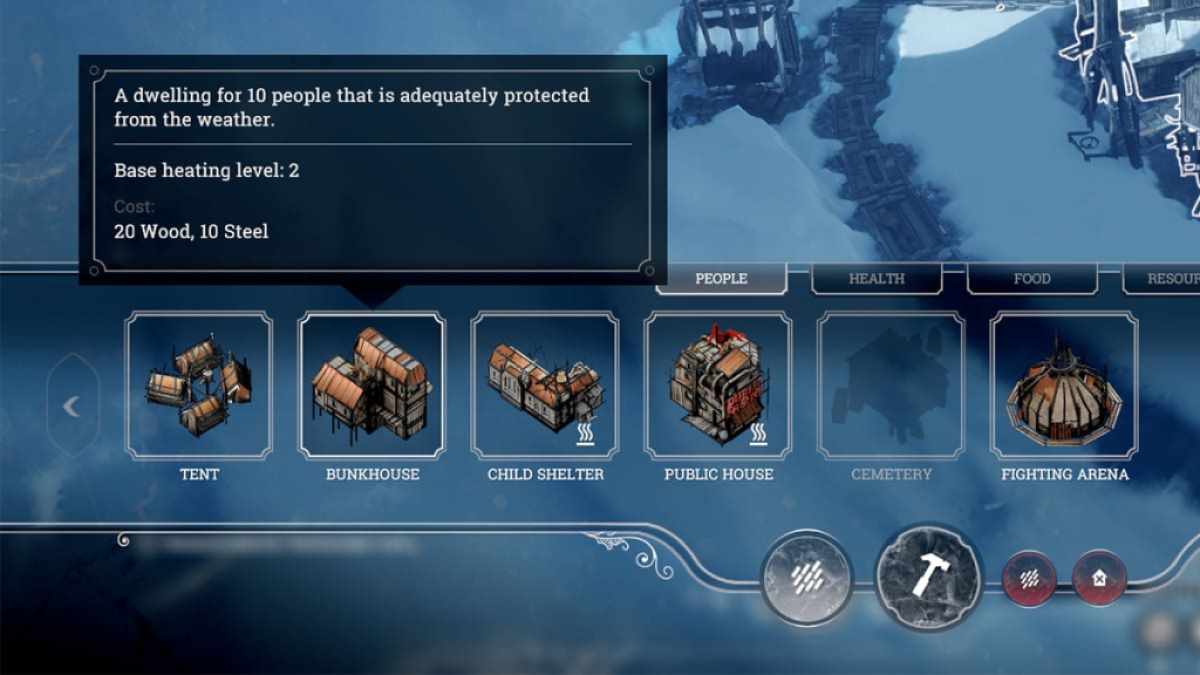 While Tents are cheap and easy to construct, Bunkhouses are better at keeping out the cold. Although the one-point difference in base heating level won't seem useful initially, it is a lifesaver as the temperature drops. Try upgrading your Tents to Bunkhouses before the cold arrives, so you can avoid casualties. To unlock Bunkhouses, you must research them in the Technology Tree under the Food, Health, and Shelter tab.
Harvest resources before the temperature drops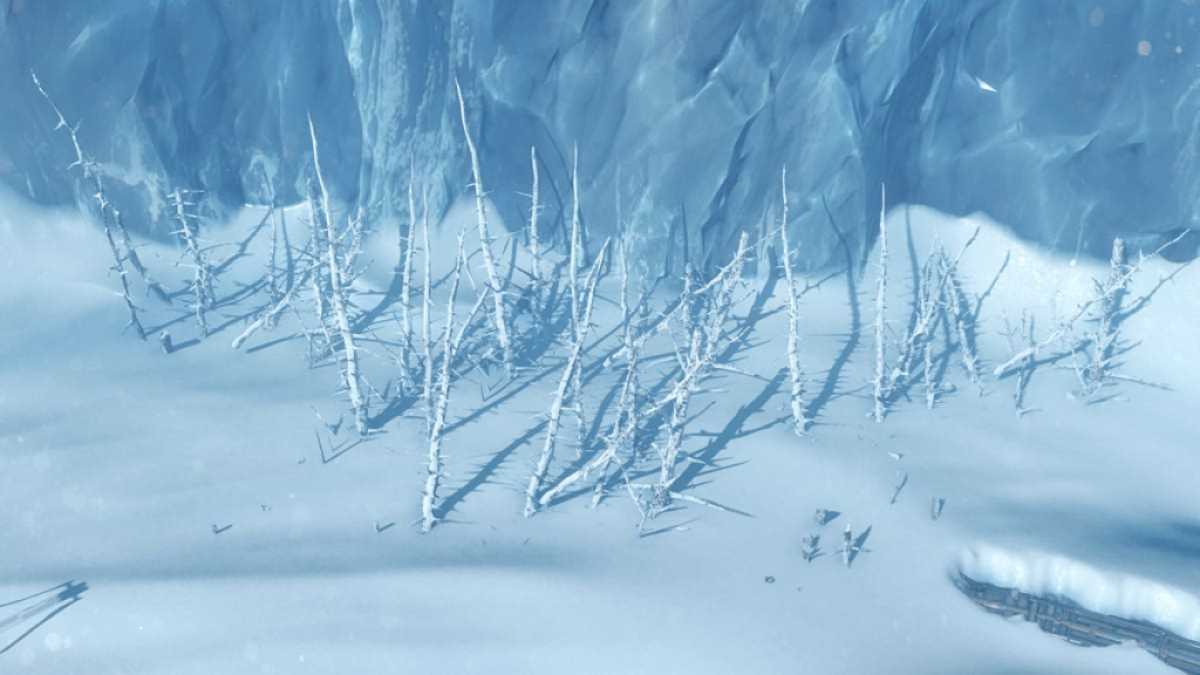 Near your city, there are clusters of resources lying around in the snow. These include coal piles, frozen trees, and steel deposits. Similar to a squirrel storing nuts for the winter, you need to harvest these resources before it becomes too cold for your residents to work outside. If you wait until the zenith of a snowstorm, several workers will die while trying to collect the resources. Although this may not seem urgent at the start of the game, it quickly becomes a bigger problem as the temperature drops.
Related: Industries of Titan Review: A slick and satisfying city builder
Always be researching something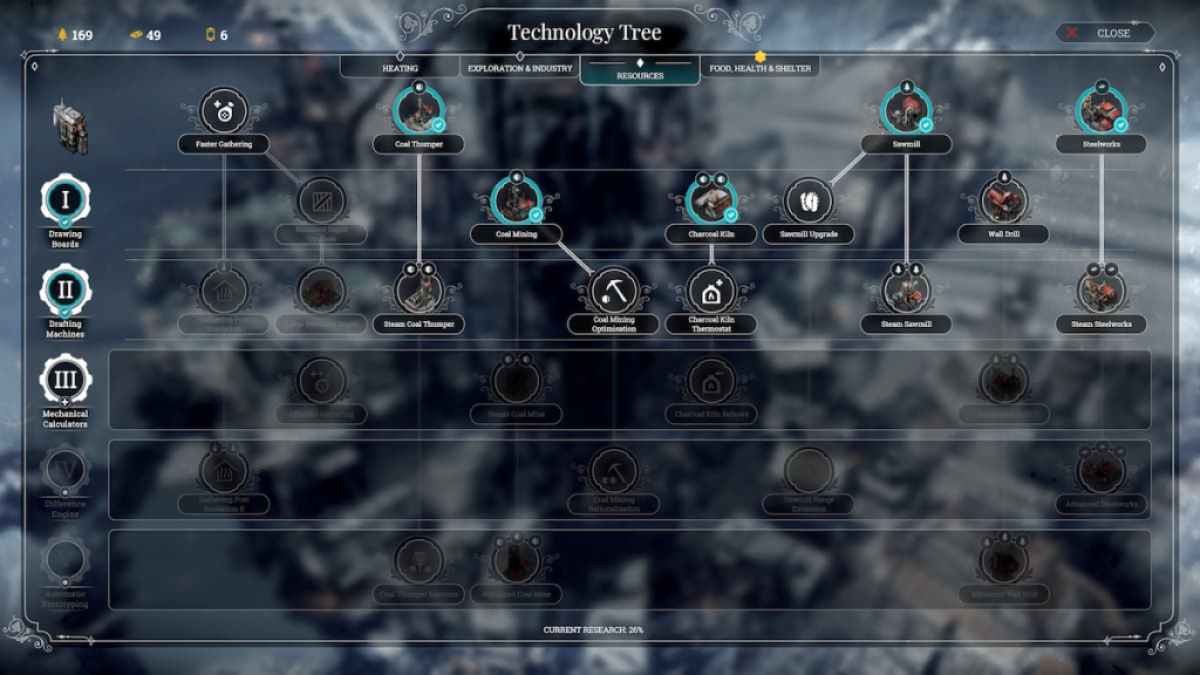 It's easy to brush off the importance of the Technology Tree, but this feature will be your saving grace in the middle to late game. If you have the resources to do so, you should always be researching a topic. Try and prioritize the Heating and Resources tabs, as they provide the most vital benefits. However, the Bunkhouse should also be unlocked as soon as Tier 1 technologies are available.
Build Bunkhouses, Cookhouses, and Medical Posts around the generator
To ensure that you always have the bare necessities, make sure to build Bunkhouses, Cookhouses, and Medical Posts closest to the generator. Even if the outer buildings of your city are too cold to function, you will always have a small circle of buildings that survives. This way, you can keep a set number of citizens alive, so you don't risk losing the game. To keep this circle of buildings heated, you only need to activate Steam Level One on the generator menu, which reduces coal consumption in the long run.
For more citybuilder guides, come check out Industries of Titan tips and tricks for beginners here on Pro Game Guides.