The Akuoumaru is a Genshin Impact four-star claymore in the Watatsumi Wavewalker series, which focuses on boosting Elemental Burst Damage based on the party's cumulative Energy capacity. It's an amazing weapon that can compete against some five-star options, but you need to assemble an appropriate team to make the most of its passive bonus.
How to get Akuoumaru in Genshin Impact
Akuoumaru is a limited weapon that can only be obtained whenever it's featured on rate-up in the Epitome Invocation banner, which you can pull on using Primogems and Intertwined Fates. However, being a four-star weapon, you can't chart an Epitomized Path for Akuoumaru. Obtaining it comes down to pure luck.
Genshin Impact Akuoumaru stats
Base Attack: 42 to 510
Substat: Attack (9 to 41.3 percent)
Passive: Watatsumi Wavewalker

For every point of the entire party's combined maximum Energy capacity, the Elemental Burst Damage of the character equipping this weapon is increased by 0.12/0.15/0.18/0.21/0.24 percent. A maximum of 40/50/60/70/80 percent increased Elemental Burst Damage can be achieved this way.
Keep in mind that Energy capacity refers to Energy cost, not Energy Recharge. Check out the 'who can use Akuoumaru' section below for more information.
Genshin Impact Akuoumaru Ascension cost & materials
Below are all the Ascension materials necessary for Akuoumaru. They can be farmed from the following:
Handguards: Kairagi and Nobushi in Inazuma
Talons: Rifthounds, mainly in Tsurumi Island and Wolvendom
Narukami: Court of Flowing Sand (Monday, Thursday, Sunday)
Ascension Phase 1
Ascension Phase 2
Ascension Phase 3
Ascension Phase 4
Ascension Phase 5
Ascension Phase 6
Who can use Akuoumaru in Genshin Impact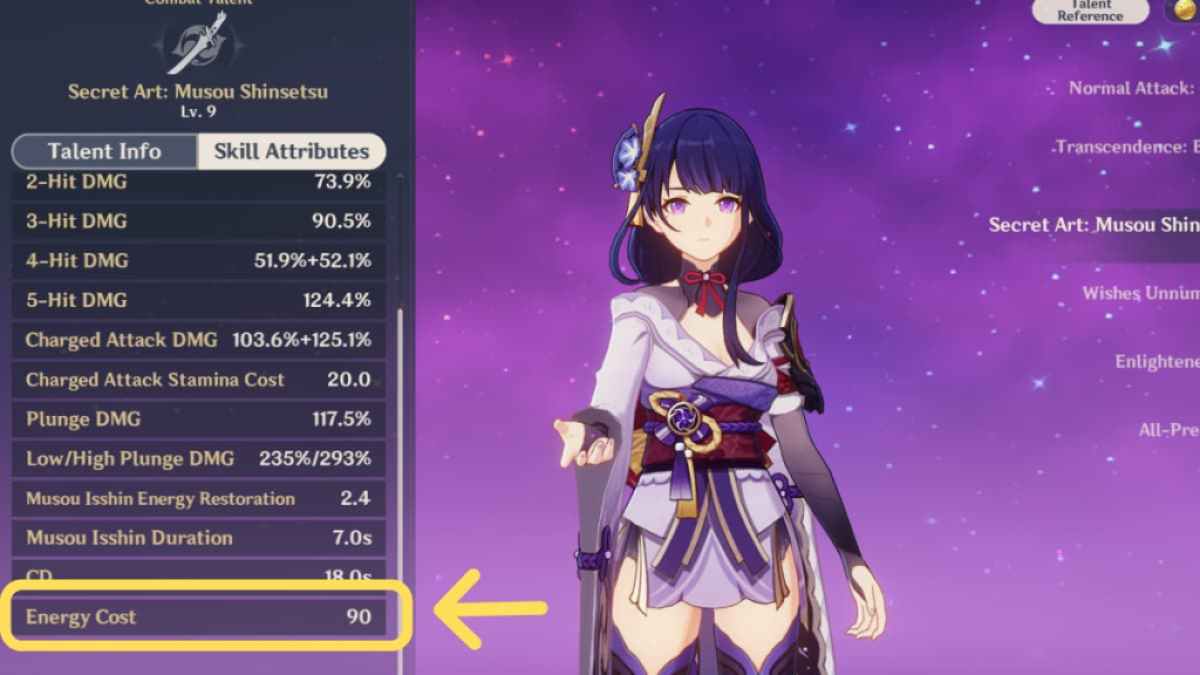 Akuoumaru has a unique mechanic: it boosts Elemental Burst Damage based on the cumulative Energy capacity of the entire team. This means that you need to put together a team with a high Energy cost requirement while also considering that you need to be able to recharge Energy fast enough to help the wielder use their Burst Damage on rotation.
With that said, Akuoumaru is an amazing weapon for characters who rely on their Elemental Burst Damage. Characters whose Elemental Bursts change their Normal Attacks (Razor, Itto) can't benefit from this weapon, as the Normal Attack Damage doesn't increase. Here are some characters who can use this amazing weapon.
For more guides on Watatsumi Wavewalker weapons, check out Wavebreaker's Fin: How to get, Ascension, stats, and who can use it in Genshin Impact and Mouun's Moon: How to get, Ascension, stats, and who can use it in Genshin Impact.