For Her Judgement Reaches to the Skies... is the final World Quest in the Genshin Impact series called Her Foes Rage Like Great Waters... In this segment of Jeht's tragic story, you must bring an end to Babel's schemes, whatever the cost. This quest unlocks immediately after completing Make Bright the Arrows, Gather the Shields…
How to complete the For Her Judgement Reaches to the Skies… World Quest in Genshin Impact
Go to the location mentioned in the Fatui's documents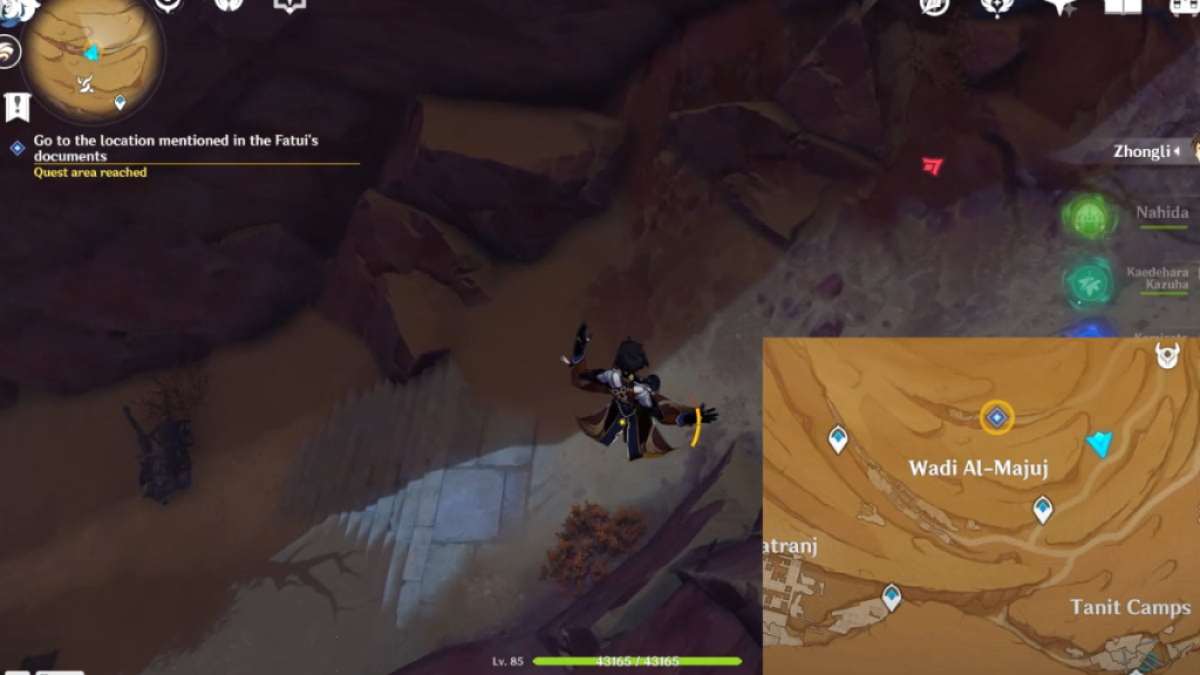 Follow the quest navigator north of Wadi Al-Majuj, then plunge down to the bottom of the cliff, where you'll see cobblestone stairs (pictured above).
Look for Jeht
Go down the stairs and interact with the three objects circled in the image above. At the end of the road, turn left to find stairs leading toward a closed door. Simply wait in front of the door until the dialogue at the bottom of the screen is complete, as the next part will only trigger after.
Related: How to complete the Drusus Riddle Sumeru City bulletin board puzzle in Genshin Impact
Enter the Fatui hideout & Find the injured Jeht
After the dialogue, the door will automatically open, and Fatui Skirmishers will come running out. You can ignore the enemies and enter the room, then turn left to find an elevator. Activate it to go downstairs. Once you're at the bottom floor, glide downward to find Jeht, who's waiting for you in the large clearing.
Calm Jeht down
After negotiations with Jeht fall through, you must engage in battle against her. Simply lower her HP to trigger dialogue.
Defeat the attacking assassin(s)
Two Eremites will appear and begin attacking you and Jeht. Defeat them one at a time to complete this objective.
Talk to Jeht
Approach Jeht and give her the three Quest Items collected from the previous quest:
Transfer Notification
Preliminary Test on Experimental Subject
Internal Withdrawal Document
Go and confront Babel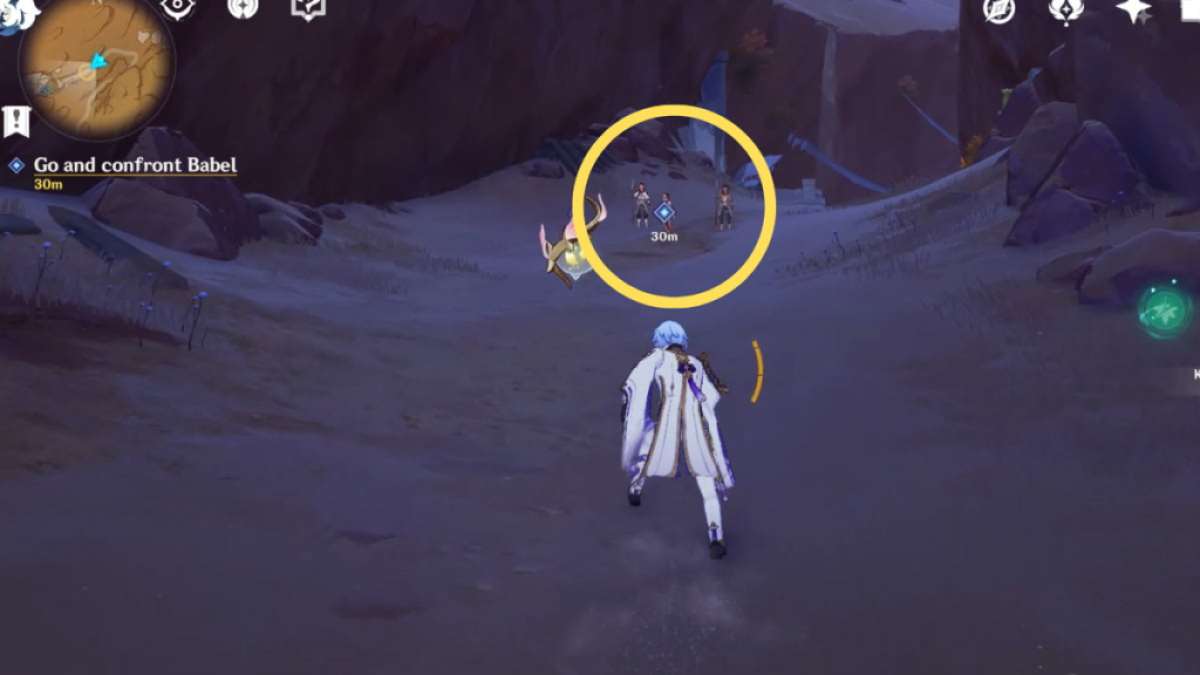 After conversing with Jeht, you'll be teleported to the outskirts of the Tanit Camps. Follow the path forward to confront Matriarch Babel.
Defeat Babel and her underlings
Attack Babel and the rest of the Eremites. She'll run off, but you need to continue killing everyone in the camp. Start by going down the stone stairs and defeat all the Eremites in the way. Then go down the wooden stairs on the left and likewise defeat everyone. Cross the wooden bridge and defeat Yuften and his allies.
Catch up with Babel
Once the Tanit tribe has been exterminated, follow the quest navigator to go up the stone stairs in front of the bridge. You'll meet Babel once again, who you must now defeat once and for all.
Follow Jeht out of this place
You'll be transported to the canyon with Jeht. Follow her and read the dialogue to complete the World Quest. You'll also unlock the Wonders of the World Achievement called "...For She Shall Surely Requite."
For more desert exploration guides, check out How to solve all Cascade puzzles in Genshin Impact here on Pro Game Guides.