The Marvelous Merchandise is a quick and easy but ultimately reward-filled event with its fair share of reruns—but it's always welcome nonetheless! Liben, a merchant from Sumeru who always finds himself flat-broke in Monstadt, is looking to score a good deal with a Primogem-starved Traveler. Don't miss out on your chance to get 300 Primogems plus other rewards!
You can access the event from the event menu, which will redirect you to Liben's location across Flora's shop in Monstadt.
How to complete the Marvelous Merchandise event in Genshin Impact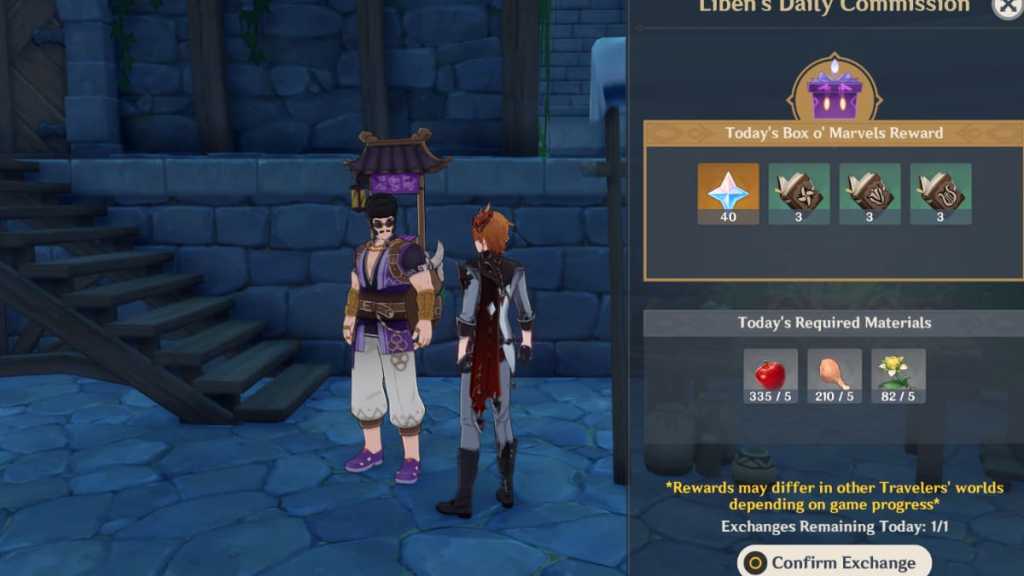 Speak with Liben and select the option I'm here to do some business to prompt his Daily Commission to pop up. In this Commission, you can obtain Primogems, character Ascension materials, Hero's Wits, Mystic Enhancement Ores, and Mora by trading in common resources like local specialties and ingredients.
The required materials differ per day but are the same across all players. However, the Box o' Marvels that Liben offers each player is random. If you don't like your box for the day, you have the option to skip it.
The event runs for seven days, but you can only make five exchanges in total. You can only make one exchange per day, so don't be too picky! Alternatively, you can ask a friend if you can enter their World and claim their Box o' Marvels—while they claim yours.
Related: All Omni-Ubiquity Net animal locations in Genshin Impact
All Box o' Marvel Rewards in the Genshin Impact Marvelous Merchandise event
| Box Element | Rewards |
| --- | --- |
| Anemo | x40 Primogem, x20,000 Mora, x8 Mystic Enhancement Ore |
| Cryo | x40 Primogem, x60,000 Mora |
| Dendro | x40 Primogem, x3 Teachings of Prosperity, x3 Teachings of Diligence, x3 Teachings of Gold |
| Electro | x40 Primogem, x3 Teachings of Freedom, x3 Teachings of Resistance, x3 Teachings of Ballad |
| Geo | x40 Primogem, x10 Fine Enhancement Ore, x10 Mystic Enhancement Ore |
| Hydro | x40 Primogem, x20,000 Mora, x4 Hero's Wit |
| Pyro | x40 Primogem, x6 Hero's Wit |
When you successfully claim five Box o' Marvels, you can claim a Mega Box O' Marvels from the event page. It contains x100 Primogem, x50,000 Mora, x3 Hero's Wit, and x6 Mystic Enhancement Ore.
Check out our Genshin Impact Version 3.3 events overview – All Senses Clear, All Existence Void update here on Pro Game Guides to get excited for what's about to come in-game.