Share Not Your Treasures is a world quest in Genshin Impact. Read on to find out how you can activate this quest and claim primogems and Mora!
Share Not Your Treasures Quest Guide
To begin Share Not Your Treasures, you'll need to explore around Guili Plains. There is a ruins entrance that is covered by rocks, which you can easily destroy by shooting at the explosive barrel. Be prepared, though, since just inside is a Ruin Guard that you'll need to beat to pass through.
Inside the ruins, interact with the Worn Letter on the table (and be sure to grab that Geoculus!). The letter contains a map, which will guide you to a location not too far away from Guili Plains. Here, use a Pyro character to light the bonfire, and then fight off the Treasure Hoarders that appear.
Related: How to use the Serenitea Pot (and what does it do?) in Genshin Impact
One of the enemies leaves behind Scribbled Notes, which will direct you to the "highest peak in Cuijue Slope." This peak, indicated below on the world map, has a tall, leafless tree on top of it to serve as a landmark.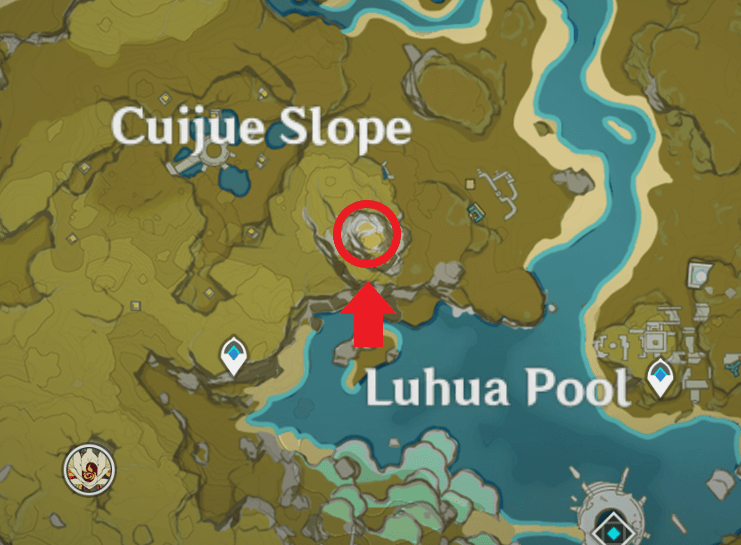 If you travel to the Teleport Waypoint between Luhua Pool and the Pyro Regisvine boss, you'll be able to see this tree from your location.
Once you climb the mountain, interact with the shovel by the tree to dig up the quest chest and claim your rewards.
Stay up to date with the upcoming banners, and keep an eye on our Genshin Impact codes to get some free goodies! Don't forget to check out Genshin Impact 1.6 Leaks, News, and Release Date for info on all upcoming content.