Along with exciting characters and fun new events, the Genshin Impact 1.4 update is also adding new player abilities like optimizing cooking and crafting, allowing players to display multiple namecards, and perhaps most importantly: changing the World Level. The process for lowering your World Level is extremely easy, as you'll see below.
How to Lower Your World Level in Genshin Impact
After the 1.4 Genshin Impact update on March 17, you'll have the option to manually lower your World Level from your main menu. Once your menu is opened, click on the "i" icon beside your current World Level. A text box will pop up detailing what the World Level represents, the max World Level (8), and other information you might not have known about how the World Level impacts your gameplay experience.
When you click Revert World Level, another text box will appear demonstrating the changes you're about to make. Once you confirm these changes, your World Level will be lowered by one, and the overall difficulty should be much easier.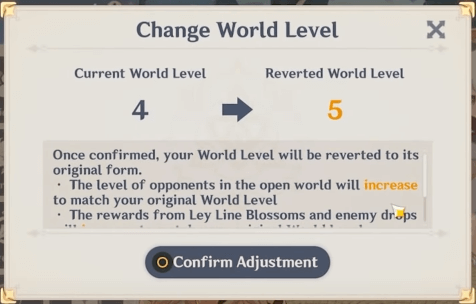 Here are some handy tips to keep in mind if you'd like to change your World Level:
The option to lower the World Level unlocks at World Level 5
You can only change your World Level once every 24 hours
After 24 hours have passed, you can return to your previous World Level if you choose
Your World Level increases the strength of enemies and makes battles more difficult, but also increases the rewards you earn
Related: How to Sign Up for Genshin Impact's 1.5 Beta Test Server
It's up to the individual player to decide on what kind of gameplay experience they're looking for in Genshin Impact. With this new update, you're free to change the settings of your world and experiment with which World Level offers you the best balance between a challenge and a fun playthrough.
Check out our article on the Genshin Impact 1.4 Patch Notes to see which confirmed characters and events are coming to the game! We'll also keep you in the know on upcoming banners and Genshin Impact code updates.