The Golden Apple Archipelago is back for Genshin Impact's Summertime Odyssey event, which runs from July 15, 2022, to Aug. 24, 2022. In this guide, we'll walk you through how to complete all the puzzles in the final room of Mona's optional Mirage to score a Luxurious Chest.
You must first complete all the puzzles in the fourth room of the Mirage before you can proceed to the second room. From the starting point, head to the center of the room to find a staircase leading to the basement.
At the end of the stairwell, you'll find a door. Enter it to be teleported to Mona's house. Head to her bedroom and interact with the device on her desk. This will teleport you to the puzzle location.
The Ancient Azure Stars final Pressure Plate puzzle solution in Genshin Impact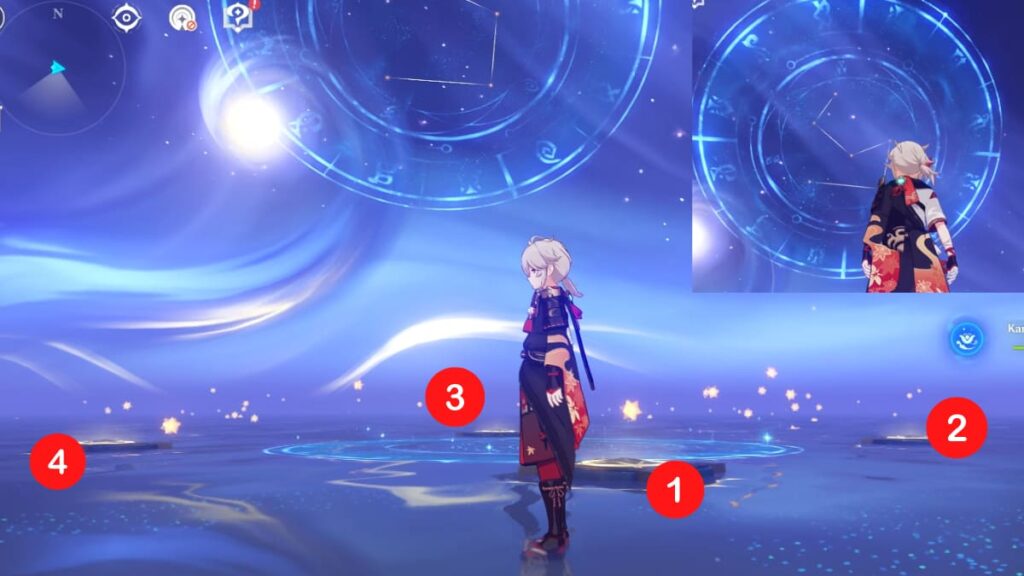 Like the first room, your goal is to change the constellation in the sky to look like the reference image. The Pressure Plates are numbered in the image above for easy reference. Follow these exact steps to solve the puzzle:
Step on Pressure Plate #1 once.
Step on Pressure Plate #2 once.
Step on Pressure Plate #3 once.
Step on Pressure Plate #4 once.
Doing so will solve the puzzle, prompting a door to appear. If you already tampered with the puzzle, you can either re-enter the Mirage or try your luck stepping on the Plates until the constellation matches the small image above.
Once you're done, go through the door and loot your Luxurious Chest. This marks the 15th and final Chest in this Mirage!
Other Genshin Impact The Ancient Azure Stars Mirage guides
If you missed any of the previous steps before unlocking this part of the Mirage, check out the guides below to help you out. We highly recommend doing them in order.
To further explore the Minacious Isle, check out our guide on How to change the weather to spawn wind currents in the Minacious Isle in Genshin Impact – Summertime Odyssey event.