There are items in Genshin Impact you'll always find yourself in need of—character ascension materials, Fragile Resin, weapons... that's where the Battle Pass comes in handy.
The Battle Pass is a game feature that rewards you with these artifacts just by completing quests you were probably going to do anyway! Our article covers how to unlock multiple tiers in Battle Pass and earn all kinds of coveted prizes.
How to Unlock Battle Pass in Genshin Impact
The Battle Pass automatically unlocks once you've reached Adventure Rank 20. You can level up your AR by simply playing the game and taking on various tasks, such as completing quests, opening treasure chests, and other missions that reward you with EXP.
The Battle Pass is a separate leveling system that offers all sorts of valuable items. You can earn Battle Pass EXP by completing the daily and weekly quests, which offer a wide range of assignments. Not in the mood to fight Stormterror? You can still clear Battle Pass levels by foraging for items, cooking a certain number of dishes, and even spending Mora. For every 10 levels cleared in Sojourner's Battle Pass (the base version of Battle Pass that everyone gets), you'll even earn one Acquaint Fate. There are 50 Battle Pass levels total, so that's five Fates in all.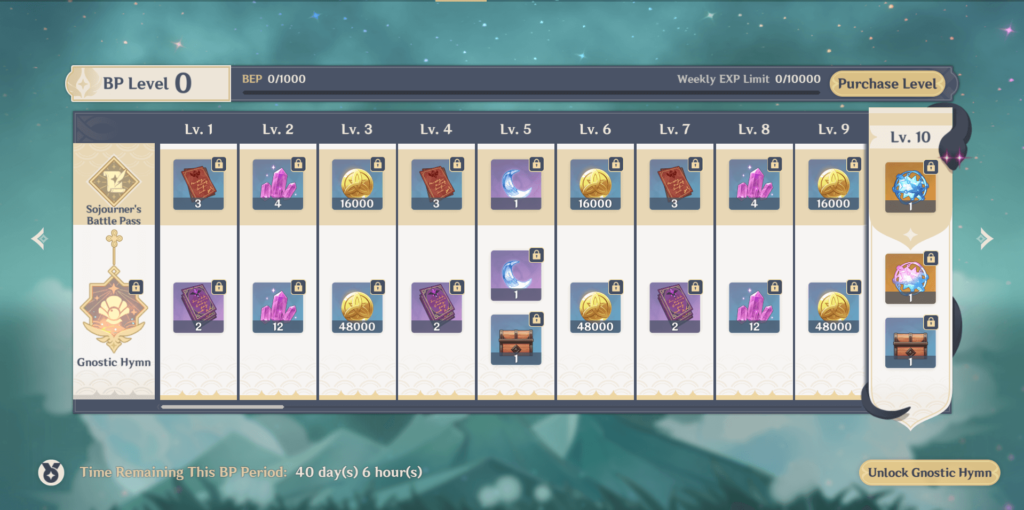 Genshin Impact undergoes a massive update every six weeks, and since the Battle Pass lasts for the duration of each update, you'll have a little over a month to attain your rewards.
There are two versions of the Battle Pass currently available: Sojourner's Battle Pass, and Gnostic Hymn.
Gnostic Hymn
Gnostic Hymn can be purchased for $10 USD and, once unlocked, opens up a second tier of rewards in the Battle Pass. This tier not only greatly increases the rewards you would have earned from Sojourner's Battle Pass, but even includes your choice of Talent Level-Up materials after every fifth level. In addition to the five Acquaint Fates you earn by maxing out your Battle Pass levels, Gnostic Hymn will also give you four Intertwined Fates to use towards the most recent character banner. Another feature of Gnostic Hymn is that once you reach Battle Pass level 30, you get to choose one of the featured weapons from the Battle Pass Bounty.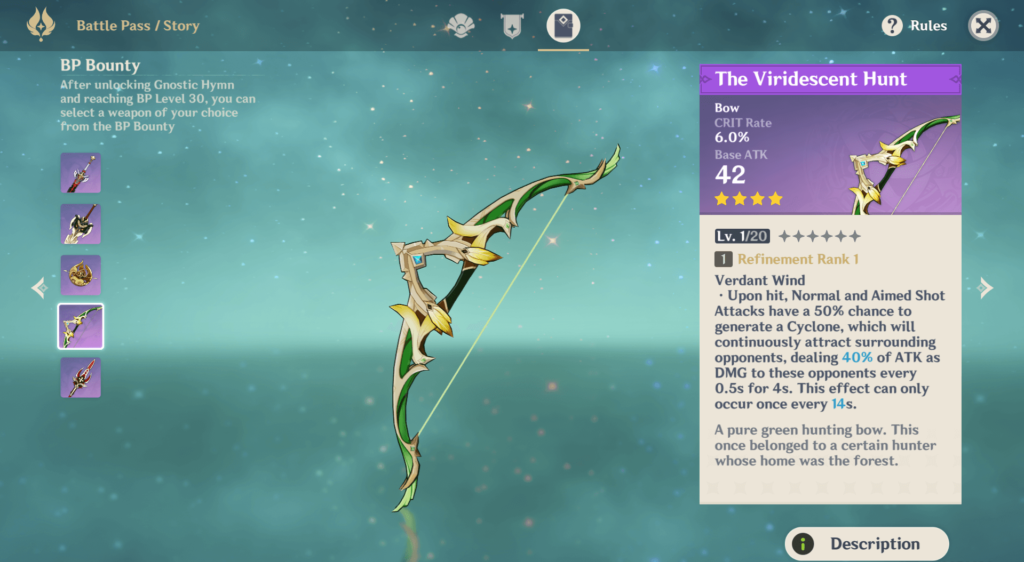 Gnostic Chorus
Gnostic Chorus is like an add-on to Gnostic Hymn. Costing $20 USD (or $11.99 if you've already purchased Gnostic Hymn), Gnostic Chorus gives the following rewards:
All Gnostic Hymn rewards
Advances your Battle Pass level by 10
Unique "Travel Notes" namecard
5x Fragile Resin
Is Gnostic Chorus worth the buy? Our opinion is no—this tier doesn't offer much beyond what's already obtainable in Gnostic Hymn, so you're basically paying double the price for the limited edition namecard. On the other hand, jumping to level 10 in the Battle Pass might appeal to you if you're determined to max out your rewards on time.
All Battle Pass Tiers and Rewards
If you're still on the fence about the different tiers the Battle Pass offers, use the image below to compare the total rewards and determine if paying for more is worth the outcome.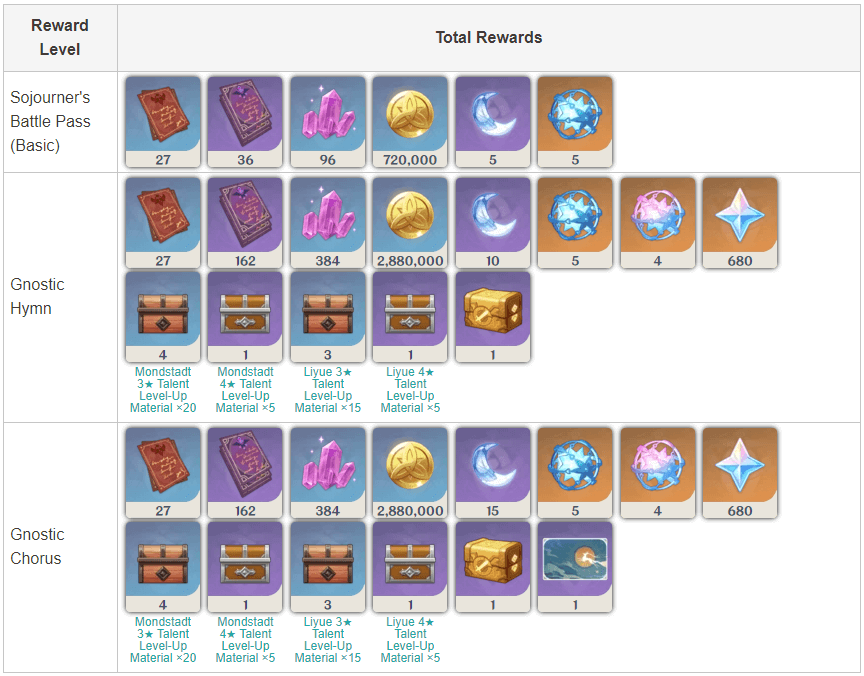 Whether you pay for additional rewards in the Battle Pass or not, you'll want to log in as often as possible to get the most out of this game feature. You can only benefit by completing the Battle Pass's objectives, so get out there and start grinding!
Excited about the brand new Genshin Impact 1.4 update? Check out Invitation of Windblume: Genshin Impact 1.4 Patch Notes to get an overview of all the new content available. Stay up to date with upcoming banners and, of course, free Genshin Impact codes!