The Husk of Opulent Dreams is a Defense powerhouse, offering an incredibly high amount of Defense and Geo Damage for characters who scale off of these stats. While its use cases are niche, it's the best-in-slot pick for the characters that it serves.
Stats
Two-Piece Bonus: Defense +30 percent
Four-Piece Bonus: A character equipped with this Artifact Set will obtain the Curiosity effect in the following conditions. When on the field, the character gains one stack after hitting an opponent with a Geo Attack, triggering a maximum of once every 0.3 seconds.
When off the field, the character gains one stack every three seconds. Curiosity can stack up to four times, each providing a six percent Defense and a six percent Geo Damage Bonus. When six seconds pass without gaining a Curiosity stack, one stack is lost.
Related: Ocean-Hued Clam Artifact Set: Stats, how to get, and who can use it in Genshin Impact
Passive Explanation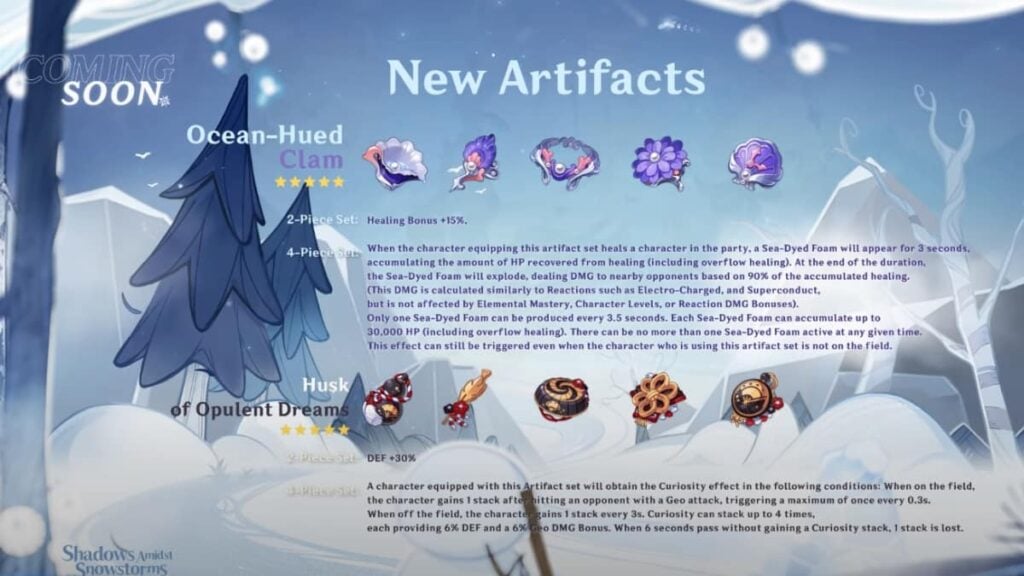 The Husk of Opulent Dreams allows on-field characters to consistently gain Curiosity stacks by dealing Geo Attacks, making it easy to get the full 24 percent Geo Damage and 24 percent Defense Bonus at four stacks. Coupled with the two-piece Bonus, characters can gain up to 54 percent extra Defense.
Meanwhile, off-field characters gain Curiosity stacks every three seconds with no effort, so they don't need to deal off-field Damage to gain the Bonuses. One caveat is that the Curiosity stacks are unique to each wielder, which means that the two stacks your Noelle gains only affect her Damage, while the four stacks your off-field Albedo gains only affect his Damage.
This makes quick-swapping strategies slightly inefficient, as switching to a character, using a Geo Skill, and switching out will only allow you to generate one Curiosity stack.
How to Get
The Husk of Opulent Dreams can be farmed from the Slumbering Court, an Artifact Domain located in Seirai Island in Inazuma. Players must gain access to the nation before they can begin farming for these Artifacts. It costs 20 Original Resin or one Condensed Resin (for two rounds in one) to claim rewards.
Who Can Use Husk of Opulent Dreams
The Husk of Opulent Dreams is the best-in-slot pick for any Geo character that scales off of Defense. These include Noelle, Albedo, and the upcoming new characters: Arataki Itto and Gorou.
It's best used in team compositions that:
Allow the on-field Artifact Set wielder enough time to generate Curiosity stacks and take advantage of the full stack Bonus.
Give the off-field Artifact Set wielder enough time to generate stacks before being brought to action.
Check out our Best Arataki Itto Build in Genshin Impact and Best Gorou Build in Genshin Impact to help you bring out the best in these Geo boys.