When Flowers Bloom is a follow-up to the Sumeru Daily Commission called The Flowers That Won't Grow, which follows Vardan and Gurgen's journey to cultivate a beautiful Sumeru Rose, and there are two variations of the former. You can unlock a hidden Achievement if you're lucky enough to encounter a Whopperflower.
How to unlock the When Flowers Bloom Sumeru Daily Commission in Genshin Impact
Start by setting your Commission location to Sumeru through the Adventurer's Handbook. You must wait until you randomly get The Flowers That Won't Grow and complete it three times. Once they're all done, you have a chance of getting When Flowers Bloom at the next daily reset (or a few days later).
Related: How to Look for the materials that Kayvan needs in Genshin Impact
How to complete the When Flowers Bloom Sumeru Daily Commission (Whopperflower version) in Genshin Impact
Head to Sumeru City to speak with Vardan and Gurgen in front of their little field, then fast-forward the in-game time by one day. Make sure to land at any time between 6:00 to 8:00. There are two ways the Commission can end. In one version, a Sumeru Rose will bloom, completing the objective. In the other version, a Whopperflower will appear. Assuming you get the latter, the Commission will technically be complete after discovering that the Whopperflower had taken over the field. However, Paimon will urge you to find the Whopperflower before it wreaks havoc.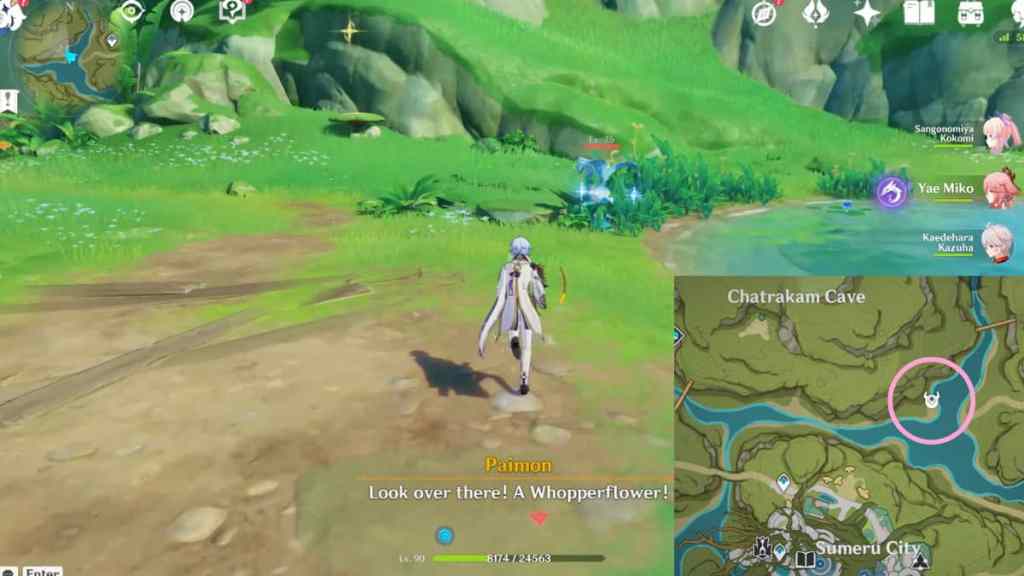 You can find the Cryo Whopperflower by heading to the area circled in the image above. If it's your first time doing this Commission, defeating the Whopperflower will merit you the Wonders of the World Achievement called Up by the Roots.
Check out our Genshin Impact Cost-Effective Hook World Quest guide to complete a sequel to another Daily Commission.