I've never been a fan of anything horror. However, I was intrigued when I learned IllFonic (who provided Pro Game Guides with a key in exchange for review) would be releasing Ghostbusters: Spirits Unleashed, an asymmetrical multiplayer game minus the gore of similar titles like Dead by Daylight. Couple those components with my love for the 80's blockbuster, and it was a potential match made in the ethereal plane.
Gameplay Loop
Ghostbusters: Spirits Unleashed hinges on its Job system. Each Job is a match between four Ghostbusters attempting to catch a Ghost before they can fully haunt one of five locations. A Ghost has three Rifts, which are respawn points scattered around the level. Ghostbusters can either catch the Ghost multiple times, forcing him to use his respawn points quickly, or find and directly attack the Rifts to leave the Ghost with nowhere left to go. You can then catch him for good.
The Jobs felt very well balanced, regardless of which side I was on (though, I admit, my haunting skills could probably use some work). Both sides have access to plenty of tools and abilities. Matches really come down to how well Ghostbusters can coordinate and work together, almost requiring a full team of humans and microphone use.
However, even if a Ghost successfuly haunts a level with multiple Rifts left, there is always a countdown period that gives the Ghostbusters one last shot to catch the Ghost and win the match, meaning many sessions come down to the wire. I played several matches with both developers and other media reviewers. Each lasted about ten minutes—the right amount of time to leave me wondering if I could play just one more.
Score: 4.5/5 Stars
AI
IllFonic tries to make the multiplayer gameplay more accessible by allowing you to play matches with just a friend or two, or even by yourself, if you want. However, AI players will fill in the other necessary roles. The AI's playstyle can be laughably robotic and sometimes downright frustrating. My AI teammates "helped" by throwing down a Ghost trap but left it unopened. Worse yet was when they would turn around and comfort the civilian behind us in the middle of a catch. AI Ghosts behaved a bit more normally, but I thought the best Ghosts were other humans behaving erratically.
It provides an option for solo players, but it's really only useful when first starting out. You can use the AI system to get comfortable with how a match plays out, how a new tool you unlocked works, and how a different Ghost plays. But I can not stress this enough: playing routinely with AI is not the same experience as playing with others. It takes away from the fun, chaotic energy the game clearly tries to invoke.
Score: 2.5/5 Stars
Related: 5 quick tips for Ghostbusters in Ghostbusters: Spirits Unleashed
Atmosphere
Adaptations and sequels of Ghostbusters widely vary in their ability to recreate that same goofy, topsy-turvey magic that the original film had. IllFonic's attempt is notably one of the better ones. It faithfully includes many details of the Ghostbuster's Firehouse and traditional gear. Dan Aykroyd and Ernie Hudson return to voice their iconic characters, and their dialogue feels like it's pulled straight from the film, even though it isn't. But, most importantly, Ghostbusters: Spirits Unleashed captures the quirky spirit of the franchise in its gameplay. It allows friends to come together as a team, throwing out ad-libbed jokes while chasing a Ghost that's possessing a teddy bear, mop bucket, or vending machine. Altogether, it's a silly, good time.
Score: 5/5 Stars
Accessibility
Ghostbusters: Spirits Unleashed doesn't just provide AI gameplay to open up the game to a wider audience. Care was clearly taken to include options for colorblindness, aim assist, controller support on PC, and not just subtitles, but the ability to modify those subtitles to be able to read them clearly. While playing, I did wish that there were options for customized button mapping, as I found using either keyboard or controller to be a little off from my taste, particularly when trying to sprint to where a Ghost had been spotted. Overall, though, it was very clear (and appreciated) that IllFonic intended for this game to be played and enjoyed by players of all skill levels and ability.
Score: 4/5 Stars
Verdict – Get to bustin' (with your friends)
While it's best enjoyed with certain prerequisites (namely, co-op companions), Ghostbusters: Spirits Unleashed does an admirable job of adapting a title that's notoriously difficult to adapt. It provides a welcoming entry into asymmetrical multiplayer gameplay, and without giving to much away, the underlying story and nature of the game's design allows IllFonic to potentially provide even more funnily freakish content in the future, something I fully intend to look out for.
We received this code from IllFonic, INNC for reviewing purposes.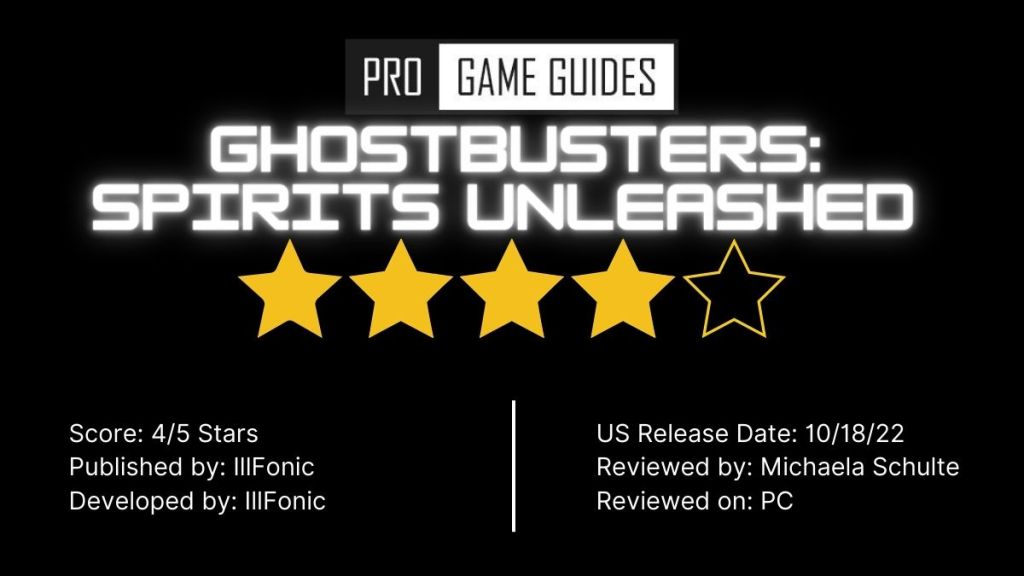 Did you decide to try Ghostbusters: Spirits Unleashed? If you're looking for help, check out 5 quick tips for Ghostbusters in Ghostbusters: Spirits Unleashed and How to level up faster in Ghostbusters: Spirits Unleashed here at Pro Game Guides.